IRVING, Texas – Former Cowboys fullback and three-time Super Bowl champion Daryl "Moose" Johnston won't place all the blame of another 8-8 season on the quarterback who tied for the league lead in interceptions.
Johnston said Tony Romo made questionable decisions at times and the receivers seemed out of sync early on in the year, but he believes the Cowboys' quarterback is not the problem.  
"The turnovers became a big thing for Dallas this year," Johnston said. "But in my opinion, everybody keeps talking about getting rid of Tony Romo. You get rid of Tony Romo, there's a lot of teams out there that are going to scoop him up real quick.
"To me, the big thing is the head coach/quarterback relationship, and consistency is one of the hallmarks of teams that are having success. New England, New Orleans, Green Bay now, let's see what happens with Colin Kaepernick and Jim Harbaugh. That relationship is critical to a team's success. If you continue to disrupt it because we have this win right now attitude in the NFL, you never get the opportunity."
Romo tied his career high with 19 interceptions last season, following an efficient 2011 season in which he threw 31 touchdowns and just 10 interceptions.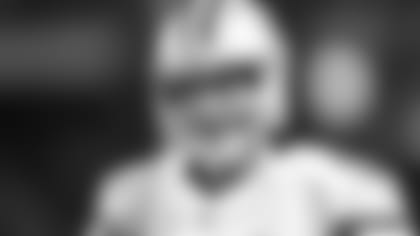 He was forced to throw nearly 100 more passes in 2012 than he had in any year prior behind an offensive line that struggled to open any room for running lanes. With Dez Bryant's emergence at receiver and Jason Witten's reliability at tight end, Romo was put into a situation where the team had to pass to move the ball.
"Everybody has an off year once in a while and you really have to look at the body of work, and why was it a struggle?" Johnston said. "What were the issues? Is it all on one person? And it's not in this situation. There's a lot of people that contributed to the tough year."
Despite the high volume of interceptions, Romo still completed 65.6 percent of his passes and threw 28 touchdowns. He finished the year with a career-high 4,903 passing yards.
"I don't know if he slid back," Johnston said. "You have no offensive line. The first time they played together as a unit was Week 1. They were banged up all year long. They're flipping tackles. It was a state of disarray on the offensive line. That's going to impact your quarterback more than anybody. So did he slide back, or was it just a difficult season because of all the other circumstances going around? That's why when you make a decision like that to fire a coach, to move on to another quarterback, you've really got to take a step back and see what were all the elements that led to this."