It's been a decade since Von Miller left Desoto, Texas – about 20 minutes south of Dallas – where he was a standout at Desoto High School, to go to Texas A&M and eventually the NFL, where he has since become one of the league's most feared defensive players.
He still has family in Desoto, and not just of the human variety. Miller owns a chicken coop in his hometown with more than 60 chickens. The operation sells, or sometimes just gives away, the eggs each chicken produces.
"They're like pets," Miller said, sincerely. "There's an attachment to them. I haven't killed any of my birds. They're like family to me."
Listen to Miller speak and you'll get the vibe of a funny guy who enjoys an easy-going outlook on life. Listen to anyone who's had to prepare to face the outside linebacker and that won't be part of the description.
"Just an exceptional player," Jason Garrett said. "He's one of those guys who has been wrecking games probably since he was growing up here in South Dallas years and years ago."
Miller recorded 73 sacks in his first six seasons in the NFL. He had already showcased his physical dominance when the Cowboys released franchise pass rusher DeMarcus Ware for salary cap reasons. Ware would go on to sign with the Broncos and Miller credited him as a mentor who helped him maximize his skills.
From Ware's perspective, he arrived in Denver and couldn't believe what he was seeing.
"I had never met a pass rusher where I could say, 'he's faster than me,'" Ware said in 2015.
Ware approached Miller and genuinely asked, "Do you know how good you are?"
The two became the league's premier pass rushing duo. They would go on to win Super Bowl 50 and Miller was named Super Bowl MVP with 2.5 sacks and two forced fumbles.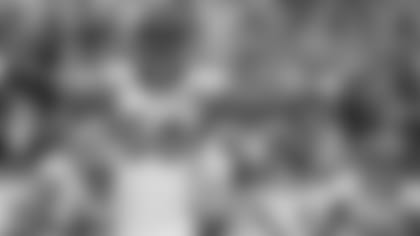 But Miller has never faced the Cowboys, which means, over the past few years, he hasn't squared off against what has been recognized as the best offensive line in football.
"When you watch (the Cowboys' offensive line), it's real," Broncos head coach Vance Joseph said. "They've got talent. They play together. They're smart. It's going to be a great challenge for our defensive line to match their offensive line's effort and fundamentals."
Miller's ability to terrorize the opposing quarterback is always one of the Broncos' keys to victory, so he knows that he still has to be a factor against great competition.
"We all know what type of player Tyron Smith is and those inside guys," Miller said. "You always want to go against the best."
But one thing that makes Miller so dangerous is that the Broncos will move him around from side to side and force different tackles to have to deal with him throughout the game. So La'el Collins will certainly be tested.
Miller watched Collins play last week, and isn't ready to sell him short.
"I don't want to say he's inexperienced," Miller said of Collins. "He went against Jason Pierre-Paul and did a pretty good job, and JPP is a pretty good pass rusher.
Still, the Cowboys will have to prepare for Miller's speed and athleticism, and part of that preparation is knowing that it will be like nothing they've seen before.
"You're not going to be able to be able to put a guy out there who simulates him [in practice]," Garrett said.
Joseph had nothing but positives to say about Cowboys players on Wednesday. He's been impressed with Dak Prescott and wants Ezekiel Elliott to succeed. He was upbeat, and Joseph says that's been the norm as long as he's been around Miller
"Von's personality makes him a great leader because guys want to follow Von," Joseph said. "Von spends time with every player on this roster from the top to the bottom guys."
On Sunday, though, Miller is going to try to do what he usually does, and he usually dominates. Whether or not the Cowboys can keep him in check might decide the game.