Blog: Cowboys Record vs. 10-Game Win Streaks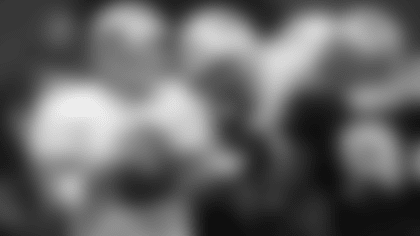 (Nov. 27; 2:35 p.m.) – It's not a common occurrence by any means. In nearly 60 years of Cowboys football, facing a team with a winning streak like the Saints has only happened four other times. And the results have certainly been mixed.
The Saints will be the fifth team to play the Cowboys with a winning streak of at least 10 games in a season, and the first since Thanksgiving back in 2015. That day didn't fare so well for the Cowboys, who played a Panthers team that began the season 10-0 and rolled through Dallas for a 33-14 victory on Thanksgiving Day.
Before that, the Cowboys actually pulled off the upset twice in these scenarios. In 2009, they upset a 13-0 Saints team in New Orleans, winning 24-17. In 1991, the Redskins were 11-0 but couldn't beat the Cowboys at RFK Stadium. Despite losing Troy Aikman to an injury in the second half, the Cowboys upset Washington 24-21. And in 1985, the Cowboys were an absolute mismatch for the Chicago Bears were 11-0 and dominated Dallas 44-0 at Texas Stadium.
Interestingly enough, all four opponents advanced to the Super Bowl that season, with the Bears, Redskins and Saints all winning the title.
Dak Prescott: Brees Is A Guy I Look Up To
(Nov. 26; 2:45 p.m.) – Dak Prescott is a Drew Brees fan.
Even though he was a Cowboys fan growing up in Louisiana, Prescott has always admired Brees' talent and leadership for the New Orleans Saints. When both quarterbacks made the Pro Bowl after Prescott's 2016 rookie season, Prescott tried to get as much knowledge from the veteran as possible.
"You do everything you can. You're like the little duckling," Prescott said. "You just follow Drew Brees and figure out what he does, how he does stuff.
"I was thankful to have him. And Drew opened up and shared things with me. We talked, we had a lot of conversation, and actually we stay in touch."
Blog: Zeke Gets A Hard-Earned Rest Day
(Nov. 25, 2:57 p.m.) – It felt a little odd to see Ezekiel Elliott jog inside at the outset of Sunday's practice.
Throughout his time with the team, the Cowboys' star running back has been a mainstay at practice. He hasn't had much in the way of injury issues, and the only time he has ever been absent from practice was due to his six-game suspension in 2017.
After the work he's been getting this month, though, the Cowboys saw fit to give him some rest at the outset of this week.
"Heavy workload, three games in 12 days, just making sure that we're taking care of my body so I'm fresh going into this game Thursday night," he said Sunday.
Elliott has been averaging 27 touches per game since the Cowboys got back from their bye week, and he has totaled 86 touches in the last 12 days during this three-game win streak.
It doesn't figure to be a long absence, though. Elliott should be ready to go by the time Thursday rolls around, and he said this is as confident as he's felt about the Dallas offense all season.
"We've just got to make sure that we continue to do what we've been doing, making sure that we're attacking each day the same and taking it day by day and just preparing and being ready," he said.
Gallup: "I Needed To Be There For My Team"
(Nov. 25; 2:30 p.m.) – Michael Gallup spent the early part of last week grieving with his family after he learned immediately after the Cowboys' Nov. 18 game at Atlanta that his brother had passed away.
The rookie receiver returned to the Cowboys last Wednesday and helped them beat Washington on Thanksgiving Day, earning the game ball from his coaches and peers.
"I think it was just more the fact that I needed to be there for my team," Gallup said. "They've always been there for me and I was there for my family.
"I sat down with my mom and I asked her, 'Am I good to come back and play?' And she was like, 'Of course, go have fun.' It was very important to me to make that game."
After the game, Gallup flew back to Georgia to attend his brother's funeral services. Cowboys owner/GM Jerry Jones provided transportation on his private jet.
Gallup said he's received tremendous support from the team and the Jones family.
"That means everything," he said. "Sending my mom and my family food, flowers, cards and stuff like that, just trying to bring their spirits up. And I definitely appreciate that. I couldn't thank them enough for everything he's done for me and my family."
Martin Managing Constant Knee Issue
(Nov. 25, 2:30 p.m.) – Zack Martin missed Sunday's practice here at The Star, in what was a normal "Wednesday" schedule for the Cowboys, who play again this Thursday.
From the sounds of things, Martin probably won't be seeing a lot of Wednesday practices from here until the rest of the season.
"This is just something I'm going to have to deal with," Martin said of his knee injury that he sustained against the Eagles three weeks ago. "I think (the athletic training staff) has done a really good job each week of preparing me and getting me ready. So I'm confident I'll be good to go on Thursday."
Martin said he has been wearing a knee brace for the last three games and expects to continue that the rest of the regular season.
The Cowboys have had all kinds of issues on the offensive line, not only currently, but all season, starting with Travis Frederick. Tyron Smith missed last week's game and now left guard Xavier Su'a-Filo is banged up.
"We've just got to keep grinding away," Martin said. "This is the time of year when those things really add up. We've just got to get our bodies ready to play. Everyone in the league is dealing with it. So you have to fight through it."
Blog: Gallup Returns, Expected To Play Thurs.
(Nov. 21, 12:27 p.m.) – Michael Gallup is back with the Cowboys, and he is expected to have a role to play Thursday.
"Michael got back in last night, and he met with our coaches when he returned and was part of our meetings and walkthrough today," said Cowboys coach Jason Garrett on Wednesday.
It's been a trying week for the rookie receiver, to say the absolute least. Gallup learned of his brother's death just moments after the Cowboys' 22-19 win against the Falcons on Sunday. Being from Georgia originally, he remained behind to be with his family when the team returned to Dallas.
The Cowboys have been in communication with Gallup throughout the week, but they didn't have a firm expectation of what to expect of the situation. As Garrett reminded on Monday following the game, it's clearly a situation where football is not the top priority.
"The thing you have to be so mindful of is this is real life," he said. "We all put so much into football and it's a huge part of our lives, but players, coaches and staff members have lives outside of this and they have real issues just like everybody else, so you have to be sensitive to that and – again, the biggest thing you want to do is offer support and care let him know that whatever we can do, we're certainly willing to help. It's not an easy time for him and his family."
Gallup was welcomed back warmly on Wednesday, as players up and down the Cowboys' roster have pledged their support in any way they can offer it. It remains to be seen what his role will look like on Thursday, but Garrett said the Cowboys will be mindful of the circumstances as they figure that out.
"I think all these situations are unique. The situation is unique, the individual is unique, the circumstances. I don't know that there's a blanket statement you can make," he said. "I think for all of us, as you go through challenging things, getting back to routine and structure typically can help us. But we're certainly sensitive to where he's been the last few days and how challenging a time this is for him and his family."
How Does Zeke Cope With A Short Week?
(Nov. 20, 3:38 p.m.) – Given the nature of this game, every player is going to face a challenge getting ready for a game on three days of rest.
It might be a steeper challenge for Ezekiel Elliott, though. After all, he's tasked with preparing for a high-stakes football game, just days after handling 30 touches in the win against Atlanta.
"You just physically can't go out there and get those physical reps – there's just not enough time, and your body is beat up from playing two days ago," Elliott said Tuesday.
That's always been part of the challenge of the Thursday game. The Cowboys are historically used to it, but in this day and age all 32 NFL clubs will play a game on short rest.
Cowboys coach Jason Garrett said his approach varies depending on the health of his team. But in general, the goal is to get guys as fresh as possible in such a short amount of time.
"Obviously you don't want to overwork them," Garrett said. "Years ago on Mondays, we had full padded practices the Monday of Thanksgiving. We don't do that anymore. I don't think anybody does that anymore."
Elliott is one of the guys they'll be sure to keep an eye on. With his competitive nature, Garrett said the Cowboys' Pro Bowl running back would prefer to be full-go, but that's not feasible for a guy coming off a 30-touch game – not to mention his 233 total touches to this point in the season.
Instead, Elliott said he'll focus on the film room as kickoff creeps closer.
"You've just got to make sure you get those good mental reps and get in that film room," he said. "It's really just paying attention to those plays that we've got cued up for this week and making sure that I'm cued in on everything and ready to go."
Dalton Schultz Ready For Bigger Role
(Nov. 20; 2:30 p.m.) – Just a month ago, the Cowboys made the decision to activate Dalton Schultz against the Redskins after he had been inactive for five straight weeks.
Schultz played a role in the offense, catching his first career pass for 12 yards to help the offense get into scoring range twice in the fourth quarter.
But Thursday's rematch should provide a much-bigger role for the rookie tight end, who expects to play more with Geoff Swaim now out with a fractured wrist.
Schultz will likely get more reps at tight end along with Rico Gathers and Blake Jarwin.
"I think everyone on this team has been working hard and finding their role," Schultz said. "I think our role players are really stepping up."
Schultz is definitely now in that group. He caught two passes for 21 yards two weeks ago in Philly and spent a lot of the game last week on the line blocking.
"Yes, yes that's honestly where I feel the most comfortable right now," Schultz said. "In-line (blocking) especially and working with Geoff, I've been taking a lot of the Y reps and that's really where I'm the most comfortable."
Cowboys Add DT Ringo, Waive Safety Darian Thompson
(Nov. 17; 11:10 a.m.) – Needing depth on their defensive line this Sunday at Atlanta, the Cowboys announced they've activated defensive tackle Christian Ringo from the practice squad.
To make room for Ringo, the Cowboys waived safety Darian Thompson.
Ringo (6-1, 298) has appeared in 14 career games as a backup with the Packers and Lions. Detroit waived him at the end of preseason and the Cowboys signed him to the practice squad on Sept. 26.
Line depth is an issue this week. David Irving (ankle), Daniel Ross (calf), and Taco Charlton (shoulder) have been ruled out of the Atlanta game. Antwaun Woods (concussion) is listed as doubtful to play Sunday. Maliek Collins is listed as questionable, though he did practice on a limited basis Thursday and Friday.
Blog: Dak Named Finalist For Art Rooney Award
(Nov. 14; 10.15 a.m.) – Cowboys quarterback Dak Prescott was this year's team representative for the NFL's Art Rooney Sportsmanship Award.
Prescott, playing his third season as the Cowboys' starter, was among 32 nominees that included future Hall of Famer Drew Brees and longtime veterans Julius Peppers and Antonio Gates.
Each team nominates a player for the award, created in 2014 in honor of the late founding owner of the Pittsburgh Steelers and a Pro Football Hall of Famer. The award recognizes players around the league who exemplify outstanding sportsmanship on the field.
The winner is determined by a vote of current NFL players. From eight finalists, each team's players will submit a consensus vote of their choice for the winner. As in Pro Bowl voting, a team cannot vote for its own player.
Previous winners of the award are Luke Kuechly, Charles Woodson, Frank Gore and Larry Fitzgerald.
Corey Peters (Arizona), Alex Mack (Atlanta), Eric Weddle (Baltimore), Kyle Williams (Buffalo), Julius Peppers (Carolina), Cody Whitehair (Chicago), A.J. Green (Cincinnati), Joel Bitonio (Cleveland), Dak Prescott (Dallas), Domata Peko (Denver), Don Muhlbach (Detroit), Tramon Williams. (Green Bay), Jonathan Joseph (Houston), Andrew Luck (Indianapolis), Calais Campbell (Jacksonville), Sammy Watkins (Kansas City), Antonio Gates (LA Chargers), Todd Gurley (LA Rams), Frank Gore (Miami), Danielle Hunter (Minnesota), Matthew Slater (New England), Drew Brees (New Orleans), Rhett Ellison (NY Giants), Steve McLendon (NY Jets), Derek Carr (Oakland), Carson Wentz (Philadelphia), David DeCastro (Pittsburgh), Joe Staley (San Francisco), Tyler Lockett (Seattle), Lavonte David (Tampa Bay), Marcus Mariota (Tennessee), Vernon Davis (Washington).