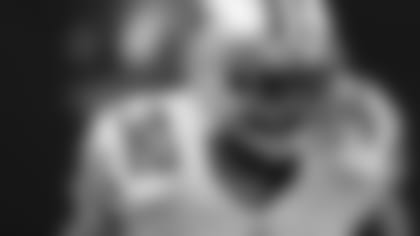 Orlando Scandrick will be suspended for the first four games of the 2014 NFL season, according to Cowboys owner/general manager Jerry Jones.
Jones said Monday night the suspension comes comes from a positive test for performance enhancing drugs.
Scandrick and the Cowboys were made aware of the issue just before the start of training camp in late July. Scandrick appealed the ruling, but Jones learned Monday that the NFL has denied that appeal.
Scandrick will be able to practice and play in the remaining preseason games, but he will miss the four regular season games against San Francisco, Tennessee, St. Louis and New Orleans.
Through his agent Ron Slavin, Scandrick issued a statement.
"I would like to apologize to my children, my family, the Jones Family, my coaches, my teammates and my fans.  Failing a drug test is far out of my character, and although I never knowingly took a performance enhancing drug/banned stimulant while on vacation in Mexico, I take full responsibility for what goes in my body and more importantly for the embarrassment of a failed drug test.
It's my goal by issuing this statement to clear my name and more importantly to be judged by what happens to me in the future.  I hope that my family, my Cowboys football family and all my fans can forgive me for this situation.  I look forward to a successful 2014 season."
Arguably the team's best defender in camp, Scandrick has been the only mainstay in the Cowboys' depleted secondary -- specifically the cornerback position, which has seen injuries to Morris Claiborne and Sterling Moore, as well as a temporary absence from Brandon Carr.