(Editor's Note: Throughout training camp, Bryan Broaddus will break down every position battle on the roster, analyzing players' roles and their impact in practice.)
One of the best players in the NFL occupies the right guard spot for this team, so we're not going to focus too much on that. Instead, let's look at the battle taking place on the left side.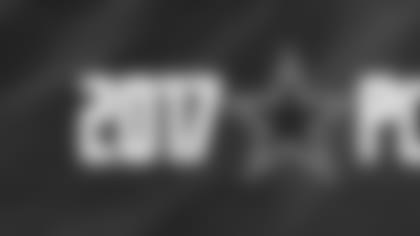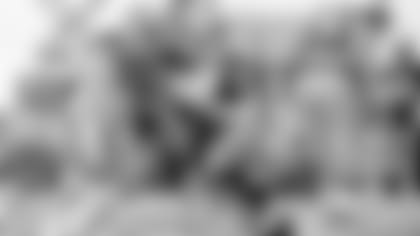 So far in training camp we've see Chaz Green and Jonathan Cooper switch off with the first unit. During Saturday's practice, Green moved outside to left tackle with the second unit while Cooper continued with the snaps at guard.
Cooper has a veteran's savvy to him and the experience for playing the position. Technique-wise, both are sound but Cooper is a little better at this point with his finish down after down. If Green can develop that trait, then in my opinion he would be the better player.
Cooper has yet to take any snaps at center like he did during the OTAs and minicamp but in pre-practice work, he works with the other centers and quarterbacks.   
Joe Looney, who was the swing center/guard during the 2016 season, hasn't played any position other than center to this point. To be honest, I am surprised that we haven't seen him take a few reps at guard. It could be that the coaches already have a feeling of how he would play there and are more interested in giving Green and Cooper the looks.
Veterans Byron Bell and Emmett Cleary have taken snaps at both guard and tackle on various days, but not with that first unit. Neither have been perfect but between the two, I have liked what I have seen from Bell. His power just translates better as a run blocker and in pass protection. You just don't see him getting stalemated along the line or driven back in pass protection.
It's not even close between Nate Theaker and Ruben Carter for that potential practice squad spot. Theaker is more talented and has to this point had the better practices.
What has been interesting about the battle at left guard is that the coaches have been consistent, keeping it between Cooper and Green all while not moving them to other spots -- until Saturday. My gut feeling is that the front office and coaching staff would like Green to take this job from Cooper -- not only now but going into future years. He was a high draft pick and they got a nice taste to his potential of what he can accomplish when put in those starting situations. If Green can maintain his health, which has always been the question, I really like his chances to be one of the starting five.