(Editor's Note: Throughout training camp, Bryan Broaddus will break down every position battle on the roster, analyzing players' roles and their impact in practice.)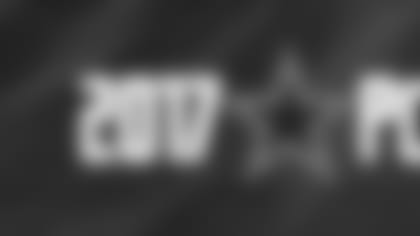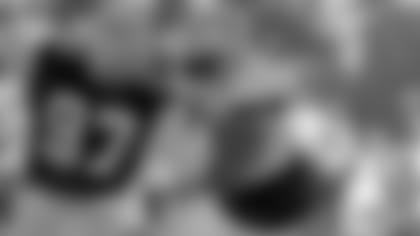 Tyron Smith and La'el Collins should be the starting offensive tackles heading into the New York Giants contest.
Chaz Green would be the next best option to start at either spot if something were to happen before then. Green is also in the mix to start at left guard with three games to still play in the preseason. In my opinion, he's the fifth-best lineman on the roster so having him just in a swing role would be surprising.
Green backed up Smith during practice on Monday at left tackle, which meant that Emmett Cleary was kicked inside to guard. Cleary had primarily been getting work as Smith's backup and he played the entire Los Angeles Rams game there. I have a feeling that the coaches have confidence in his ability despite how limited he can be at times. 
I had high hopes for Kadeem Edwards when we opened camp, that maybe he could find his way past Cleary -- but he has struggled to show any real consistency. I like the tools, but he's still is a long way off. The club might go in another direction for a practice squad spot when that time comes. 
Byron Bell, to his credit, has remade his body. The weight loss will likely help him health-wise in the future. The fact that he can play both guard and tackle surely has value there, but would Stephen Jones want to carry a veteran player on the roster if there is a younger, less expensive developmental player available? I have my doubts he'd go with the veteran in that situation. Bell has had his moments, but it's been a struggle for him run blocking in this scheme.
Dan Skipper tends to struggle in practice but somehow finds a way to put things together in the games. He will likely never be strong enough due to his length, but no one cares more about trying to do it the right way. I have always seen him as a practice squad player just because of the physical toughness and smarts. He is competing with other young tackles around the league for a roster spot. I would not be surprised to see someone stand up on the table for him at the final cut as a developmental guy given the need at the position.
Clay DeBord has been in the program now two years and like Kadeem Edwards might find himself at the mercy of other tackles around the league when it comes to practice squad spots.
Big Picture: If they could trust Chaz Green to stay healthy, he would be the starter at right tackle and La'el Collins would be the left guard. There is a side of me that believes that still might be the best option depending on how things work out for Green in these final few weeks of camp. I'd play Green at tackle and roll the dice that he can somehow remain healthy. If Jonathan Cooper ends up being the starter at left guard, that would leave Green as the swing tackle/guard along with Emmett Cleary.