(Editor's Note: Heading into the upcoming NFL Draft, held May 8-10, DallasCowboys.com will take a closer look at the prospects, including some that could be potential fits with the Cowboys. Today's featured player is Baylor quarterback Bryce Petty).
Name:Bryce Petty
Position:Quarterback
College: Baylor
Height/Weight:6-2 / 230
Age:23
Honors: Petty earned All-American honors both in 2013 and 2014, and finished among the Top 10 in voting for the Heisman Trophy each of the last two years. As an owner of 31 school records, Petty was the 2013 Big 12 Offensive Player of the Year and won the 2015 Cotton Bowl MVP award.
Key stat:With a 21-4 overall record, Petty finished his career with just 10 interceptions in 845 passing attempts, setting the NCAA record for lowest interception percentage per attempt with just 1.18 picks thrown.
Where He's Projected:Petty is all over the map on draft projections, with a few analysts suggesting the late first-round. As accomplished as he's been at Baylor, the style of system he played doesn't always translate to the NFL. He
was once a backup to Robert Griffin III, who hasn't made a full transition to the league and the starter at Baylor in between the two – Nick Florence – never even attempted to play at the next level. Petty has the size and arm NFL teams are looking for but the jury is definitely out if he'll be a developmental starter or if he's more of a backup. In all likelihood, Petty will be off the board sometime Friday night – in either the second or third round.
How He Helps the Cowboys:If the Cowboys are one of the teams that view Petty as a potential starter down the road, then this could be a good fit. While he turns 24 in May, Petty could sit and learn behind Tony Romo and perhaps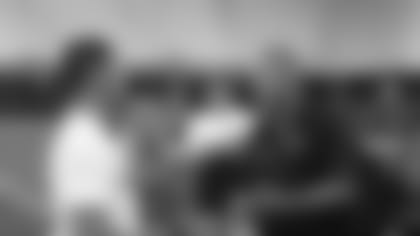 even Brandon Weeden this year. He's shown the ability to wait his turn, learn from the sideline and then take it to the field. He spent three full seasons on the sideline before making his first start in 2013. The Cowboys have a starting quarterback that did the exact same route.
Scout's Take: Is always competing. Outstanding work ethic and coachable. Striving to be better no matter his situation. Coaches at Baylor swear by him. Outstanding football intelligence. Is in the top three of arm talent in this draft. Quick release and accuracy. Throws the ball at all arm angles. Will adjust depending on his throw and where he needs to place the ball. Will find the open man down the field. Plenty of work throwing the ball after he is making a play fake. Able to get his eyes up and find target. Able to complete the ball from near hash to far sideline on the out. Shows accuracy both inside the numbers and out. Can hit receivers on the move. Throws a catchable ball. Not often you see his receivers have to work to make the catch. Accuracy on the move is good. Have seen him flushed to his left (right handed) and make an accurate throw with pace. Good awareness and poise - TCU game was a great example of this. Will throw in the pocket. Has the courage to stand in there and take a hit. Durability not an issue. Majority of his game is played in the shot-gun. Will need work on dropping from center and with his foot work for his mechanics. Strong player in the pocket. When he has to laterally move, he can. Able to escape and avoid. Can be a playmaker and clutch when called on. Feel he is more than a system quarterback which many have labeled him as. Will have to draft him earlier than you might be willing to but plenty to work with talent wise. - Bryan Broaddus
---
-- Other Possible Picks --