(Editor's Note: Throughout the off-season, DallasCowboys.com staff writers will take a closer look at the roster, analyzing players' impact last season and how each fits into the team's 2012 plans. Today's Roster Rundown entry features cornerback Morris Claiborne.)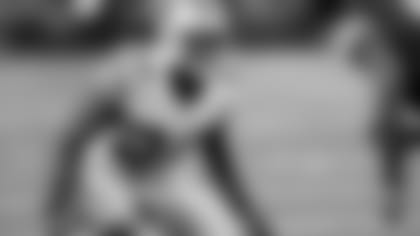 Name: Morris Claiborne Position: Cornerback  Height/Weight: 5-11 / 185
Experience: 1 season College: LSU
Key stat:Claiborne secured the Dallas secondary's first interception of the year in the sixth game of the year against Carolina. That first takeaway seemed to allow him to settle in more.
Contract Status:Signed through 2017.
2012 Impact: I have to give the kid some credit in the way he played in his rookie season. I knew there would be growing pains his first season but he handled himself well dealing with a wrist injury that kept him out of OTAs and Mini-Camp but more impressive was how he was able to deal with a banged up knee during training camp that I don't believe was ever right the entire season. Claiborne showed more toughness than I thought he could coming out of LSU. As you watched his season develop it was clear to me that he was getting better each day and that was going to be key. The more that he saw these receivers run routes on him, he was going to have a better understanding of what he needed to do to compete in this league. There were days during training camp where I knew that his head was spinning but he battled through that. It was when he played teams the second time around where he really improved. He was much better in coverage against the Giants, Eagles and Redskins when he understood who he was playing against. There was never a question of his ability but he could have all the ability in the world but if he didn't play with an understanding of what receivers were trying to do to him, he wouldn't play fast enough and this is where he got better. Also to his credit and that of Jerome Henderson and Joe Baker, they had him playing on both the left and right sides which also opened his eyes even more to his responsibilities. Was Claiborne perfect? No, he wasn't, but at least he didn't get his confidence crushed and now has something to build on.  
Where He Fits: Claiborne will once again start opposite of Brandon Carr in this new scheme of Monte Kiffin but as much as we want to believe that he will be playing just as a cover two corner there will be plenty of times where he will be in press and playing man as well. I truly believe that Kiffin will play to the strengths of these corners but what will be different for Claiborne is that he will be asked to take more of a physical role in playing the run off the edge. One of the most impressive traits of this scheme is when you would watch corners like Ronde Barber or Charles Tillman and their ability to physically keep the ball from getting to the outside in the running game. Both Claiborne and Carr are going to have to be ready to be able to funnel that ball back inside to these linebackers and safeties. To play this scheme well this is an all the time job, not a part time one.   [embedded_ad]
Writers' Analysis: Rowan Kavner –The lofty expectations of the sixth pick of an NFL Draft and the top cornerback selected will almost never be met. It could easily be argued there's no position harder to adjust to from college to the pros than cornerback, and Claiborne certainly had some growing pains. But he also flashed moments that give the Cowboys a reason to be excited for the future. Secondary coach Jerome Henderson said Claiborne needs to focus on adding bulk this offseason as he adjusts to the new defense. Entering the 2012 season, he was hampered by both wrist and knee injuries. If he can stay healthy and get better at taking on contact and making tackles, he'll only keep progressing and provide more plays like his fumble recovery for a touchdown that sealed the victory at home against the Eagles.