The Cowboys' Week 3 preseason win against the St. Louis Rams represented the kind of offensive explosion we've all been anticipating. Tony Romo racked up 198 yards in his only quarter of play, averaging a sensational 15.2 yards-per-attempt in the process. Three of his 13 passes traveled at least 16 yards in the air, continuing the throw-the-ball-downfield trend we've witnessed through the preseason's first three contests. One-quarter of Romo's exhibition passes have traveled that distance, and the Cowboys are airing it out 20 yards or more about twice as much as in 2011.
And the 'Boys came out throwing last night, too. The first-team offense threw the ball on 65 percent of their snaps, including nine of the initial 12 plays. That's something I love to see. Although DeMarco Murray looks incredible so far and will undoubtedly become one of the focal points of the offense, it is rushing efficiency, not bulk attempts, that wins football games.
Don't believe me? How about this for a stat: Since 2008, the Cowboys have won only 27.6 percent of their games when they throw the ball at least 57 percent of the time. Clear evidence to keep it on the ground, right? Well no, because the team actually won 63.6 percent of their games when passing on at least 57 percent of snaps through the first three quarters, i.e. they pass the ball to gain leads and run the ball to wrap up games.
Through three preseason games, Romo has passed the ball on 64.7 percent of the first-team's snaps. That's a high rate, but a good one, and one I'd love to see continue into the regular season.
Romo was again excellent against the blitz on Saturday night. I tracked the Rams as sending five or more rushers after Romo on five occasions. The Cowboys passed each time, and while Romo completed only two of those throws, a pair of them were dropped (one by Kevin Ogletree on third down, and the other by John Phillips, although I'll never admit he really dropped the pass that was reviewed and overturned).
Romo's two completions against the blitz were a 19-yarder to Cole Beasley on a slant and the 38-yard touchdown strike to Dwayne Harris (how great did he look?). St. Louis actually didn't show their blitz on the second Harris score, sitting in a base alignment pre-snap. Romo recognized the blitz immediately, however, and hung in the pocket to hit Harris with a rusher in his face. Since Romo has totaled only a 79.4 passer rating when defenses don't show blitz but still send extra rushers (compared to a 120.9 rating against the blitz when it is shown pre-snap), that's a good sign.
Romo also called an audible before the 38-yard score to Harris, although it wasn't a traditional "Kill" call. I couldn't tell if Romo changed the play at the line or simply altered his protection, but he's looking good on his 2012 preseason checks. Of the five, one was a draw play (one-third of Romo's audibles since 2009 have been to a draw). The other four were passes, three of which Romo has completed for 68 yards and a touchdown. That's hardly an amazing sample size of plays, but I'm pretty sure the 'Boys will take that 156.3 passer rating all day.
Romo saw a lot of success throwing to the middle and right portions of the field against the Rams. Actually, only one of his 13 passes was to the left side, a 16-yard completion to Kevin Ogletree. In all three preseason games, Romo has attempted only 18.8 percent of his passes to the left side of the field – down from the 23.3 percent mark he posted last season.
Head coach Jason Garrett may just be playing to Romo's strengths, however. Romo has historically been far superior throwing to the middle of the field and right side, especially, as shown below.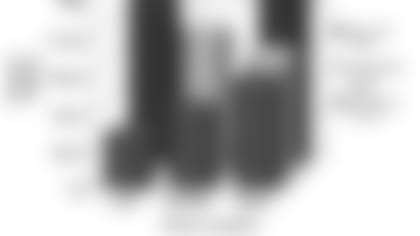 In limited preseason throws, Romo's passer rating when tossing it to the left has only been 68.8. Compare that to a stout 128.2 rating on throws to the middle and right through three preseason games. Ultimately, it doesn't really matter how you slice it. Tony Romo is in store for a big 2012 season.