Prior to the 2012 season, there was a widespread belief that the Cowboys would ride running back DeMarco Murray as far as he could go. Murray's health and the team's overall struggles sent that plan out the window, but the Dallas still relied on Murray perhaps more than you think. The Cowboys gave Murray over 16 carries a game when he was healthy, enough that he would have ranked 12th in the league in rushing attempts had he remained on the field for the entire season. When you consider that the Cowboys as a whole ran the ball less than any team except for the Arizona Cardinals, it puts into perspective just how frequently they used Murray when he was healthy.
With Felix Jones all but out of Dallas and a rookie or low-priced free agent running back likely to back up Murray, the stage is set for another high-volume season. Murray's health will obviously determine his overall workload, but when he's on the field, should the 'Boys give him all that he can handle? Is a workhorse running back system better or worse than a "running back by committee" approach?
The Numbers on RB Workloads
For the teams that have ridden just one running back in recent seasons, the plan has worked. Teams with a workhorse running back have outrushed those without one in three of the last five years. In 2012, the difference was massive – 4.51 yards per carry (YPC) for workhorse teams compared to just 4.04 YPC for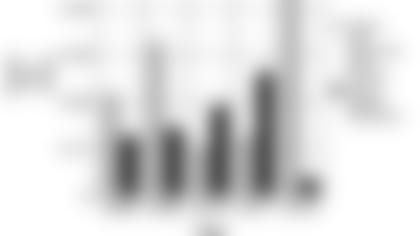 non-workhorse teams. Over the course of all five seasons, teams that implemented "running back by committee" totaled one-tenth of a yard *less *per carry than teams with a high-volume running back.
That doesn't mean that the best strategy for every team is to give a huge number of carries to one running back. It obviously works for teams like the Vikings or Texans who have an elite running back whose talent far exceeds anyone else on the roster. A slightly fatigued Adrian Peterson bests a fresh any-other-runner just about all of the time.
Why the Emphasis on a Committee Approach?
If teams with workhorse running backs are finding more success than those without one, then why have NFL teams searched long and hard for talented second and even third running backs? Teams have placed more of an emphasis on splitting up the running workload than ever before.
One potential explanation is that the teams giving a large number of carries to one running back probably have a really talented player at the position. Meanwhile, poor rushing teams might be more inclined to utilize two or three backs because there's not much of a difference between them. Thus, "running back by committee" could still be a good approach for teams without an elite running back because they couldn't increase their rushing efficiency by using a workhorse running back anyway.
Second, the importance of the running back position has decreased of late. There's not much scarcity at the position – we see running backs like Alfred Morris come into the NFL and find immediate success – so teams have become less willing to give out mega contracts to running backs. The Chris Johnson and DeAngelo Williams blockbuster deals have probably been mistakes; the best teams seem to operate more like the Patriots in regards to running backs, allocating a moderate portion of the cap to sign a few different quality backs as opposed to one major player. For teams who aren't paying an exorbitant amount of money to one running back, there's not as much incentive to give a single player the bulk of the carries; they can just ride the hot hand.
Ultimately, workhorse systems appear to be effective because they typically mean a team has a top-tier running back. It's the ideal system to have, but only if the parts are in place. Squads without an elite running back shouldn't force a high number of carries to one player simply because it works for other teams.
It's difficult to project the Cowboys' 2013 running back rotation without knowing Murray's backup, but there's a good chance it will be a rookie (hopefully a fast one). If that player is a mid-rounder, as expected, we'll probably see Dallas continue to utilize a large dose of Murray simply because he'll be the most effective option on the field.
The numbers suggest that if you have an above-average running back, you should continue to feed him the football. That's not the best strategy for every team, particularly those who have similarly skilled backs, but it's unlikely the Cowboys will bring in a runner who approaches Murray's talent. Even considering his injury history, Murray is probably a good bet to join 2013's class of running backs with at least 250 carries, and that's almost certainly the right way to go.