There's never been a better time for critical analysis of the NFL, and the Cowboys in particular, than right now. Football analytics have come so far just in the past few years, and nowadays there are all sorts of awesome tools available for anyone to study the game in more depth than ever. Let me take you through an example of how a typical analysis for this number-cruncher has changed.
I've always been interested in the draft because, in addition to its obvious importance to NFL teams, it's also a really great indicator of which teams understand value and which don't. As a whole, though, the draft is a rather inefficient market, which is to say that teams could be a whole lot more effective with their draft choices. If there's one area in which the Cowboys could make massive strides to really gain a competitive advantage over the rest of the league, it's in draft analytics.
Well, up until a few years ago, it was really difficult to perform studies on draft prospects because there weren't tools available to cut down on time. When I wanted to sort players by round and career production, for example, I used to make a spreadsheet and manually add in each player by hand, look up his relevant stats, and then manually add those as well. It took forever.
Now, there are tools like this draft finder that make my job a piece of cake (sometimes). If I want to uncover the total value of players drafted between 16th overall and 20th overall from 1980 to 2012, for example, I can click a few buttons and have that data in seconds. Then, I just export it into Excel and I have all sorts of valuable pieces of information at my fingertips. What used to take me literally an entire day I can now perform in under a minute. Technology has torn down the majority of the barriers that previously hindered outsiders from truly objective NFL analysis.
I mentioned all of that because I think it's important to understand how meaningful analytics can be, especially in relation to the draft. If we look back and see that teams have displayed almost no ability to predict running back success, meaning running backs drafted in the middle and even late rounds have posted nearly the same productivity as early-round backs, that information can be extremely useful. There's a reason that you probably won't see a running back drafted in the first round of this year's draft: Teams are catching on.
There's all sorts of awesome data out there that can aid teams in defining their draft day path. Today, I'm going to look at the relative value of two positions the Cowboys might target in the first round: guard and safety.
Let's fast forward to Thursday, April 25. With 17 players off the board, the Cowboys are on the clock. They've found themselves in a bit of a dream scenario because North Carolina guard Jonathan Cooper and Texas safety Kenny Vaccaro are both still on the board. The 'Boys are torn on who to select; they have both players rated equally and, for the sake of argument, we'll say they view guard and safety as equal needs.
Which prospect should they choose?
In situations like this, analytics can be the difference between a first-round flop and an All-Pro. It's not that the numbers are overriding the scouts or coaches; remember, in this hypothetical, the Cowboys have Cooper and Vaccaro rated just about equally, meaning the organization's decision-makers are undecided (or, at the very least, it's close). So if we knew that first-round guards have historically played a whole lot better than first-round safeties (or vice versa), that would be worthwhile information, right? (Right).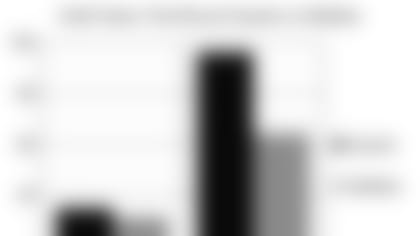 When we look at the history of first-round choices at those positions since 2000, this is what we find:
Since 2000, there have been 21 guards and 26 safeties chosen in the first round. In terms of approximate value, a good measure of career success, guards have beat out safeties by just a tad. AV actually tends to favor safeties more than interior linemen, though, so that's actually decent evidence that first-round guards have been superior to first-round safeties. More important, the first-round guards have started an average 96 games – exactly 33 percent more than the first-round safeties.
On top of that, safeties tend to get selected higher than guards in all areas of the draft. Of the safeties examined, eight were drafted in the top 10, compared to just one top-10 guard. The fact is that the safeties drafted in the first round have been picked with the expectation that they'll produce more than interior linemen, but they don't.
None of this is to say that Cooper is automatically a superior choice to Vaccaro. The Cowboys will obviously weigh their needs, the importance and scarcity of each position, and the scouting reports they have on both prospects. But if they're sitting there on April 25 with both players still on the board in a "too close to call" situation, analytics – the kind you can now easily harvest in the time it might take you to make a sandwich – should be the deciding factor in the Cowboys' choice of the UNC guard.