For the first time since Emmitt Smith was running rampant in Big D, the Cowboys are in a position to potentially use a workhorse running back. With DeMarco Murray's success as a rookie in 2011, the 'Boys could provide 250 carries to one player for the first time since Julius Jones in 2006, or perhaps even 300 carries for the first time since Emmitt way back in 1999.
Murray's incredible efficiency has many fans clamoring to ride the second-year back as far as he'll go. But does Murray's incredible efficiency as a rookie mean that Jason Garrett should show him off in a feature role?
Workhorse or Running Back by Committee?
There's a myth pervading the NFL that offenses have only recently begun to employ a "running back by committee" approach, opting to feature two running backs over one. In reality, teams have been using two running backs for decades. For every high-volume running back like Eric Dickerson, Barry Sanders, and Smith of the '80s and '90s, there is a Michael Turner, Steven Jackson and Ray Rice in today's NFL.
In the five seasons from 1985 to 1989, for example, an average of just eight teams provided a single running back with 250-plus carries. In the five years from 1990-1994, it was just over nine teams per season. And in the last half-decade, an average of 11 teams have handed the ball off 250 or more times to a single player. Yeah, that's right. The number of workhorse backs has increased since the mid-1980s.
So which system is more effective? I tracked the yards-per-carry of all NFL teams since 2006, sorting them into those with a workhorse running back (250 or more carries), and those without one.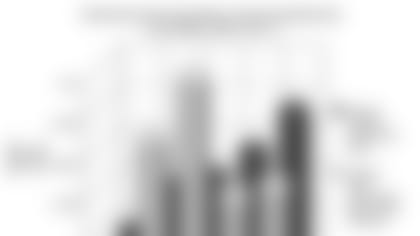 You can see that in three of the past five seasons, teams that implemented a running back by committee approach posted greater efficiency than those that used primarily just one runner. Overall, however, the results are extremely even. Since 2006, teams that have provided at least 250 carries to a single running back have rushed for 4.20 yards-per-carry; those that used a more even distribution of carries have rushed for 4.17 yards-per-carry.
Ultimately, I think the results show that labeling one rushing approach as "the best" simply can't be done. Some teams can benefit more from using a workhorse running back, while others seem to thrive when utilizing two or even three backs in a relatively even manner. There's no reason to take Ray Rice off of the field in Baltimore to give excessive carries to Bernard Pierce, for example, but a team like the Redskins might benefit more from spreading carries out among Roy Helu, Tim Hightower and Evan Royster.
Is Felix Jones Option 1B?
The questions the Cowboys face are 1) whether their rookie phenom has the ability to handle a heavy workload and 2) if he would thrive in that role. It's very easy to live in the moment and declare that Murray should be the recipient of 20 carries per game, but central to the workhorse/running back by committee debate is the talent of Felix Jones.
Many people have written off Jones simply because he hasn't been able to stay on the field, already missing 16 games in his young career. When healthy, however, Jones has actually been one of the most efficient runners in NFL history.
Of every running back that has played in the NFL since 1980, only two with as many carries as Jones – Bo Jackson and Jamaal Charles – have posted a superior yards-per-carry. Jones' 8.87 yards-per-carry as a rookie is the most in NFL history of any back with more than 12 carries. If you really think about Jones' time on the field, he's been sensational. Unfortunately, injuries have clouded our judgment of his talent.
Breaking down Jones' numbers more, the results are clear: Jones thrives as the second option in the running game. During his time at Arkansas, Jones rushed for 6.3, 7.6, and 8.7 yards-per-carry while playing behind Darren McFadden. Jones was actually more efficient than McFadden in each of their three years in college.
In the NFL, it has been more of the same from Jones. In addition to his sensational rookie season, he turned in a sophomore campaign in which he rushed for a remarkable 5.91 yards-per-carry on 116 rushes. The following season, the 'Boys asked Jones to handle the brunt of the rushing load, and he turned in a career-worst 4.32 yards-per-carry.
In 2011, Jones again began the season as the feature back in Dallas. In the eight games he started, Jones posted a pedestrian 4.15 yards-per-carry. Once Murray took over the lead role and Jones was able to provide a spark off of the bench, however, that averaged again soared to 5.93.
I think the general consensus that Murray will dominate the distribution of the 'Boys' carries in 2012 is a bit off. Let's not forget that Murray is a player who, prior to his senior season at Oklahoma, never led his team in carries. As the Sooners' workhorse back in 2010, Murray averaged only 4.3 yards-per-carry.
There's no doubting that Murray possesses an unbelievably well-rounded skill set, but he's not so much more talented than Jones that he should be getting 350 carries this year. If you're expecting even a 75/25 split among Murray and Jones in 2012, I think you'll be surprised at the distribution by year's end.
My hunch is that, due to their similar skill sets, Murray and Jones will be used kind of interchangeably this year. Both players excel on counters, tosses, and other "finesse" runs, both can play on third down, and both can line up all over the field. Murray will start games and be given the first opportunity to rack up carries, but it isn't like the coaches will pull Jones off of the field if he comes out on fire.
In the end, you'll likely see the Cowboys simply ride the hot hand this year. If I had to guess, I'd say Murray will receive between 60 and 65 percent of the carries, assuming both players remain healthy. Based on past data and the nature of the Cowboys' current backfield, that's probably the way to go.