Sound the alarms, because the Cowboys' window of opportunity is closing. The team is littered with players in their prime and, before you know it, the opportunity for a deep playoff run will vanish. Right?
Well, not so fast. One of the most underrated aspects of Jason Garrett's reign as the head coach in Dallas has been the team's emphasis on getting younger. The defense in particular has witnessed a youth movement of late. Bradie James and Keith Brooking are out at inside linebacker, with Bruce Carter and Dan Connor filling their shoes. Terence Newman is gone from the cornerback position, and Barry Church appears ready to start at safety.
All told, the Cowboys aren't really an old team at all. Actually, only 10 players on the roster are over the age of 30, including just six starters (Tony Romo, Jason Witten, Nate Livings, Jason Hatcher, Jay Ratliff, and DeMarcus Ware).
Of course, four of those players are key components of the roster. Even if the rest of the team is quite young, the importance of Romo, Witten, Ratliff, and Ware is so immense that owner Jerry Jones might be right about the potentially closing window of opportunity.
To determine exactly where the Cowboys' "Core Four" currently sit within their careers, I tracked the past production of other players at their positions. Below, you can see the career outlooks for pass rushers (4-3 defensive ends and 3-4 linebackers), defensive tackles, tight ends and quarterbacks. All production is measured in terms of career approximate value.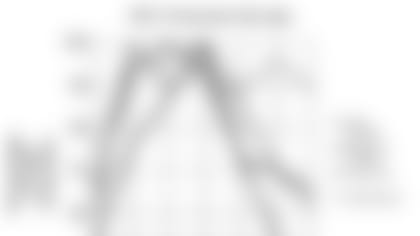 There are a few really interesting points on this graph. First, note that the peak production for pass rushers comes at around age 25. Despite the early rise, pass rushers retain at least 85 percent of their peak production until they are 33 years old. Defensive tackles peak a bit later than edge rushers, but their fall from grace is a quick one. During ages 31 and 32, defensive tackles' production is only about 73 percent of what it was during their peak. That number plummets even more to 55 percent in the subsequent two seasons.
Like defensive tackles, tight ends tend to see a sharp decline in production around age 31. With their peak production coming at ages 29 and 30, the 28 percent drop in production that arrives in the following two seasons is the largest of any position. Quarterbacks, on the other hand, have the ability to lead their teams at near-optimal efficiency into their late-30s.
For the Cowboys, I think these numbers are both good and bad. The good news is that Romo, Ratliff, Witten and Ware are all in the prime of their careers. All except Romo (32) are 30 years old, and none figure to witness a major decrease in production this season.
The bad news is that only Romo isn't expected to see a drop in productivity in 2013 and beyond. For Ware, the decline could be minimal. For Witten and Ratliff, the drop might be more substantial.
One of the major problems the Cowboys will face over the next couple of years is finding capable replacements for these players. Just as the team did when they replaced James, Brooking, Newman and others, they'll eventually need to find another well-rounded tight end, productive nose tackle, dominating outside linebacker, and (gasp) even a new quarterback.
The 'Boys should be able to wait on replacing Romo for at least a few years. Quarterback play remains stable until right around age 36, so the Cowboys will likely have Romo in his prime for another four or five seasons.
The above numbers are just averages, however, and an individual player can certainly overcome history to produce well into his 30s. With the dedication exemplified by Witten, Ratliff and Ware and the manner in which they take care of their bodies, they're just the types of players to defy the odds.
Ultimately, I think the proverbial "window of opportunity" is only closing for those teams that let it. The best organizations in the NFL find replacements for players whose production figures to decrease before the decline actually happens. For years, the Cowboys waited too long to restock their roster. With Garrett manning the ship, however, the 'Boys have shown they're willing to let go of veterans in favor of youngsters, creating a superior long-term winning strategy. So while the Cowboys' window might very well be closing in the sense that some of their best players are aging, that happens to every team. All it takes is an influx of young talent – the kind seen with the acquisitions of Sean Lee, Dez Bryant, Morris Claiborne, Brandon Carr, Tyron Smith and DeMarco Murray – to open that window right back up.