When you hear Jason Garrett and other NFL coaches talk about "staying ahead of the chains," it means they want to make sure the offense stays in manageable down-and-distance scenarios. A 6-yard gain on first down is staying ahead of the chains, for example, as it allows an offensive coordinator to utilize his full assortment of plays. Similarly, a negative play on first down puts an offense behind the chains, limiting how they can attack a defense.
Historically, NFL coaches have run the ball quite often on first down in an effort to stay ahead of the chains. Only recently have we seen a dramatic shift in the way many offenses approach first down plays (and all play-calls in general). The increase in passing efficiency over the past decade has been accompanied by a jump in first-down passes, but the goal of garnering manageable second- and third-down situations will always remain.
One objective way to measure "staying ahead of the chains" is to track the expected points every play adds to a drive. In each game situation, an offense can be expected to score a certain number of points on that particular possession. A first and 10 at midfield in normal game situations, for example, has historically been worth around 2.4 expected points. That is, teams that find themselves in that situation average about 2.4 points on their drive.
A big part of staying ahead of the chains is to continually increase the expected points on a possession. In most game situations, plays of four yards or fewer on first and 10 don't increase expected points. Thus, only a 5-yard gain or greater on first down can really be considered "successful." The offenses that continually gain five or more yards on first down are typically the most potent.
One of the cool things about tracking expected points is that it allows us to more accurately measure "success." For example, comparing the yards-per-carry (YPC) behind various offensive linemen is generally a fruitless endeavor because their jobs are much different. The majority of short-yardage runs go behind the interior linemen, so we would never expect inside running efficiency to match that of when running outside.
We can correct for game situations by monitoring the expected points each offensive lineman helps contribute to the offense, however. On a third-and-1 play, for example, a 2-yard rush up the middle dramatically increases expected points. The Bears had such a play on Monday night. With a 2-yard rush on third and 1 at their own 34-yard line, Chicago's expected points on the drive increased from 0.56 to 1.33. Had they gained two yards on first and 10 instead of third and 1, they actually would have lost 0.28 expected points. Thus, adjusting for game situations can help you understand the true efficiency of an offense.
With that background out of the way, let's take a look at how the Cowboys have performed on the ground thus far in 2012. Below, I've listed the YPC gained by Cowboys running backs when each lineman is at the point of attack. On most runs, I list two linemen at the point of attack; Ryan Cook and Nate Livings would be at the point of attack on a dive to the left side of the formation, for example.
LG Nate Livings: 3.25 YPC
RG Mackenzy Bernadeau: 3.58 YPC
At first glance, it appears as though Free has been the Cowboys' most efficient run blocker in 2012. The truth is that Free has actually struggled quite a bit in the running game. In Week 1 at the Giants, Free was at the point of attack on DeMarco Murray's 48-yard scamper. The right tackle really didn't do much on the play, and if you remove it from the sample, the Cowboys have averaged only 2.07 YPC running behind Free. One play significantly altered the results.
If we factor game situations into the mix, however, we obtain more accurate results regarding each lineman's run blocking performance: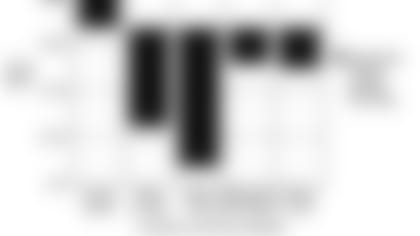 In terms of expected points, Smith has been the Cowboys' top run blocker, and it isn't even close. Actually, the Cowboys have lost expected points running behind every lineman except for Smith. That is, only Dallas' runs with Smith at the point of attack haven't been detrimental to the offense.
The Cowboys' top run on the year was of course the aforementioned 48-yarder from Murray, which added 3.23 expected points to the team's drive. The second-most successful run was Murray's 11-yard touchdown against the Buccaneers, which increased the expected points on the drive from 4.13 (the average number of points offenses score with a second and 10 at the opponent's 11-yard line) to 6.99 (it isn't 7.00 because of the small probability of a missed extra point).
The Cowboys' most detrimental run in 2012, by far, was the failed fourth-and-1 fullback dive at the Giants' 37-yard line. Dallas "lost" 2.19 expected points on that play alone. Had the same run been on first and 10, the expected points lost would have been just 0.55.
The graph really tells you all you need to know about the state of the Cowboys' running game. Of the Cowboys' 67 designed runs on the season, only 23 (34.3 percent) have increased their odds of scoring on that particular drive. On first and 10, only 11 of their 38 runs (28.9 percent) have gone for more than four yards, thus increasing expected points.
The remaining 37 of the Cowboys' first and 10 plays have been passes (meaning Garrett has been remarkably balanced on first down). Nearly half (48.6 percent) of their first and 10 passes have been successful, suggesting the offense should really air it out more often on first down.
Actually, Bryan Broaddus explained before the Monday night game that the Cowboys need to pass the ball when defenses expect run and run it when they anticipate a pass. That couldn't be more accurate, and with defenses still playing to stop the run on first and 10, the Cowboys should dial up a whole lot more passes in that situation. With a success rate of only 28.9 percent on first and 10 runs, the numbers really support that idea.
Still, at some point the running game has to get going. Rushing the ball efficiently can hold back rushers and set up big plays via the passing game. No matter what metric you use, however, the Cowboys' offensive line simply isn't opening up the necessary holes for Murray to dominate defenses like he should.