This week, I've teamed up with PhiladelphiaEagles.com writer Mike Clay to bring you a mini-game plan for the Cowboys. Mike analyzes the Eagles from a perspective similar to my own in Running the Numbers, so he'll provide some insights on how Philadelphia might attack Dallas in Week 10.
Cowboys' Pass Offense (By Jonathan Bales)
Heading into Philadelphia, the name of the game is tempo. The Cowboys have excelled in recent weeks with an aggressive, up-tempo offensive attack. Whether that's due to the speed with which the offense moves, a simplistic approach, or utilizing more spread looks doesn't really matter. Look for the Cowboys to spread out Philadelphia whether they utilize "11" or "12" personnel, moving at a pace that we've generally witnessed only when the team has been losing.
Using spread formations gives the Cowboys a particularly good advantage against the Eagles. Remember, the Cowboys move Austin into the slot in such looks; 69.6 percent of his passing snaps have come in the slot, a rate higher than even Giants wide receiver Victor Cruz. In the slot, Austin will likely be matched up with Eagles cornerback Brandon Boykin quite a bit. As compared to Nnamdi Asomugha and Dominique Rodgers-Cromartie outside, that's a matchup that favors Dallas.
Although the Eagles have just 11 sacks on the season, their defense has really underachieved. Defensive ends Jason Babin and Trent Cole are both outstanding players who could pose potential problems for Romo. Plus, I expect the Eagles to bring a lot of heat to try to force Romo to hand over the football. Thus, the 'Boys might want to look into taking a page from the Eagles' playbook, throwing a few screens to beat the blitz. Dallas has run only 12 screens all year, seven of which have been to running backs. We've seen head coach Jason Garrett attack the Eagles with smoke and bubble screens to receivers in the past, especially on third down.
Play-action is always a hot topic for the Cowboys because they own the league's lowest play-action rate, and by a large margin. The 'Boys have had a ton of success on play-action this year, however, completing 79.2 percent of their play-action looks for 11.5 yards per attempt (YPA) and a passer rating of 107.8.
Some point to the lack of rushing success as evidence that play-action is useless, but that's not really true. First of all, we've already seen the Cowboys thrive on play-action despite any semblance of a running game. Defenders are programmed to play a certain way based on down-and-distance, and when an offense shows run-action on first-and-10, the linebackers don't just sink into their drops. If they did, we'd see much greater rushing efficiency from Dallas.
Secondly, nearly every NFL quarterback has greater passing efficiency with play-action looks as compared to straight dropbacks, regardless of his team's rushing prowess. According to Pro Football Focus, of the 33 quarterbacks who have taken the majority of their team's snaps, 30 have a higher YPA on play-action over all other passes. That's 90.9 percent. Even teams like the Cardinals, Jaguars, Dolphins, and yes, the Cowboys – all squads with fewer than 4.0 yards per catch (YPC) this season – have a ton of success with play-action looks. Miami's Ryan Tannehill, the rookie quarterback for a team ranked 26th in rushing efficiency, is averaging 11.5 YPA on play-action looks and 6.5 YPA on all other passes.
So yes, unless the Cowboys completely abandon the running game, play-action is going to work.
Eagles' Pass Defense (By Mike Clay)
The key to the Eagles pass defense will be slowing the three-headed monster that is Jason Witten, Miles Austin and Dez Bryant.
Although Austin has seen a handful more targets and is responsible for 36 percent of Dallas' receiving touchdowns this season, a case could be made that Bryant is the better talent of the two, and thus the bigger threat. The good news for the Eagles is that Bryant plays out wide about 96 percent of the time, which means he's likely to see a ton of Nnamdi Asomugha this week.
Austin, meanwhile, is in the game for most two-wide sets and kicks to the slot when three wide receivers are on the field. Dominique Rodgers-Cromartie is likely to cover him when he's out wide, but Brandon Boykin figures to handle him when he's in the slot. Of course, Boykin has struggled recently, which could force defensive coordinator Todd Bowles to make some adjustments. Opponents have been taking advantage of their top receiver lining up in the slot versus Boykin recently and that won't change with Austin playing that role in Week 10.
Of course, the Cowboys biggest underneath threat, and their most-targeted receiver this season, is Witten. Despite a slow start, the tight end has seen one-quarter of Tony Romo's throws this year, bolstered by a ridiculous 23-target effort back in Week 8. Witten lines up with his hand in the dirt about 70 percent of the time, spending another 27 percent in the slot.
Last week, I expressed concern that the Eagles would struggle to slow Saints tight end Jimmy Graham because they rarely move their top pass defenders (Rodgers-Cromartie and Asomugha) inside. Graham more than doubled the next-closest Saint with 11 targets, racking up a team-high eight receptions and 72 yards, while also scoring a touchdown. That will be an issue again in Week 10. With Witten matched up against safeties Kurt Coleman and Nate Allen (or David Sims if Allen is out again), and linebackers DeMeco Ryans and Mychal Kendricks, it's very possible he approaches a dozen targets.
Comparing the Cowboys' personnel to their play-calling, we find a bit of a tell. Dallas has called a pass on 81 percent of No. 3 wide receiver Kevin Ogletree's 268 snaps this season. On the other hand, they've called a run 56 percent of the time when No. 2 tight end John Phillips is on the field, and 61 percent of the time when fullback Lawrence Vickers is in the game. It will be interesting to see if Bowles catches on and takes advantage.
With Bryant dealing with Asomugha on the outside, look for Romo to go inside to Austin and Witten early and often this week. Both should be in for big days.
Cowboys' Run Offense (By Jonathan Bales)
The Cowboys have historically been superior when rushing the ball from spread formations versus tight formations, as evidenced by their 5.1 YPC from spread looks last week. There's no rule that says an up-tempo spread offense can't run the ball; actually, we see it all over the college level.
When the Cowboys do use their traditional "12" personnel with Romo under center, I'd love to see more counters. Dallas has rushed for 7.2 YPC on over 100 counters since 2009, yet we've seen only two counters in all of 2012.
Regardless of how the Cowboys run, they should consider getting behind left tackle Tyron Smith. I tracked the YPC with each of the team's lineman at the point-of-attack this season, and Smith has been far superior to fellow offensive tackle Doug Free in the running game.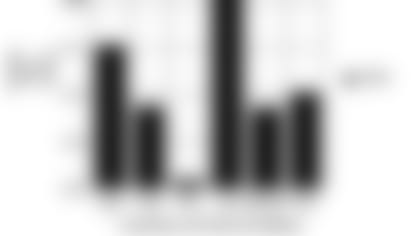 On top of that, Free's total is inflated by the 48-yard DeMarco Murray run in Week 1 on which the right tackle didn't really do anything special. Taking that away, the 'Boys have actually run for only 2.68 YPC with Free at the point.
More important than YPC, perhaps, is success rate, the percentage of runs that increase the Cowboys' probability of scoring on a particular drive. Thus far in 2012, the success rate on runs with Smith at the point is 50.9 percent; with Free, it's just 30.9 percent, well below the team-average of 39 percent.
Eagles' Run Defense (By Mike Clay)
The Eagles run defense has to be breathing a sigh of relief after hearing that Cowboys' lead back DeMarco Murray is expected to miss this week's game with a foot injury.
That leaves unintimidating Felix Jones as Dallas' top back. He'll be spelled by Lance Dunbar and possibly Phillip Tanner. Jones is averaging just 3.6 YPC this season and managed just 39 yards on nine carries against a poor Atlanta run defense in Week 9. Of course, it's worth mentioning that Jones does have a 6.1 YPC mark on 66 career attempts against the Eagles.
Another item to consider is that Jones has five catches in each of Dallas' last two games. With linebackers Akeem Jordan and Mychal Kendricks struggling in coverage this season, this could be a matchup Dallas tries to exploit.
As for defending Dallas' actual run game, the Eagles are going to need to make some improvements after getting torched for 140 yards on 25 carries (5.6 YPC) by the Saints on Monday. Interestingly, Philadelphia's run defense looked dominant early on, holding the running back units from Cleveland, Arizona, and New York below 3.1 YPC. It hasn't been nearly as good over the last few weeks, with Detroit and New Orleans faring well.
According to Pro Football Focus, the Eagles grade out as the league's fourth-worst run defense this season, ahead of only the Bills, Colts and Panthers. Linebacker DeMeco Ryans and defensive tackle Fletcher Cox have been strong, for the most part, up the middle, but the rest of the team's linebackers and defensive tackles, including Cullen Jenkins and Derek Landri, have struggled. Add to that the poor play from starting safeties Coleman and Allen and you have an exploitable run defense.
Watch for Bowles to try and get Mike Patterson more work after he returned to action to play 15 snaps in Week 9. Patterson was competent on 273 snaps against the run in 2011. Of course, Landri was a dominant run defender a season ago, but hasn't been the same in 2012.
Despite his past success against the Eagles, the Cowboys' Jones-led run offense doesn't figure to scare head coach Andy Reid near as much as their passing game. With the Eagles focused on slowing Witten, Bryant and Austin, Jones could sneak in a few decent runs against a struggling Eagles' run defense.