I like making lists. They seem to be pretty popular and it's an efficient way to provide quick-hitting thoughts on a variety of different topics. So heading into the 2013 season, I thought it would be cool to make a list of the top-10 players on the Cowboys' roster.
This particular list ranks the players I'd prefer to have on the roster moving forward. That means that, although past production is certainly a consideration, I'm looking for the players who will be most productive in the future. So you can basically think of these as three-year rankings. That means age is a major consideration. I think Jason Witten is still one of the best players on the team, for example, but he didn't make this list because he's right at the age when most tight ends tend to break down. In three years, I anticipate that his contributions will be negligible.
Note that I'm not considering the players' contracts. That would drastically alter the way in which I'd assess each player. My No. 10-ranked player, for example, would never have made this list if I were considering contracts. It's just the players who I think will be play the best over the next few seasons.
This will probably be the most unpopular pick on here. No Jason Witten, no Anthony Spencer, no Jason Hatcher, but the stat dork has Orlando Scandrick in his top 10!? I think the perception of Scandrick is warped a bit because, as mentioned, he has a hefty contract. He probably hasn't lived up to that, but I ranked Scandrick as the top cornerback on the team in 2012.
Playing in the slot, a much tougher spot to play than outside, Scandrick allowed a 51.3 percent completion rate, 5.7 yards per attempt (YPA) and zero touchdowns. He's a poor tackler, but the 68.5 passer rating he allowed last year made up for that.
As the 2013 season approaches, I'm becoming more and more bullish on Murray. We all know he can play; he's averaged 4.8 yards per carry in his two seasons and was on pace for 67 receptions last year. The problem has been his health. As I've explained in the past, however, there's no way we can tell at this time if Murray is truly injury prone or just unlucky; the sample of injuries has just been too small.
I'm betting on superior health in 2013, and a really big year. It's not like the league is littered with young, 220-pound backs with 4.41 speed who can catch passes. Here's more on **why I think Murray will break out**.
Carr was decent in 2012, allowing a 58.6 percent completion rate and 7.4 YPA. I think he'll have more opportunities to make plays in Monte Kiffin's defense. He'd be higher on this list if he were a few years younger than 27.
Smith has taken some time to develop, but that's to be expected from a player who came into the NFL at the age of 20. Think about this: Third-round pick Terrance Williams will turn 24 a few weeks into the 2013 season, but Smith won't be 23 until December. That's a reason we should expect Williams to produce early in his career, but it's also a reason to not be so concerned about Smith. He's an elite talent who's basically a "rookie" with two years of NFL experience.
Carter has just 72 career tackles, so this pick is really more of a projection than most others. But what do we know about Carter? We know he was a first-round talent who, at 243 pounds, was reportedly timed between 4.46 and 4.57 in the 40-yard dash. He could be at 4.65 and that would still be an elite time. We also know that Carter recorded a tackle on 11.2 percent of his snaps last year in a scheme that probably didn't suit his skill set, and he might be better against the pass than he is versus the run.
Ware is still a top two or three player on the Cowboys, but he ranks a bit lower on this list since he's 31 years old. Ware's production was down in 2012, primarily because of injuries, but I don't think we're going to see another 20-sack season out of him. He's still one of the game's best pass-rushers, but if you look at Ware's career curve, it has mirrored that of the typical pass-rusher.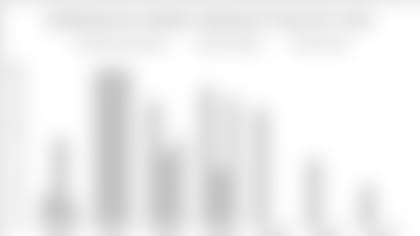 The chart displays stats in terms of a player's peak production. Ware peaked at ages 25 and 26, as is typical for pass-rushers, and there's been a gradual decline since that time.
In my article on **four reasons that Claiborne will be a lockdown cornerback** in 2013, I noted that I thought he was already pretty good as a rookie. He was targeted only 69 times all year, 17 fewer than Carr. That suggests he generally had good coverage and it helped him allow just 1.14 yards per route – around the number posted by low-end No. 1 cornerbacks.
And it seems as though we tend to forget about a player's draft slot after he plays a season or two, but we shouldn't. Claiborne isn't just a second-year cornerback; he's a second-year cornerback who, 12 months ago, was considered the consensus top defensive rookie. Big difference.
Lee is one of those players who excels despite average-at-best athleticism. He's not that big, he's not that fast, but he can just play, and it's reflected in his stats. Remember how Carter had an 11.2 percent tackle rate in 2012? Well, that's a good mark, and Lee finished the year at 17.5 percent.
We can debate Romo's value all day, but I've already explained why I think he's a top-10 quarterback. Instead, let's talk about his age. Romo is this high on my list because quarterbacks can produce well into their 30s. I've found that the typical quarterback can produce at least 90 percent of his prior peak production until age 37, so there's a good chance that Romo will play out the life of his contract at a high level.
He's 6-2, 225 pounds with perhaps the best ball skills in the NFL, he's just 24 years old, and he's coming off of a season with a line of 92/1,382/12. The only thing that can make him better is **more deep passes**.