There's been a lot of talk about Dez Bryant in 2012 – some of it good and some of it bad – but don't forget that the Cowboys' other starting wide receiver isn't too shabby himself. Miles Austin turned in a disappointing 2011 season due to hamstring issues, but the versatile receiver has always been effective while in the lineup. His role on the team may be changing a bit with Bryant transforming into the top option in the passing game, so let's take a look at how Austin might produce in 2012.
One of the keys to projecting Austin's production is understanding where he positions himself on the field. As I mentioned in a previous article, Austin lined up in the slot on 44 percent of his snaps in 2011. Since the Cowboys used three-plus receiver sets on only 42 percent of their plays last season, you can see Austin is now the Cowboys' full-time slot receiver (if you're wondering, Austin's slot rate is higher than the overall team rate of three-receiver sets because Austin often lines up in the slot in base packages with tight end Jason Witten outside).
Austin's increase in snaps in the slot last year is reflected in his stats; in 2011, the average length of a pass to Austin was only 10.9 yards, ranking him just 90th in the NFL among wide receivers. Austin also posted only 13.5 yards-per-reception – down over two yards from his career mark of 15.6.
The Cowboys brought in Dwayne Harris, Cole Beasley and a few other slot receiver prospects in recent seasons, but none have stood out as of yet. At this moment, you can probably expect to see Austin in the slot again in 2012.
Nonetheless, I think you'll see Austin's yards-per-catch rise this year. Remember, he played 32.4 percent of his snaps in the slot in 2010, yet still averaged 15.1 yards-per-reception. The decrease in efficiency in 2011, I think, was perhaps due to Austin's health. With his hamstring troubles, Austin posted the worst yards-after-catch (YAC) of his career.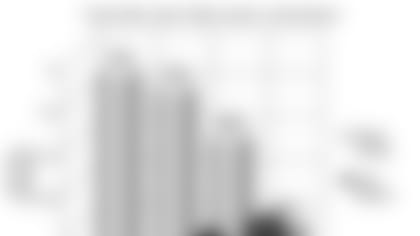 You can see Austin averaged only 4.7 YAC per 2011 reception, down mightily from previous years. I'm confident that number will "even out" in 2012, so to speak, meaning Austin's YAC will increase. Based on his career rates, you'll likely see Austin check at about 15 YAC in 2012 – right around where it was in 2010.
A big part of Austin's overall production will of course be how many opportunities he receives to make plays. With greater focus on the running game and a probable increase in throws to Bryant, how will Austin's targets be affected? Austin posted a career-high in targets in 2009, totaling 8.6 per game. That number decreased to 7.2 in each of the last two seasons. Even with the other playmakers in Big D, I think you'll see that number remain steady in 2012.
But just how many of those targets will Austin haul in? His career catch rate is 62.5 percent, but that's inflated a bit from Austin's historic 2009 season, in which he caught 66.7 percent of passes thrown his way. In each of the other three seasons he has been targeted, Austin's catch rate has been almost exactly 60 percent.
And finally, we get to touchdowns. Over his career, Austin has converted 13.4 percent of his receptions into touchdowns. I think that number is going to drop just a bit this year with a superior short-yardage game and a greater number of red zone targets for Bryant. Let's call it 10 percent. Extrapolating all of those numbers over 16 games, we get 69 receptions for 1,035 yards and seven scores. Of course, health will be the determining factor in Austin's overall production. If he stays on the field – a big "if" – Austin should be just fine in 2012.