Last week, I was listening to the Cowboys' Break online radio show like all of you and I noticed the team's new cornerback duo is a storyline that keeps popping up. Barring something unforeseen, free agent acquisition Brandon Carr and rookie Morris Claiborne will be the starting cornerbacks for the 'Boys this season.
There's a lot of intrigue surrounding both players simply because of the mystery that accompanies them. While the Cowboys have a good idea of what they'll get with Carr, he's still a new cog in a revamped defense. It will be interesting to see how he fits into defensive coordinator Rob Ryan's scheme.
Carr at least has NFL experience and a history of production, however. The real question mark for Dallas, many believe, is the rookie sensation out of LSU. As the top defensive player in this year's draft, Claiborne has the potential to explode onto the scene. He's still a rookie, though, so it isn't like he'll glide through the season without struggle, especially early in the year.
To predict what sort of impact Claiborne might make this season, I decided to research the production of other first-round cornerbacks. Like I've done in the past, I've used Pro Football Reference's "Approximate Value" to judge cornerback play. AV is not a perfect measure, but it still provides a solid idea of how a player performed in a given year.
Of the top 10 rookie cornerbacks since 2000 in terms of AV, seven (Patrick Peterson, Devin McCourty, Terence Newman, Dunta Robinson, Marcus Trufant, Chris Gamble and Darelle Revis) were drafted in the first round. Most people around the league would tell you all of those players turned in quality rookie seasons (yes, Newman was a really good rookie).
Let's take a look at first-round cornerbacks as a whole …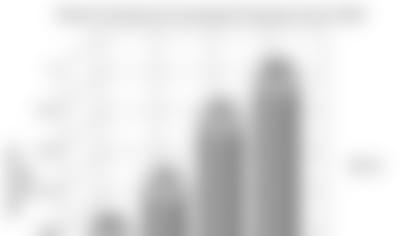 Not all first-round cornerbacks should be treated equally, as evidenced by the above graph. Note the dramatic difference in production between top 10 cornerbacks and all first-round players at the position. Top 10 players at any position are the most elite in the draft class. Claiborne is arguably one of the premiere cornerback prospects to come into the NFL in the last decade, and his projected production should mirror that fact.
You can see that rookie cornerbacks drafted in the top 10 have turned in an Approximate Value of 6.6 since 2000. As a comparison, Newman's rookie AV was eight, Orlando Scandrick's was three, and Mike Jenkins' was two.
Since 2000, there have been eight cornerbacks selected in the top 10 picks: Quentin Jammer, Patrick Peterson, Terence Newman, Pacman Jones, Joe Haden, DeAngelo Hall, Carlos Rogers, and Dunta Robinson. Only Pacman Jones was a bust, and that had nothing to do with his on-field talent. As a rookie, Pacman was actually already one of the league's better cornerbacks. In their rookie campaigns, those 10 players averaged 2.75 interceptions and 53 tackles.
As an explosive, physical cornerback, I think you'll see Clairborne exceed those figures in his rookie year. He'll certainly be tested early in the season, giving him an opportunity to make some plays. As an initial projection, I think around 60 tackles and four interceptions are what we're looking at from Claiborne.
With an average AV of 6.6 from top 10 cornerbacks in their first years, I think a projection of a 7.5 AV for Claiborne is pretty accurate. Interestingly, that's actually Newman's career AV-per-season. While it's easy to remember Newman's 2011 struggles, don't forget he was a really good cornerback for a long time in Big D. If the Cowboys can get Claiborne to match Newman's career average production in just his rookie season, they would have to be happy with that.
Over his career, Newman averaged 60 tackles and 3.6 interceptions per season. Those figures match up remarkably well with the projection of Claiborne's 2012 season based on past production from top 10 rookie cornerbacks.
Ultimately, the sky is the limit for Claiborne, even in his rookie season. Based on past data, four interceptions and 60 tackles is a reasonable expectation – the same numbers posted by an "average" Terence Newman over his nine-year career in Dallas.
Of course, those four picks and 60 tackles are really just a baseline for Claiborne. With his coverage ability, his ceiling is really as high as just about any cornerback in the league right from the start. Cowboys fans have to be excited about Claiborne's future in Dallas, but don't be too concerned about his rookie season. You'll see some struggles, but the stats suggest Claiborne will hold his own in Rob Ryan's defense in 2012.