FRISCO, Texas – I know these teams have played in the preseason, but it's been quite a while since we've seen a meaningful matchup between the Cowboys and Raiders.
Neither Derek Carr nor Khalil Mack was playing in Oakland when these teams last met in the regular season, back on Thanksgiving Day in 2013. Needless to say, a lot has changed. So let's take a look at some of the guys that the Cowboys are going to have to account for in this Sunday night matchup.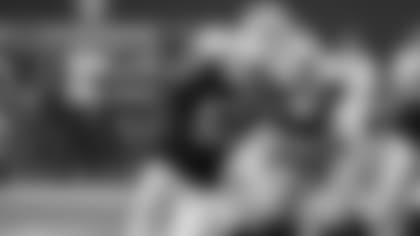 Weapon: DE Khalil Mack
Once again, this is another one of those matchups that La'el Collins is going to have to face in his first season at tackle. Mack is the type of player that comes at you, down after down. He plays with physical and mental toughness. There is no quit to his game. He has a big-time closing burst to the quarterback and can really accelerate.
Mack can get lateral in a hurry. When he sees the ball, he's gone. He is a reactionary athlete, and he has the range to go make tackles. He can really get off the ball in a hurry. Nice body control and balance, as he is not a stiff-moving player at all. He has the ability to change directions in a hurry due to his lower body bend. There is no tightness to his game.
Instincts are so important to this position, and Mack is able to key and diagnose well. He plays with instincts, both against the run and pass. That makes him a hard guy to fool even with how aggressive he is. He also shows the discipline to carry out his assignment. As you might guess, he is a hard guy to handle one-on-one -- usually requires some type of scheme help.
Mack comes at blocker with pass rush moves. He does a really nice job of using his hands to break a blocker down, and he doesn't let the block get to his body. Finishes at the level of the quarterback. You don't often see him get knocked up the field. He has a feel for where he needs to be to finish the play, and you can use him in stunts and games due to his athletic ability.
There will be snaps where he and Bruce Irvin line up on the same side of the field and rush, which presents problems for the blocking scheme. Collins faced him during the preseason so has an idea what he's up against. He will generally rush from Dak Prescott's front side.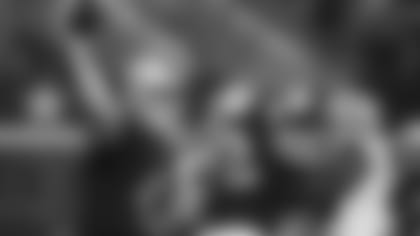 Nemesis: QB Derek Carr
Despite what you may have heard, this is one of the best young quarterbacks in the league. He hasn't had the results that he enjoyed last season, but he is still capable of putting the game on his shoulders. He has an outstanding work ethic and he competes. He has a passion for the game and you can see it in the way he plays.
Carr has the physical and mental toughness to handle all that is thrown his way. He is intelligent in the way he goes about his job, and he shows a tremendous about of poise for such a young player. His teammates rally around him, which you can see on film.
The numbers haven't been great this year, but Carr has arm talent and strength with accuracy. I was shocked to study him on tape and see how many passes that he puts on target and his receivers just flat drop. To his credit, he is able to put those drops behind him and keep firing the ball in their direction. There is no quit to his game. He's like a young Philip Rivers in that way. He throws the ball well at all levels, and it's impressive in the way he is able to hit receivers on the move.
The Raiders' scheme calls for him to throw underneath passes and let the receivers run after the catch – but he has thrown the ball down the field more this season. He has the touch to work the ball down the field, and he doesn't make his receivers work for the ball.
Thanks to his protection, Carr doesn't have to make many throws under duress. His line does a great job of keeping him clean for the most part. He will stand in the pocket and deliver the ball, and he can process information quickly.
He has instincts with the ability to make quick decisions, which makes him a play maker with clutch production. When he's on, he can be a nightmare for opponents to deal with.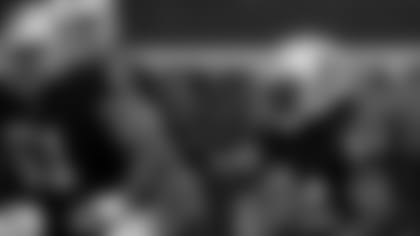 Under the Radar: C Rodney Hudson
This is a veteran player that really stands out on film when you study the Raiders, as he brings a physical presence to the center position.
Hudson is a wide-based player but still manages to make it work. He does not struggle with his movement at all. His lack of height actually helps him as a leverage player, as he does a really nice job of working his hands inside to hold the defender in place. It's amazing to watch, because he is often holding on so tight that every time the rusher moves, Hudson goes with him.
Technique-wise, he can keep his head out of the block. He will hold the rusher at arm's length and he can really sit down on his man. He is a position blocker in the run game. He's not going to get much movement off the line, as he is more of a shield blocker than a drive blocker. He is a good player on the second level. In that regard, he is totally opposite from what these Cowboys linebackers faced against the Giants. His movement helps him on the second level, and that is something Sean Lee and Co. will have to watch for. The Raiders' scheme requires him to slam the down man, then work up the field. He is generally in good football position when he gets on the linebacker.
Hudson is able to play with his knees bent and ready to strike -- good body control and balance. His uniform is not generally dirty due to the fact that he stays off the ground, and he plays with recovery. It's hard to get him to go one way, then back the other. When he locks on, he's got you. He is able to process information quickly -- not fooled with games up front. Plays with angles and is able to finish.
Hudson is a nice compliment to Kelechi Osemele and Gabe Jackson inside. They form a powerful inside three that are hard to move. They keep the front of the pocket clean for Derek Carr to work.