IRVING, Texas –It's not just the Cowboys – the Cardinals have some of their own injury questions ahead of this weekend's game.
One of my top guys to watch on Sunday, Arizona cornerback Patrick Peterson, is recovering from a concussion he suffered last weekend against Philadelphia. Peterson has passed the first phase of his concussion protocol and it looks like he'll be good to go against the Cowboys, but it just goes to show you can't take much for granted in this league.
Of my other two playmakers to watch, one is extremely well-known and the other is a bit of a rookie sensation.
Weapon: Larry Fitzgerald, WR
When the discussions take place about the greatest receivers to have ever played this game, Larry Fitzgerald's name is generally in the conversation. He reminds me of those players that have come before him like Barry Sanders and Walter Payton, who played the majority of their careers with teams whose record that did not match the way they performed year-to-year.
The Cardinals have done a better job of obtaining talent to put around Fitzgerald, and Cardinals coach Bruce Arians has installed an offensive attack that has taken full advantage of that talent. The thing I have always respected about Fitzgerald is, for the star that he is, he is absolutely fearless as a route runner. There is not a place that he will not go to get the ball.
He is not the fastest receiver this Cowboys secondary will see, but once the ball is in his hands he will find ways to get it up the field. He plays with a huge catch radius and has the ability to adjust no matter where the ball is thrown. He's a one of those receivers that, when a defensive back feels like he has him covered, he still manages to make the reception.
This secondary will have to defend him at all levels of the field and always beware of where he is lining up in the formation. Fitzgerald is one of those players that could have played this game in any era due to his ability and the toughness he shows on the field.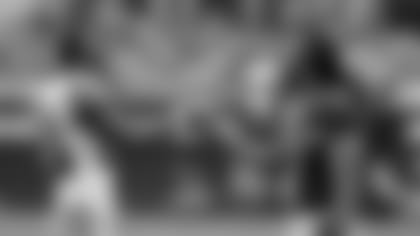 Nemesis: Patrick Peterson, CB
Peterson suffered a concussion in the game last week against the Eagles and will have to go through a five-step test before he is allowed to return to action.
If Peterson passes those tests, expect him to be ready to battle these Cowboys receivers throughout the day. He is one of the few cornerbacks in the league that can line up both inside and out without missing a beat. He is comfortable playing against any style of receiver.
He will normally line up on the left side of the Cardinals' defensive formation in a press-man look. His stance is square and balanced, so when the ball is snapped and the receiver starts his route he is able to adjust right off. His strength is in his ability to get his hands on the receiver, not allowing them to get up the field.
His playing strength is unique for a cornerback, and he uses it to his advantage. Peterson can be a very difficult player to run away from because of how well he moves. He's one of the best in the league when it comes to playing tight on the receiver -- does not allow much space or separation in the routes.
I thought he was a much better corner when he played up instead of off. He is a more physical player than what the Cowboys faced with Richard Sherman in Seattle, but he plays with that similar type of aggressive mentality.
Under Radar: Deone Bucannon, S
This guy just proves the point that teams will take players in the draft no matter where the so-called expects have him rated on the board.
I shared many of the same thoughts about Bucannon in those pre-draft evaluations in regard to his ability to play as a safety in the NFL. To the credit of Arians and defensive coordinator Todd Bowles, they had a vision for the player in their defensive scheme and it has paid off for the way he has performed up until this point in the season.
Where Bowles is using him is as a nickel linebacker near or around the line of scrimmage, instead of asking him to play deep in coverage – where, at Washington State, he had his share of busted coverages and missed tackles.
Bucannon has looked like a different player for the Cardinals, because they are not asking him to do things he cannot do. The first trait that jumps out at you off the tape is how physical he is at the point of attack. He is willing to take on blocks and fill when he has to in the running game. If an offense tries to run the ball wide, he has shown the ability to knife inside and make the tackle for a loss.
He also has the speed to run down plays that go to the outside. He has become a physical tackler, and when he gets the shot to wrap up a ball carrier, he can get them on the ground. He is an effective blitzer, showing the ability to attack the pocket and create pressure.
Where Bucannon has also had some success is lining up over the tight end and carrying them up the field by being physical. For a rookie you can see that these coaches have a great deal of confidence in his ability because of all the things they are asking him to do.