FRISCO, Texas – Given their 6-2 record, you know the Kansas City Chiefs are coming to town with some talent on their roster.
It's been four years since the last time these teams met up, and you can tell when you look at the rosters. Most of the Chiefs' current stars either weren't on the team or weren't contributing the last time they played the Cowboys.
With that in mind, here's a look at three guys you've probably heard a lot about – but the Cowboys will need to know well in order to win this game on Sunday.
Weapon: TE Travis Kelce
Like a lot of tight ends these days, Kelce is used as a flex player in formations. You will see him line up in the slot and out wide. He is one of the most athletic players in the league regardless of position. You can see it in the way he moves in his routes and as a blocker. This is the quintessential mismatch player. You have to try and defend him with size, but it doesn't always work due to that athletic ability. Teams have tried to defend him with corners and that doesn't work, either. 
This is a smooth player. Outstanding playing and foot speed. Shows initial quickness off the snap and up the field. Plays with acceleration and a burst. He can separate in a hurry, and he is used as a vertical player because of this. He made several adjusting catches against the Broncos on Monday Night Football.
Kelce plays with some lower body flex -- not a stiff moving player at all. He uses his athletic ability as a blocker. But like a lot of other modern tight ends, he more gets in the way than drives defender off the ball. He likes to position and steer, and he will work to move his feet to finish. He has good body control and balance. He is quick with his hands and gets them in position to make the catch. Natural, soft hands.
He can make the contested play when covered. He has good concentration. He has the ability to score from any position on the field. This is a tremendous red zone player and a finisher.
Byron Jones will likely be responsible for the matchup in this contest. Jones has had to cover his share of quality tight ends in the league, but this might be the best that he's faced.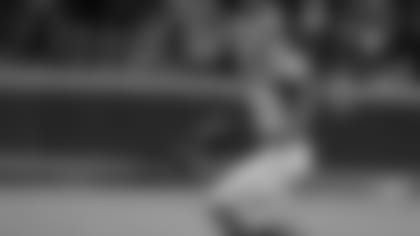 Nemesis: CB Marcus Peters
Above all else, Peters has outstanding lateral quickness and agility. He manages to stay in position due to those traits. He is always fighting with the receiver down the field, and he doesn't allow the receiver to get the best of him. This is an aware player who doesn't get locked onto one thing during the play. He has a feel for how to rotate to help in coverage and he does a nice job of driving on the ball – he has the speed and quickness to close ground. 
There is not much space allowed when Peters is in coverage. He plays the ball well with his off hand. He also has vertical speed to cover when receivers take him down the field. He moves with ease and he is light on his feet. He doesn't played stressed and his balance is outstanding.
I really appreciate the way he takes the slant away from the receiver in the red zone. He is able to quickly jump inside on the snap. You can tell that he does film study when he adjusts that way. It's hard to get him moving the wrong way.
I will say this: Peters is a selective tackler. When he does tackle, it is usually cloth. He doesn't wrap up, more of a drag down kind of guy.
You don't see him travel with the opponent's best receiver much. He tends to stay on the left side of the field or in the slot. But turnovers tend to come his way. He plays more off coverage than tight, and he really relies on his ability to close on routes.
Something worth watching is that this is an emotional player. He took a bad penalty against the Raiders two games ago where he took an unnecessary shot on Derek Carr while he was on the ground. I will be interested to see how much free access he gives Dez Bryant in this game.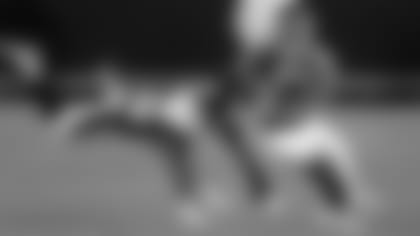 Under the Radar: RB Kareem Hunt
What an outstanding rookie player. This is a complete back and there is nothing he can't do when in the game. He has the ability to make the first guy miss, and it's amazing how many arm tackles he runs through. Defenders have a hard time getting a clean shot on him. He is built low to the ground.
He might be a rookie, but Hunt has the vision to find the crease. He didn't appear to have the speed to finish when he was at Toledo, but he is finishing plenty of plays now. He does a nice job of cutting the ball back. He will press the hole, then break it. He has the patience as a runner to let blocks develop, then attack the hole. 
Hunt runs with power and keeps his legs going. He plays with upper and lower body power, as well as balance. This makes him a hard guy to knock off his feet. He will take the defender's best shot and keep running.
Impressively for a rookie, Hunt is used all over the formation. The coaches like to flex him out and throw him the ball. He has soft hands and can catch the ball and head up field. He will adjust to the low ball and he knows where the sticks are. 
As a blocker, he's aware on the blitz. He will hit his man square and take him out of the play. You can see he has passion for the game. Tough, hard-nosed player. He also has the ability to create on his own. 
Much like Ezekiel Elliott, consistency is a big part of his game. He comes at you down after down. Plays with violence with the ball in his hands. He fumbled his first carry in the NFL and hasn't since. He was outstanding when it came to protecting the ball at Toledo. 
Hunt was selected in the third round, largely due to some injury concerns and his timed speed of 4.56. He is making the Kansas City Chiefs look smart for taking him when they did.