FRISCO, Texas – Sorry if I'm repetitive, but it just looks to me that the battle on the edge is going to be a key component for a second consecutive week.
La'el Collins handled himself quite well against Jason Pierre-Paul last weekend, and Tyron Smith was excellent against Olivier Vernon. Now, the challenge only gets tougher, as they'll both be tasked with defending arguably the NFL's best edge rusher.
On the other side of the ball, I think it's going to be critical for the Cowboys to get physical with one of the NFL's best big-bodied receivers.
Here are this week's matchups: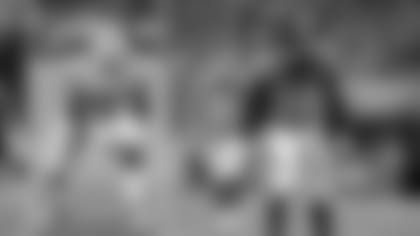 Dallas Cowboys OTs, Tyron Smith and La'el Collins vs. Denver Broncos OLB Von Miller
By now you've already heard this 100 times, but Miller really is one of the best players in the league --regardless of position. On top of that, his versatility allows him to move around to find the most favorable matchup.
I just can't see him taking many snaps across from Smith, because it would likely wear him down. But with that said, he will still rush off that right side. Miller's strength is his ability to rush the passer and it always has been. When the ball comes in his direction in the running game, he tends to give ground and is not as stout. I am not saying that he is avoiding contact, it's just his way of not having to deal with a larger blocker.
What makes Miller so difficult to defend is his first step quickness, which he takes full advantage of --especially at Sports Authority Field in Denver. In the last three seasons, Miller has registered 23 sacks at home, with nine of those coming in 2016. The combination of his ability paired with the crowd noise in Denver puts offensive tackles at a huge disadvantage.
So how do Smith and Collins combat Miller? With Dak Prescott and his snap count. Prescott can help his teammates by varying when he has Travis Frederick snap him the ball. Prescott has to avoid getting in a rhythm with his count. Smart pass rushers like Miller pick up on this quickly.
Another way that Smith and Collins can handle Miller is to pound on him in the running game, every chance they get. Make him physically exhausted defending the run. The more he doesn't get to rush, the better chance they have of not allowing him to make that game-changing play.
Dallas Cowboys CB Nolan Carroll vs. Denver Broncos WR Demaryius Thomas
Carroll played well against Brandon Marshall and will face a similar test this week with Thomas. This is another big-bodied receiver that runs well -- but is not the type of receiver who will wear you down with his speed. Carroll is similar to Thomas in that he doesn't run all that well, either, so that should be a wash.
Where Carroll is going to have to match Thomas is with his physicality. Thomas is not afraid to lean on a defender in route, and that makes him difficult to control. Carroll is going to have to be ready to push back and not get bullied. The more physical that he can be with Thomas, the better chance he has. Luckily for Carroll he can play this way. Some of his best coverages in training camp came when he lined up across from Dez Bryant and fought him along the line of scrimmage. Much like Thomas, Bryant is not going to run away from you if you can hold up him up.
Carroll will need to force Thomas to start, stop -- and then try to restart again. There just isn't much quickness to Thomas', which is a much different scenario than if he was covering the speedy Emmanuel Sanders, for instance. But it is worth pointing out that Thomas will line up all over the formation. On some snaps he's real tight to the formation and other times he's out wide.
From history we know he's going to get about nine targets a game. It has been a bit of an adjustment for him to deal with Trevor Siemian, as opposed to Peyton Manning, but this is still a dangerous receiver with finishing capabilities.