FRISCO, Texas – When it comes to interior linemen, the Cowboys arguably have two of the best in the NFL in center Travis Frederick and guard Zack Martin.
But there's another set of teammates in Oakland that also have more than one talented player on the line. The Cowboys will get the honor of facing them and other great interior players during the 2017 season.
Here's a look at my five best guards and centers the Cowboys will have to play this upcoming season:
#5. Rodney Hudson
Oakland Raiders (6-2, 299) 6th Year
(Plays vs. Dallas on Dec. 17)
Starter at center.
Wide based player but still manages to make it work. Does not struggle with his movement at all. Lack of height helps him as a leverage player. Does a really nice job of working his hands inside to hold the defender in place. Is holding on so tight that every time the rusher moves, Hudson goes with him.
Technique wise, can keep his head out of the block. Will hold the rusher at arm's length. Can really sit down on his man. Is a position blocker in the run game. Is not going to get much movement off the line, more shield than drive.
Good player on the 2nd level. Scheme requires him to slam the down man, then work up the field. Is generally in good football position when he gets on the linebacker. Is able to play with his knees bent and ready to strike.
Good body control and balance. Plays with recovery. Able to process information quickly. Not fooled with games up front. Plays with angles and is able to finish.
Is a nice compliment to Kelechi Osemele and Gabe Jackson.
*#4. Kelechi Osemele *
Oakland Raiders (6-5, 335) 5th Year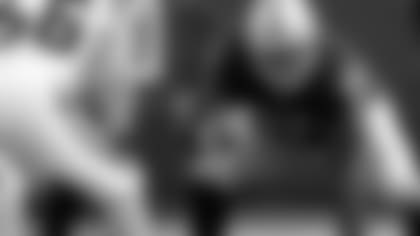 (Plays vs. Dallas on Dec. 17)
Starter at left guard.
Powerful player. Short in the upper body but long in the legs. Extremely long arms as well. Nice initial quickness off the snap. Strong to hold the defender in place.
Doesn't get knocked back – can hold his ground. Kicks well to the outside to get himself in position to block. Handles twist stunts well. Will push his man to the outside all while keeping his eyes in place to see the twister. Strong, powerful hands. Can jolt a defender when he punches.
Doesn't play overextended or off balance. Does a nice job of helping when uncovered. Aware to what is happening around him. Not afraid to take a cheap shot on the rusher. Strong in the lower body to get push at the point of attack. When he gets into the defender, it's hard for that man to disengage. Will maul his opponent.
Likes to finish his man off by driving him into the ground. Size helps him when he has to angle or down block. Defender has a hard time getting through him. Better along the line than he is in space. Not terrible on the 2nd level but there are snaps where he is really fighting himself to maintain body control and balance.
He shows better balance as a pass blocker than he does on the run. If linebackers give him a little movement, that can cause him problems.
*#3. Jason Kelce *
Philadelphia Eagles  (6-3, 280) 6th Year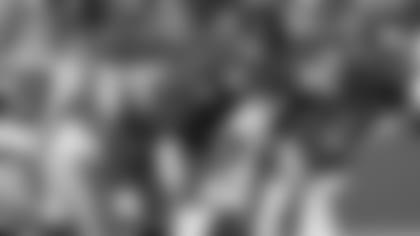 (Plays at Dallas on Nov. 19 & vs. Dallas on Dec. 31)
Along with Travis Frederick and Alex Mack is one of the most athletic centers in the league. Doesn't have the power of Frederick or Mack but can more than hold his own in the trenches.
Really a zone blocking center that plays his best on the move. Has rare footwork and is a knee bender who plays with leverage. Like a wrestler in the way he plays. Likes to get really close to his man then grab ahold. Plays with an outstanding base and balance. You never see him on the ground or struggling to maintain that balance.
Works hard to finish his block. Takes a lot of pride in this area. Good body control. Quick to redirect. Quick hands to get inside the frame of a defensive lineman. His best chance to control the rusher is with his hands. When he can get them inside, he is golden.
Light feet with the ability to recover, react quickly, and pick up blitz. Good ability to stay balanced, change direction, and adjust ability to control body.
Good downfield effort to make a second block. Has lateral agility quickness to cut off slant moves and mirror pass rusher. Lateral slide and counter moves to handle rusher.
Best trait is his ability to run his feet on contact. Can really stay with his man. Used as a puller when uncovered. Can make good things happen when in space.  
*#2. Gabe Jackson  *
Oakland Raiders (6-3, 336) 3rd Year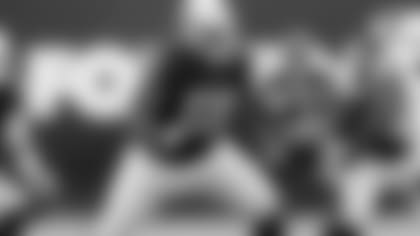 (Plays vs. Dallas on Dec. 17)
Is the starter at right guard.
Is a mean, nasty and physical long armed power player with a wide body. One of the better run blocking guards in the league.
Average quickness for a man his size but is flexible and can bend his knees.
Can anchor against power players. Defenders have a hard time moving him off his spot. Flashes a big time punch in pass protection. Has some shock in his hands. When he strikes the defender, can stop him in his tracks. Hard man to get through due to his size.
Had some issues with his ability to adjust while in college but has improved in those areas since coming into the league. Can get to the 2nd level and cause problems due to his mass.
Can tell on tape that linebackers don't want to deal with him in space. Will see them retreat. Upper body power is impressive. When he shoves a defender they go flying to the side. Can really get some movement when he down blocks or angle blocks in the running game. Will wall off the defender.
Shows awareness for twists and stunts. Can keep the front of the pocket clean. There are snaps where Derek Carr is able to sit in the middle of the pocket and feel no pressure.
Big time pass set and balance. Has the able to wear an opponent down with his size. Is a problem to deal with all game.   
*#1. Alex Mack *
Atlanta Falcons (6-4, 311)  9th Year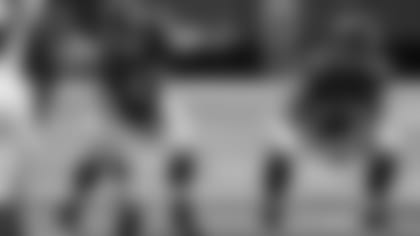 (Plays vs. Dallas on Nov. 12)
Starter at center. One of the most athletic centers in the league. It's nothing for him to reach a wide tackle along the defensive line.
Does a really nice job of getting his head across the defender before he has a chance to react to the play.
Plays with initial quickness and foot speed. Lateral range is outstanding. Effortless in the way he moves. Can cut a defense in half. Will hook his man, then as the ball passes him he will work to the next level. Like the way he is able to keep his shoulder square along the line. Doesn't get turned as he is working down the line. Is able to fight the defender with power on his up field shoulder.
Gives the back the option to cut the ball back behind him. Doesn't make it just a one way go for him. Is a finisher. Is able to anchor down on his pass set. Plays with lower body power.
Nice base and set. Is able to get his off-hand (non-snapping) up quickly to not allow the defender to grab him. Plays well with a man on his nose. Doesn't struggle in this area.
Can handle blocks one-on-one without much trouble. Plays well against power.
Did a great job in the Super Bowl handling the Patriots size.
Has similar traits to Travis Frederick with their ability to play on their feet.