FRISCO, Texas –Here are the two big matchups I'm watching, which I think will go a long way in determining the outcome of this Cowboys-Raiders game on Sunday night.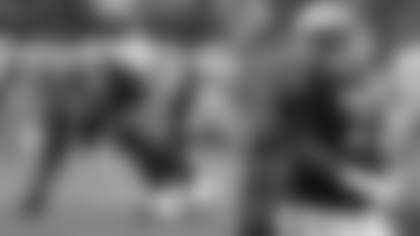 Dallas Cowboys DE DeMarcus Lawrence vs. Oakland Raiders OT Marshall Newhouse
The Raiders are a big, physical offensive line that likes to lean on defenders the entire game. They use their size in an attempt to wear you down.
If they have a weakness, though, that would be at right tackle with Marshall Newhouse and they have to find ways to compensate for that. Lawrence is a bad matchup for Newhouse on several different levels. He doesn't have the initial or foot quickness to handle Lawrence's first step. When defenders have been able to get Newhouse, it is with that first step. He just doesn't react quick enough -- and when those defenders get into his body, it puts him in a poor blocking position. Newhouse doesn't have the body control and balance to recover when he gets out of position.
I expect to see Lawrence work hard to move him around. I imagine we'll see a steady diet of outside rushes attacking Newhouse's shoulder, then hit him with the inside charge to see if he can take a shorter path to Derek Carr. The more Lawrence can make Newhouse have to adjust to him, the more issues he can create. I expect to see the Raiders not put Newhouse in many of those one-on-one situations. They will make Lawrence have to take a wider path to the edge. Jared Cook will line to his side, plus he is going to see some chip work from Marshawn Lynch in order to try and throw him off his game.
I also believe the trend of not getting holding calls will continue for Lawrence. Officials tend to let the games be decided by the players and not them -- especially with the playoffs on the line. Lawrence will force Newhouse into some holding situations, but I have serious doubts that gets called.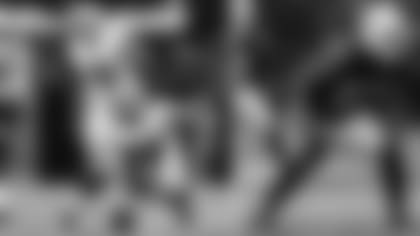 Dallas Cowboys C Travis Frederick vs. Oakland Raiders LB NaVorro Bowman
This matchup will be a fun one to watch. Two crafty, veteran players that have used the tricks of the trade to have successful careers.
Bowman started the season with the San Francisco 49ers, and when he was released he moved across the Bay to the Raiders. Where the Cowboys have to be careful with Bowman is that he has the ability to wreck their running game. We saw it last season while he was with the 49ers when he was all over the field tackling Ezekiel Elliott. It wasn't until he went out with a leg injury that the Cowboys began to successfully run the ball.
Travis Frederick knows the challenges ahead. He and his linemates cannot afford to have Bowman making stops at the point of attack or running plays down. Frederick is one of the best in the league when it comes to cutting a defense in half. It's his athletic ability that allows the Cowboys to run the ball the way they do. He is nifty to pass down linemen off to Zack Martin or Jonathan Cooper, then work to the second level to cut those linebackers off.
Bowman will counter Frederick with his own ability to read and run. Bowman has a little Sean Lee in him when it comes to seeing the play and reacting to the ball. Frederick has to be careful not to go where Bowman started, but where he ends up. To play Bowman you have to be a step ahead, because if you're behind him, he will beat you to the ball. Frederick is going to have to be in great position all night if things are going to work out for the Cowboys offensively.