IRVING, Texas – You're very familiar with Washington's top weapon this season – just not in this uniform.
We knew when the Redskins signed him that DeSean Jackson would be trouble teamed with Pierre Garcon. Jackson is out to the hotter start of the two, with 528 yards through seven games. He's averaging 16 yards per reception.
You'll also be familiar with Trent Williams, who has been a Washington cornerstone at left tackle in much the same way.
One guy you might remember from our draft coverage is rookie pass rusher Trent Murphy, who will be tasked with replacing the injured Brian Orakpo.
Let's get into all three below:  
Weapon: DeSean Jackson, WR
There is not a more explosive player on the Washington offense than Jackson, and Jay Gruden takes full advantage of his talents.
Where Jackson can hurt a defense the most is in his ability to take little plays and make them big ones. He is very similar to the types of players this defense has faced this season, such as Brandin Cooks and Percy Harvin -- those guys that line up all over the formation and catches bunch screens and get designed runs.
What makes Jackson even more dangerous over these guys is his ability to catch the ball down the field. He is a home run hitter in every sense of the word. His vertical routes do not have to do so much with technique but just pure speed. He has the ability to run right by a defender, whether he is in press coverage or off the line.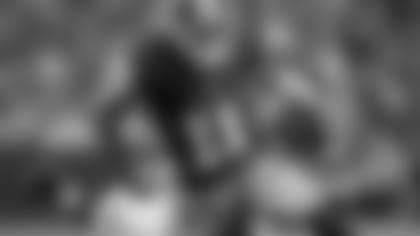 Once he gets past the defender there is clear separation. If there is a weakness to his game throughout his career, he has been inconsistent in receiving the ball. He has not always displayed the surest of hands and at times they have prevented him from making even more plays.
Nemesis: Trent Williams, OT
When Trent Williams was selected by the Redskins in the first round of the 2010 NFL Draft, he was billed as the building block of the future and the man that was going to protect their quarterbacks for years to come.
Williams, much like Tyron Smith, has seen his fair share of outstanding pass rushing defensive ends in this league and has lived to tell the tale of having success against them all. Williams has always been a large man that physically appeared overweight and slow, but that has not been the case at all. He plays with outstanding foot quickness, which allows him to handle those edge rushers. He can easily kick to the outside, which puts him in perfect blocking positions.
In the running game he uses his mass and athletic ability to climb defenders. When he comes off the ball, you can feel his power and this translates into instant movement. He is consistently finishing blocks and often plays to the echo of the whistle. There is a real and present nastiness to his game, which is evident down after down. When the Redskins want to run the ball off the edge, it is more likely to come behind him than any other spot on their offensive line.
Under the Radar: Trent Murphy, OLB
In their game last week against the Titans, the Redskins lost their very talented linebacker Brian Orakpo to a pectoral injury and he is gone for the season. Taking his place is an underrated rookie out of Stanford by the name of Trent Murphy.
When I had the opportunity to study Murphy during the draft, I came away impressed with his ability not only play multiple positions in a scheme -- but also his ability to find the ball and finish plays. In a draft class full of those tweener types of players, he was the one that appeared to have the best ability to line up at several different positions and be productive at them all.
While at Stanford he played with his hand on the ground, and you still see him doing that with the Redskins. You also see him playing more on two feet, which he looks comfortable handling. He has always been a sound technique college player and that has carried over into the NFL.
Like his teammate Ryan Kerrigan on the opposite side, he is relentless to the ball, and as a blocker you have to outwork him on the play in order to stop him. Where he did have some problems in college is there were situations where he got caught on blocks and was washed in the running game due to trying to make a move.
He doesn't have the explosive edge rush ability that Orakpo has shown over the years, and that is a break for Tyron Smith. Nevertheless, he will have to account for him each and every snap.