FRISCO, Texas –Here's a look at the two matchups I think will go a long way in settling this game between the Cowboys and Seahawks.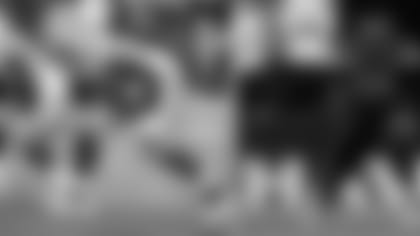 Dallas Cowboys OT Byron Bell vs. Seattle Seahawks DE Frank Clark
I believe it's a long shot that Tyron Smith is going to play in this upcoming game. With that being said, the coaches are preparing Byron Bell to line up at left tackle. Bell has had to step in a couple of different times and has not been a liability. 
Frank Clark is very similar to the Cowboys' opponent from last week, Bruce Irvin. Both are relentless players that attack the corner quickly and attempt to break you down with speed. Where Clark is a little different is he plays with more power than Irvin. Irvin will try and avoid the contact, whereas Clark is more willing to take you on. 
The one advantage Bell will have this week is that this game is being played at AT&T Stadium and not in Seattle. Bell can focus on Clark and not have to worry about the snap count and having to hear it over the crowd noise. Another advantage Bell will have is the Cowboys' ability to run the ball. In the previous two games, both losses, the Seahawks have failed to control the opponents' running games. The Jaguars and Rams were both physical in their approach in the way that they handled Clark and his defensive teammates. 
With Ezekiel Elliott back in the lineup, it's no secret what Scott Linehan's game plan will be. Having a successful running game will benefit Byron Bell and will not allow Clark to tee off on him every snap. On the other side, if this does turn into a game where the Cowboys have to go to the air to win, then Bell is going to need some help. There were snaps in the Oakland game where he was on the edge of disaster and the offense cannot afford to have that happen. I would expect some form of scheme help for Bell if he cannot handle the job by himself.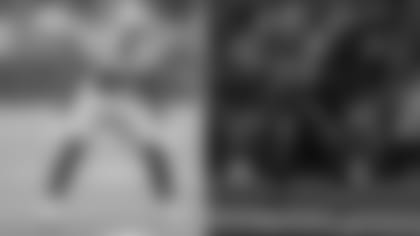 Dallas Cowboys CB Jourdan Lewis vs. Seattle Seahawks WR Doug Baldwin
There is no question in this game that Russell Wilson is going to take a shot down the field. In fact, I am willing to bet that it will be more than one shot. When Wilson takes those chances it is generally a called play, but there are other times where it's off a scramble. This is where the Seahawks are the most dangerous -- is when they can throw the ball down the field off a busted play. 
Doug Baldwin is a big part of what the Seahawks do on offense. He has the ability to make plays all over the field at different levels. He is one of those players that you cannot lose track of on the field because he has a keen sense of where he needs to go in order to make a play. Wilson knows how to find him and generally his receiver comes up with the ball.
Jourdan Lewis has gained some valuable experience since having to step on the field against the Broncos earlier in the season. This matchup with Baldwin will be unlike any he's had this season. With Wilson's ability to buy second and even third chances, staying with Baldwin is no easy task. Lewis is going to have to be disciplined and focused if he's going to have success dealing with him.
He can't afford to put himself in a situation like he did at the end of that game in Oakland where he was badly out of position to defend the play.