FRISCO, Texas – Short weeks are always fun, because it changes up the way you scout the opposition – both for the Cowboys and for me.
I actually started watching Rams tape on Monday while I was waiting for kickoff against Arizona, and I came away impressed. I know the Rams have struggled in recent years. But the result of being near the top of the draft is that you get to accumulate a lot of talent.
Here are the three players that intrigue me the most for Sunday's matchup against Los Angeles.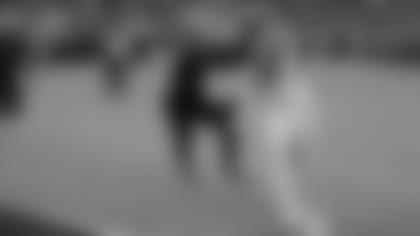 This is obvious, but Todd Gurley has really benefited from the coaching change. This offense is better suited now for his talents. The improvements to the Rams' offensive line and quarterback have led to a great start to the season. 
Gurley is a big, physical runner that has the speed to get the ball to the corner. He has the ability to create opportunities on his own because of his physical abilities.  He plays with lateral agility and balance, which makes him a hard guy to knock off his feet. Given the amount of carries he gets, he takes a ton of shots from tackles but is able to maintain his balance and momentum. He does a great job of finishing plays because he has upper/lower body power. You can see him break arm tackles with his power. It's not too often he is knocked to the ground. It takes more than one guy to generally bring him down.
On top of his power, Gurley has vision to find what space there is. He will press the hole, then make a cut to get into the open field. He has been more of a patient runner than what we've seen from the previous two seasons. He is consistent in his pace and approach, and he has the ability to wear a defense down with the way he carries the ball.
You can't forget about his ability as a receiver. He does a nice job of catching the ball in the flat. He had a nice reception that way against the 49ers. He knows how to find space and secure the ball on the move. The Rams' coaches used him as a flex player in the slot when the situation called for it. Running and catching are his best traits.
Bottom line: Gurley is playing like he has a breath of life due to his improved situation. He doesn't have to be the best player on the offense. Will be a problem to deal with in this scheme.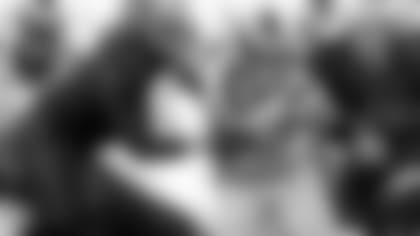 Donald was a holdout the entire length of training camp, as he looked for a new contract. He missed the Indianapolis game but has played against the Redskins and 49ers.Ideally, he is a better fit for a 4-3 scheme -- but he has taken to this 3-4 under Wade Phillips. In the 3-4, he plays as a defensive end, but there are snaps where you see him playing reduced down inside. 
What you see with Donald is a real passion for the game. You can see that he loves the game by the way that he plays. Don't let his size fool you, this is one of the toughest players in the league. His playing speed and overall quickness are outstanding. He shows an impressive closing burst when he is chasing the ball – he can really accelerate when he needs to, and he can get lateral in a hurry. 
When he wins off the snap, Donald can be on the ball carrier before he has a chance to make a cut. Thanks to this ability, he almost intercepted a toss sweep against the 49ers because of how quick he was up the field. He can really penetrate as a one-gap player. When on the move, he is hard to control -- just doesn't stay still.
As I mentioned, he is shorter than your typical NFL defensive lineman, but his compact build allows him the ability to change directions quickly. He will plant his foot and then explode to the ball. You see rare body control and balance. He can get through small cracks and gaps with ease. He does a really nice job of playing on his feet, as you don't see him on the ground at all. Good lower body bend with lower body strength, and he plays with power. He takes advantage of his quick hands, and he will fire them into the blocker and can control.
Donald's best trait is his ability to shed quickly and get to the ball. Disciplined player. The Cowboys have to account for him every snap.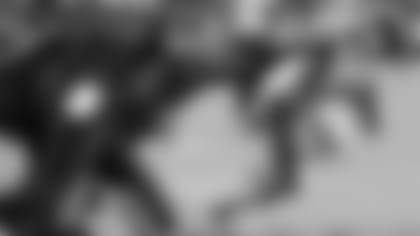 Under the Radar: WR Cooper Kupp
This was one of my favorite players from the 2017 NFL Draft. I was honestly surprised he wasn't drafted before the third round. By watching his college and now pro tape, you can tell that he loves to play the game. He is competitive in his approach, and he is always fighting for the ball. It's not just physicality, though, as he is also mentally tough. He played in all kinds of conditions in college and didn't struggle. 
I don't foresee any problems in the NFL in this regard, either. He plays faster than his 40 time, and he has good initial quickness and burst. He has the versatility to play both inside and out. You see tremendous body control and balance. He can easily change direction to buy space. 
This is a really aware player -- smart. When he sits down in the zone, you can tell he knows what he is doing. He works hard to uncover himself, and he doesn't wait for the ball – he will go get it. Thanks to this, you see plenty of catches on third down to pick up the first. He knows the situation, and he can read coverages. The tape shows a consistent route runner who is clutch in the way he performs. 
Kupp has outstanding hands and catching radius. He will contort his body to adjust to the ball. He extends his hands to catch, and he will make the contested catch -- not many drops, if at all.
Even at this early stage of his career, Kupp has become a "go-to" player for Jared Goff. The bigger the situation, the more likely he's going to get the ball. It is incredible in the way that he is able to adjust to the ball. Impressive run after catch. Playing against the Cowboys in the preseason, he had a significant gain on a crossing route. 
He is not going to make many mistakes as a receiver. He will put pressure on a defense due to his consistency catching the ball.