FRISCO, Texas – Here are the two big keys that I think will swing this game between the Cowboys and Raiders on Sunday night.
Dallas Cowboys Win If:
The Oakland Raiders come into this matchup as a very pass-heavy team, especially on first down. Derek Carr and Co. have averaged 7.3 yards per attempt while only rushing the ball for 3.2 yards. Where they've had success this season is running the ball on second and third downs, where that number grows to 5.5 yards per attempt.
On the other side of the field, the Cowboys have only allowed opponents 3.3 yards per attempt on first down running the ball and an impressive 5.8 yards per attempt in the passing game. Where opponents have taken advantage of the Cowboys is on those second downs, especially when facing 6-to-10 yards needed for the first. It is in those situations where the Cowboys have allowed a staggering 6.9 yards a carry -- which has made third down defense difficult to play.
If the Cowboys are going to win this game, as important as winning on first down is, they have to be better on second down. The Raiders are not as balanced of a team on second down when it comes to their run/pass ratios. They've thrown the ball 50 more times than they've run it, but when you combine those run/pass numbers it's 5.6 yards per play.
The Raiders are a good third down offense in large part to what they do on early downs. Controlling that should be line one for victory.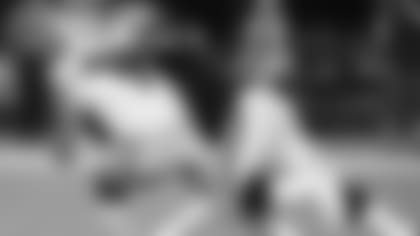 The Raiders have been poor on defense all season. They haven't covered well and they don't create turnovers. As a matter of fact, it has been such a struggle that their defensive coordinator, Ken Norton, was fired during the season.
For all of their problems, the one area that they can hurt the Cowboys with is the pass rush. Khalil Mack and Bruce Irvin have the ability to take over a game and the coaching staff knows that. The Raiders are going to need to come up with a plan that can get their rushers home. I don't expect that the Cowboys are going to let La'el Collins be in a lot of one-on-one situations in this game. There are going to be plenty of 12 and 13 personnel groups, with chipping from the backs. The wider they make Mack and Irvin rush, the better their chance of getting the ball out. The Raiders need the pass rush because their secondary has had trouble holding up. Without it, their chances of winning will take a severe blow.
Look for the Raiders' coaches to move both Mack and Irvin around to keep this offensive line off balance. There have even been snaps where they've put them on the same side of the formation to create confusion.
The Cowboys have a veteran group up front, which is an advantage, but if they can't control the Raiders' pressure, they could be in a situation like they were in Atlanta -- with a failing offense that goes nowhere. That is exactly what the Raiders want.