FRISCO, Texas –Here are the two big matchups I have my eye on heading into this game against Kansas City.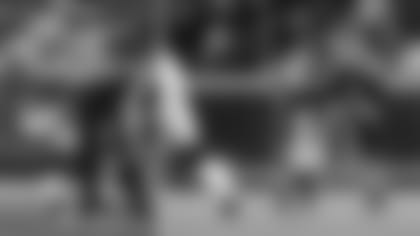 Dallas Cowboys OT La'el Collins vs. Kansas City Chiefs LB Justin Houston
It's another week and another tough matchup for La'el Collins as he squares off against Justin Houston. 
For the most part, Collins has fared well in his transition from guard to tackle. Ryan Kerrigan broke him down a couple of times last week, which was to be expected, but Collins wasn't terrible overall. 
In studying Houston, I see a similar player to what Collins faced in Kerrigan. Where Houston is different is that I don't always see a relentless rusher. Both players do have the ability to break down their man. Houston can capture the edge, and once he does, he can really turn the corner. 
When Collins is poor, it generally deals with his technique -- which allows his man to capture his corner. As I've said many times before about Collins, when his hands are bad, he's bad. This is the area where Kerrigan took advantage of him and my worry when facing Houston. Things tend to compound for Collins when he has a poor set or two. The more he can stay in sync, the better he plays. 
Collins cannot afford to miss with his hands in this game. He has to find a way to kick wide to Houston, stay in balance and get his hands on him quickly. When that all comes together for Collins, he has proven to be difficult to get around. 
On the other hand, Houston has seen Collins' technique flaws and will try work to make himself small. By this I mean, he will not give Collins much of a hitting surface. By playing almost sideways as he rushes, he can put Collins in some of those poor blocking positions that we saw him have against Kerrigan.       
Dallas Cowboys CB Anthony Brown vs.  Kansas City Chiefs WR Tyreek Hill
I have to admit that I expected more from Anthony Brown when we started this season. I just don't see the same player that was outstanding his rookie season. He has struggled with his technique, which has caused him to struggle in coverage. There have been far too many situations where he has been out of position and he has given up receptions or drew flags from the officials. 
With all that being said, he still is one of the most talented cornerbacks on this roster. In this matchup against Hill, he will need to be at his absolute best. Hill is one of the most dynamic players in the league and Andy Reid does an outstanding job of putting the ball in his hands. 
Reid likes to line him up at different spots in the formation and let him go to work. He'll play wide and in the slot. Reid also played him at running back against the Steelers. Even though he hasn't had much success running the ball, the Redskins did have some success with Jamison Crowder and the jet sweep. I would expect that Reid would see that as a quick option for yards. 
As a receiver, Hill a nightmare to deal with due to his speed. He is so sudden in the way that he plays. He can close the cushion in a hurry when he is facing off coverage. He runs by defenders in a flash. I guarantee that Reid will take a shot down the field with him, if not several. These Cowboys corners and safeties are going to have to be aware of where he is on the field. 
The Steelers did a great job of taking this away, while the Raiders didn't. Brown will need to be ready for the ball getting to the outside quickly. Some of Hill's best plays are his out cuts. Where Hill will struggle is adjusting to the ball if it's off target. If Brown can make him have to make some contested plays, then he has a chance control his opportunities.