FRISCO, Texas –As we get closer to rookie minicamp, I'm finishing my look at this undrafted free agent class.
Here's the final group of this year's undrafted talent. I'm starting today's writeup with an unsung playmaker at linebacker, although I wanted to take some notes on the linemen in this group – on both the offensive and defensive side of the ball.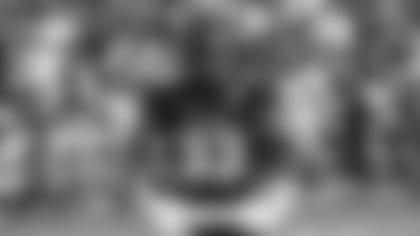 Ed Shockley, LB, Villanova, 5-11, 233
Does a nice job of running through the line to the ball. Has a feel for how to shoot the gap.
Plays faster than his timed speed (4.89). Shows a burst to the ball. Can cover some ground.
Has a nose for how to get to the outside in a hurry. When he sees it, he's gone.
Can redirect. Good reactions. Not fooled on the waggles/boots.
Tends to go low as a tackler, which causes him some problems. He is an arm tackler when he does this. Ball carriers will bounce off him.
Quick to read the screen. He positions himself to get in the throwing lane.
Balance to avoid the cut block. Stays on his feet. Doesn't get knocked around.
Pretty good run/hit guy. Can be physical when he tackles. Feel like he'd finish more plays if he just wrapped up.
Will chase the play.
Shorter linebacker but thick. Has some pop to him.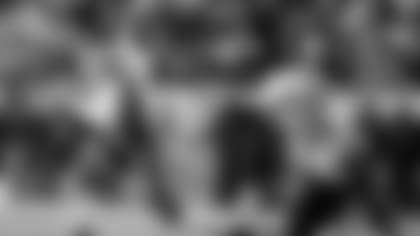 Austin Larkin, DE, Purdue, 6-3, 254
Quickness off the snap.
Fights off block when he extends his hands. Plays with some upper body strength. Very active with his hands. Nice job of pulling blocker out of his stance.
Stays on his feet. Contact balance is good. Didn't see him get knocked around.
Plays well on the move. Stays square along the line of scrimmage. Doesn't get turned.
Just can't quite get his shoulder underneath the blocker on pass rush. Works hard to rush but just doesn't get there. Hs effort is better than his moves.
Will chase the quarterback out of the pocket. Not much of a closing burst or speed. It's like he is running in sand.
Will slide down inside and play tackle in passing situations. More disruptive on the outside.
Will rush from both sides with his hand down or out of a two-point stance.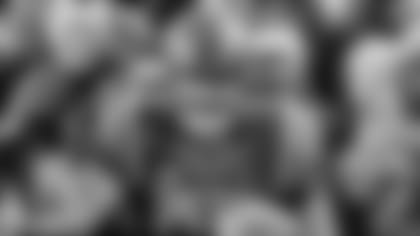 Jake Campos, OT, Iowa State, 6-7, 304
Tall guy that tends to catch blocks and then try to steer.
Has balance problems. Tends to get knocked around some.
Doesn't get much push. Lacks upper and lower body strength and power. Plays really tall. Rare to see him drive his man with a flat back. No thump.
This is a wall off and position blocker. He tries to keep himself between the defender and ball carrier. Not always successful.
Stiff moving guy. Going to have problems on his set. Just not quick enough to keep rushers from breaking him down.
Doesn't have much initial quickness off the snap. Takes him time to get going. Almost like he is moving in sections.
Has trouble when he has to redirect. Hs feet don't work as well as they need to. Lacks sustain when he blocks.
Head will go down on pass set. When that happens the rusher works around him.
Jashon Robertson, C/OG, Tennessee, 6-2, 292
Has lined up at center and guard in his career.
Snaps the ball left-handed.
Shorter guy but has some pop in his hands.
Looks small on tape. Shows the ability to recover once he becomes over extended.
Good pass set but will miss with his hands.
Aware to help across the pocket if necessary.
Good when he pulls. Has some athletic ability.
Size limits how well he is able to get movement. Takes every bit of strength just to stay in position on his blocks.
Has problems with his contact balance. Has a hard time against big defenders.
Can be a liability the longer he has to hold his block. Best when he can work with teammates in order to execute blocks.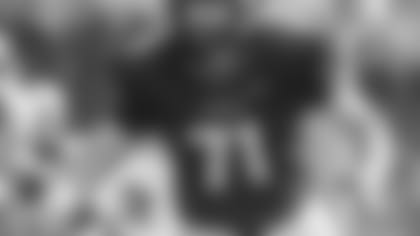 Bryce Johnson, OT, St. Cloud State, 6-5, 308
Lines up as the left tackle.
Has some initial quickness to the outside before the rusher has a chance to react.
Used as a puller. Can work to secure the corner. Not always pretty but does his job.
Can keep his man wide. Keeps his feet moving. Will run his man past the quarterback.
Tends to get a little tall when run blocking. Doesn't get the movement when he blocks this way.
Doesn't always sustain to finish. Better when he can work wide than to the inside.
Was able to sort out the twist. Hands can be all over the place. There are times where they're on target and others where he's too wide.
Generally faces opponents that he's much bigger than so he uses that to his advantage when things go bad.
---