Big Thought and the North Texas Local Organizing Committee (NTLOC) picked a remarkable place to tip off a SLANT youth education program that will run from now until next spring's NCAA Men's Basketball Final Four.
Before all is said and done, over 7,000 elementary and middle-school children, primarily in Dallas and Tarrant counties, will have participated in this version of SLANT (Service Learning Adventures in North Texas). Registration for the free program has opened at myslant.org.
Highlighting the opening day of registration were the events starring the students at the Dorothy Moore Youth Center and the adjoining Reconciliation Academy, on Peak Street in East Dallas not far from downtown.
Key members of the NTLOC, including Big 12 Commissioner Bob Bowlsby and Board Member Nancy Lieberman, attended the December 4 festivities. Even Dorothy Moore was there.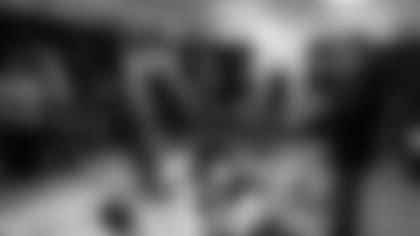 It was 28 years ago that she decided to give the impoverished children of inner and south Dallas a place that could feel like a home away from home. It all began in a small, windowless, cramped quarters across the street from the center that now bears her name.
"We actually started in the YMCA," Moore said, "and one of the boys pulled a knife out of his sock – a shiv – and went running after another boy. One of the ladies at the 'Y' came to me and said, 'We think you need to find another location.'"
She laughed and said, "So this is where we came. Churches and groups and foundations and people have come along and helped us. Crystal Charities is where the money came from for that beautiful building."
That building had been a nightclub. Then a church. Only this calendar year was it converted into the youth center where kids could walk over from school and play and read and do homework.
It's this latest generation of kids who will plant the seeds that will sprout this SLANT service-learning project tied to college basketball's greatest event, the Final Four.
The kids flocked around Lieberman and watched slack-jawed as she picked up a basketball near the youth center's front door and twirled it effortlessly on one finger. She spun the ball several times, then twirled it and shifted the spinning ball from her finger to the small fingers of the gasping students.
Lieberman grew up in a one-parent family that had its share of hard times in New York City.
"I know what it's like to have to depend on other people to help you, and to give you a vision of what you can be," Lieberman said. "So if we can build the confidence and the self-esteem and the decision-making of our children – if we can put them in the right environment, and they can see that strangers care enough about them – then they can get to the point where they're self-sufficient. And then they can pay it back to other people."
Commissioner Bowlsby was also on-hand for the event.
"SLANT will be a big success," Bowlsby said, "and I think it'll be a lot of fun for the kids. Friday (the day before the Final Four begins) is a big practice day and a big day of hoopla. All these kids participating in SLANT get to be involved. There's a culmination event that will happen that Friday evening, and they also get to be involved in Bracket Town. It's a great way to get kids all over North Texas involved."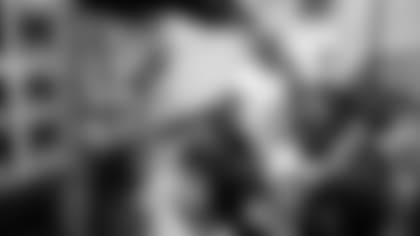 Kids like Jashaun Francis and Israel Arango were there. They started with all the others in the Dorothy Moore Center's library, where they learned the importance of cataloguing books.  Then they crossed Peak Street to the ministry's Food Pantry, where they learned that 3,000 meals every month feed the homeless and needy. They also helped sort donated clothing.
"Participating is fun," said 9-year-old Jashaun, only minutes after high-fiving with Lieberman for swishing a 15-footer at one of the center's regulation baskets. "I love helping the community because the community is where I live. I'll do anything to help my community. And I love basketball, too."
He then leaned closer and said of Lieberman, "I'm getting her autograph!"
Eight-year-old Israel was just as enthused.
"I feel good because I get to be with my friends in the program," Israel said. "My friend told me about SLANT and I asked her if I could be in it and she said yes. I'm glad to help others."
The motivating force behind SLANT is to get kids involved in their communities. Students can choose from four categories – health and wellness, learning and literacy, hunger and homelessness, and environmental impact. Teams come up with their own ideas, and those that complete projects will receive tickets to Bracket Town, admission to the Reese's Final Four Friday, which includes the College All-Star Game, and the SLANT celebration event at AT&T Stadium on Friday, April 4, 2014. The deadline to complete projects is March 21. Students from all over the region and beyond will be busy until then. But what a start for the program, as the kids of the Dorothy Moore Youth Center picked up the first ball – and got it spinning.