FRISCO, Texas – Cowboys Hall of Fame wide receiver Michael Irvin was the 24-hour convenience store of the NFL.
And unfortunately for Hubbard Alexander, better known as just Ax, the nine-year Cowboys wide receivers coach who passed away Sunday evening at the age of 77, he also served as The Playmaker's pacifier.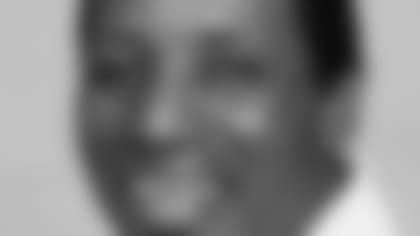 It's a no wonder Ax didn't just leave sideline headphones on all game long.
Let former Cowboys Pro Bowl offensive lineman Nate Newton explain how "Mike would moan and groan – 'I'm open'" to the soft-spoken, gentle, long-time football coach who had to deal with Irvin:
"One time, 'Go over there and talk to Troy . . . go over there and talk to Troy, man I'm wide open.' Because (Mike) didn't ever believe in talking mean to his quarterback . . . ever. 'Go over there and tell Troy, go over and tell him I'm wide open.'"
So Ax, always one to diffuse Irvin's emotional rants, whether it was play to play or series to series, would dutifully walk down the sideline to where Aikman was standing.
"Ax would say, 'OK, OK, I'm going over there to do it right now,'" Newton remembers. "Ax would go over there, stand next to Troy (arms folded across his chest) and shake his head (up and down) and then walk back."
Acting as if he was telling Troy No. 88 was open on a particular, when in reality, he never said a darn thing.
"He had his hands full with No. 88," Cowboys COO Stephen Jones says with a big smile. "Michael is obviously one of the great competitors, but he also needs coach, and (Ax) had a great way with Michael.
"And I think Michael will tell you how much he loves Ax."
Ax coached wide receivers for the Cowboys from 1989-1997, coming over with Jimmy Johnson and his group of University of Miami assistants after Jerry Jones bought the team. So while Irvin beat them all to Dallas, the Cowboys selecting him in the first round of the 1988 draft, Ax likely had become immune to Irvin's sideline emotion since he had been a Hurricanes assistant coach from 1979-1988 – the entirety of Irvin's college career.
Ax was noted for another activity around the Valley Ranch community:
Seemingly every day around the noon hour, the walkers hit the sidewalks: Ax and former Cowboys running backs coach Joe Brodsky, another former Hurricanes assistant who passed away eight years ago, would go walking, sort of speed walking if you will.
And the one guy they would drag along often was Big Nate.
"I used to be overweight," Newton says laughing, "we'd go walking, they'd go walking with me, Brodsky and Ax. 'Come on big fella.'
"They would get into the four and five miles and I was like, 'Hey fellas, I'm going back.' And they'd tell me, 'If you go back it's farther. If you finish up you got one more mile, if you go back it's three miles.' OK."
Believe it, used to be some sight out there to see.[embeddedad0]
This has been a tough month for the Cowboys organization. Not only has Alexander passed away, but so has former Tom Landry assistant and Jimmy Johnson special assistant Neill Armstrong, along with Happy Hill Farm founder Ed Shipman, a strong presence at the annual Cowboys kickoff luncheon, where the proceeds go to the Cowboys Courage House at Happy Hill Farm where children receive a second chance. The luncheon will be held Wednesday at AT&T Stadium.
"He will be missed," Jones said of Alexander. "We were fortunate Ax touched our organization, and certainly are thinking of his family and know he's in a better place today."