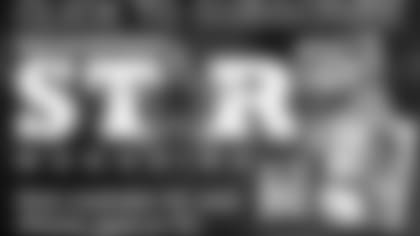 This is a story about Dez Bryant the football player. Figuring it's football season and all, it seems appropriate.
The last three years have been a whirlwind of Dorothy's twister proportions for Dez. And yes, it's Dez, just like Reggie was Reggie, Magic was Magic and Emmitt was Emmitt. Not so much a Brazilian soccer thing, and certainly not already throwing the young wideout alongside those icons of American sport. No, no, no. Just Dez seems to work, really never hear anyone refer to him otherwise.
Dez was electrifying, showcasing a bevy of new pass routes and quick cuts in the Thanksgiving game against the Redskins, the numbers leaping off the page with 145 yards off eight catches with two touchdowns. And, they are all the more impressive considering the attention he warranted from the safety. Make no mistake, the focal point of the secondary's pass coverage was Dez, which makes sense on multiple levels.
It has been obvious to his teammates and coaches from the first practice of training camp that this was a different football player than the previous two seasons. His conditioning is improved as well, with the 23-year-old from Lufkin, Texas, running as hard in the fourth quarter as the first series.
Easy to forget how young Dez still is, too. And inexperienced. His first game of this season, against the Giants, was his 28th in the last 35 months. And he had missed a ton of practices with an assortment of injuries over that stretch as well.
The transformation of Dez the football player, the wide receiver, began when the lockout ended last summer, with his new position coach, Jimmy Robinson, taking on a significant role in the process. While Dez has always loved playing football – just watch him running around the practice field with boyish exuberance, the huge smile – he wasn't exactly a student of the game in high school or college. Or even as a rookie with the Cowboys in 2010. There was certainly no mad rush to watch film and/or devour the playbook in late-night sessions.
Not to make excuses, well, maybe to rationalize, but Dez just never had to. He was always the best athlete on the field, didn't matter what route he ran. Heck, just have him turn around at the line of scrimmage, throw him the ball and watch him go.
Not to mention, one and all should witness Dez throw a football. Not sure there's three quarterbacks in the league who could throw a longer, tighter spiral. When asked if he has lobbied to take an end-around and show off the launch pad that is his left arm, Dez says, "All the time. I'll get beside them and throw some balls but Coach (Jason Garrett) isn't biting yet. Hopefully one of these days or one of these years."
After his first season in the NFL, Dez realized that, yeah, he was still among the more talented athletes on the field, but he couldn't simply show up and dominate. Those days were behind him.
"The only thing that surprised me was the game was a lot quicker," Bryant says. "Everybody is good and I felt like that kind of caught me off guard. Everybody is in the NFL for a reason and you know everybody is good. That got me a little sidetracked, but I adjusted real quickly, especially listening to Miles and Tony. They helped me out and I got it down."
No two players on the Cowboys have made a bigger impact on Dez than Miles Austin and Tony Romo. Neither has preached. It's more like guidance, offering advice here and there. By the end of last season, Austin was raving about the time Dez was spending watching film, bringing up questions, studying the playbook.
Asked to grade his own development at the end of the 2011 campaign, Dez said, "I feel like I have done a good job and I give a lot of credit to my teammates because I might make a mistake in a game, but I'll fix it with their help. I make a mistake and talk to Tony and Miles, then I've got it. It will make me better and help me become great."
Become great. Yes, Dez indeed wants greatness. There's a difference between wanting greatness and expecting it. And maybe as a rookie, he put that No. 88 jersey on and assumed he would replicate the brilliance of Drew Pearson and Michael Irvin. At times he did, too, but the moments were fleeting. The Ring of Honor is not for the fleeting. Greatness is not a couple of highlights on SportsCenter. The 21-year-old Dez didn't quite grasp that. Honestly, few players that age ever have.
Now, Dez breaks down film. "Watching myself and seeing how fast I get off the ball. Seeing what type of player my matchup is. Is he aggressive? Is he soft? And how does he react when I reach a certain part of the field," he says. "Then, let's go back and watch it again."
Still, and let's not make any mistake about this either, Dez is by no means a finished product. Not even close.
"For us to say Dez Bryant has it all right now I think would be an injustice to him and it wouldn't be real good coaching," Garrett says. "It wouldn't be a real good approach by him. He's got to get better at everything he does just as every player on our team and certainly every member of our coaching staff has to get better. So we don't live in the world of 'we got it all down pat.'"
Earlier in the season, after not speaking with reporters throughout training camp and the preseason, Dez broke his silence in part by talking about his new dedication to knowing the playbook.
"I feel like that's my job. If I'm going to be put out there with Tony, (Jason) Witten, Miles, I've got to know what the hell I'm doing," he said. "And I feel like I dedicated myself to do that, and not only that, I had help from Tony, I had help from Miles, Wit and the rest of the guys. I feel like it helped me out a lot. I learned a lot and I'm just going to keep it moving."
And when another wide receiver scores a touchdown, whether it was Laurent Robinson last season or Kevin Ogletree and Austin in the 2012 opener, Dez is usually the first player there to celebrate.
"It is a bond and we have fun on and off the field," Dez says. "I feel like that plays a big part in our relationship and we have a great chemistry with one another. When one guy scores, it feels like we all score."
As much as anything, though, what Dez has learned – or maybe come to appreciate is more accurate – is how much the game means to him.
"I just love playing football and have my mind set on getting whatever the coaches want me to get done," Dez says. "I just love this game. I'm a football freak."
Follow Jeff Sullivan on Twitter, @SullyBaldHead, or email him at jsullivan@dallascowboys.net.