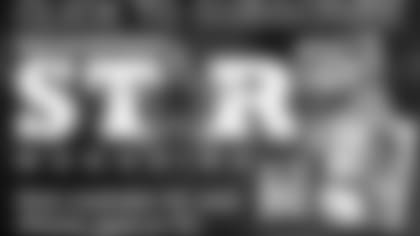 The author of "America's Team: The Official History of the Dallas Cowboys," Jeff also writes a new column each week in Dallas Cowboys Star Magazine and cohosts the "On Air with Dallas Cowboys Star Magazine" podcast. For subscription information, please click here.
One game does not erase the frustrations and disappointment of an entire season. The Kansas City defeat was tough to take, the Denver one epically more so. How did they manage to lose those? Then came what we thought was the worst of them all, at Detroit, but nope, they found an even more creative and painful way to break the collective hearts of Cowboys Nation, that being Green Bay. Still, here they are, still playing for the NFC East title in the final game of the football season. If nothing else, this is a resilient bunch.
Tony Romo not playing on Sunday isn't what should define this game. This third straight division championship game is at home, unlike the previous two, and the Cowboys at some point and time have to show some progress. There's no denying that this team was more talented and performed at a higher level than the last two, but fans won't want to hear that if the record is the same.
This game is winnable with Kyle Orton. On paper, when the season started, he was arguably the best backup quarterback in the NFL. And in this, the Year of the Backup QB, it would only be fitting that the 50th signal caller to start a game this season wins the final contest of the year. The Orton signing two years ago was perhaps the most responsible of the last decade for Dallas. Too much goes into the season, money and time-wise, to leave games to unproven quarterbacks.
The Cowboys have quite the history with backup QBs. There are Clint Longley and Jason Garrett on Thanksgiving. There's Steve Beuerlein leading the team to the playoffs in 1991 and even drawing the starting nod over a healthy Troy Aikman once there, and a year previous, Babe Laufenberg started against the Falcons in a win-and-in finale scenario just like Sunday's. Cowboys lost that one. And of course, Romo was a backup when he replaced Drew Bledsoe against the New York Giants on Monday Night Football.
Wrote a bunch last year about the historic number of injuries to the defense and how it was a once-in-a-lifetime fluke. The numbers supported my theory. In the first 52 seasons of the Cowboys franchise no more than 20 defensive players were on the field for 100 snaps. Last year, there were 25, with 36 taking the field overall. Both easily led the NFL, and that's why firing Rob Ryan seemed ridiculous.
So, what are the numbers this year? Right now, 22 defensive players at 100 and Sterling Moore and Corvey Irvin should easily make for 24 on Sunday. Also, 40 overall, not counting the three snaps Dez Bryant has played in "Hail Mary" situations. Both of those numbers easily lead the NFL. So when people say other teams have as many injuries as the Cowboys … no, they don't. The Cowboys have easily led the NFL in defensive injuries for two straight seasons. They are also the only team that has had a different starting defensive lineup every game this year.
Now, there is no way to explain that. I have spent countless hours trying to come up with a theory of some kind and can't. Blaming the strength and conditioning coaches or the training staff is ridiculous and lazy. They are world class at their professions and would be hired in 10 seconds if let go. Honestly, it's just bad luck, nothing more, nothing less. Do think injuries as a whole around the league have increased for numerous reasons, first and foremost the restrictions on practice time with full pads. That's not changing, though.
Again, been saying this for two years now: We are 10 years away, maybe eight, from the NFL becoming the NFFL, the National Flag Football League. I'm dead serious. That isn't a joke. There's going to be no other option. It's the society we live in.
Always figured the 2001 Cowboys held some sort of record with four quarterbacks starting at least two games (Can you name them?) and that may be the case, but watching the Marty Schottenheimer A Football Life, found out that the 1988 Cleveland Browns also started four (Bernie Kosar, Mike Pagel, Don Strock and Gary Danielson) and made the playoffs. And that still wasn't enough for Schottenheimer to keep his job.
Speaking of which, think Garrett is 100 percent secure in terms of returning in 2014, regardless of the outcome Sunday night. The clock management issues cost them wins against Detroit and Green Bay. There is no way either team should have been given enough possessions to win those games with how much time was remaining, but the drafts have improved tenfold, the injuries certainly aren't his fault, and again, this team is younger and deeper than any since the 13-3 campaign. He deserves another year.
Before the season started, I said this offensive line could be a real strength, maybe the best front since the 1990s and fans immediately ripped me to shreds. Not so much now, huh? Tyron Smith has been the stud former line coach Hudson Houck predicted he would become this season, should be named to his first of 10 or so Pro Bowls, and rookie Travis Frederick has been a top-5 center. Just imagine if Brian Waters remained healthy.
DeMarco Murray has a chance on Sunday to become the second running back in NFL history to rush for 1,200 yards with a 5.4 average, catch more than 50 passes and run for 10 touchdowns in the same season. The other was Marshall Faulk in 2000. Read that again. Yes, Murray and Faulk in the 94 seasons of the NFL. And Murray missed two games.
The four quarterbacks for the 2001 Cowboys? Quincy Carter, Anthony Wright, Ryan Leaf and Clint Stoerner. Think about that group next time someone is bashing Romo.
Was wrong with my preseason prediction of 12-4, but could be right with my projection of 6-0 in NFC East. If they win Sunday, this season will be a lot like 1998, when the Cowboys went 8-0 in the NFC East and 2-6 otherwise in winning the division. [embedded_ad]
Only two teams in NFL history have finished 8-8 in three straight seasons: the Green Bay Packers in 1983-85, and the Houston/Tennessee Oilers 1996-98. The latter changed their name to the Titans the following season and came within a yard of winning the Super Bowl.
Jason Witten's catches might be down, but he's one shy of tying a career high in touchdowns, and he hasn't blocked this well in five or six years.
Everyone needs to chill, once again, with the salary cap issues. Once they restructure Romo's deal and make a few tweaks here and there, it'll be a non-issue. Should even have a little dough for a free agent or two and extensions for Dez Bryant, Dan Bailey and Smith will be forthcoming.
Am 11-4 this season predicting Cowboys games. My call for Sunday: Cowboys 30, Eagles 25.
Follow Jeff Sullivan on Twitter, @SullyBaldHead, or email him at jsullivan@dallascowboys.net.