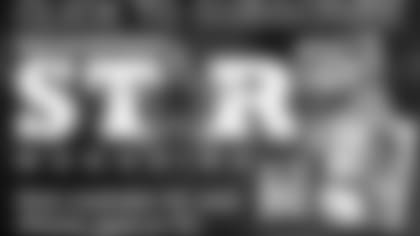 Was originally planning to start with how one high-profile rookie quarterback entered the NFL Draft convinced he was headed to Valley Ranch, to the point he was telling family and friends. That's how much interest the Cowboys showed in him during the pre-draft process. More on that later.
However, been thinking about another topic basically non-stop the last few days, that being Jimmy Johnson, the Ring of Honor and the Pro Football Hall of Fame. Been asked at least 100 times the last five years about his chances at both and have replied quite simply, "Not happening." Just didn't think he stuck around long enough. Didn't think there was even a possibility.
Well, I was wrong. Completely, totally and unequivocally wrong. Have done a 180 on this in the last week, starting with reading a story on Johnson on ESPN's countdown of the top-20 all-time NFL head coaches. Not going to lie; am a sucker for a list/ranking. Know most of them are ridiculously biased toward present day, but it is what it is. And the panel of 22 who voted for these rankings is pretty legit.
As of Monday, 14 of the 20 had been counted down, with Johnson No. 13. Have a pretty good idea of the remaining six, too. All are either already enshrined in Canton or headed there shortly after retirement, outside of Tony Dungy, who checked in at No. 20 and by all accounts, could find himself one day elected despite just 13 seasons as a head coach, and yes, Jimmy.
Seems like he's Jimmy more than Johnson, right? Kind of like Dez. Or Emmitt.
There is no defining the criteria of a Hall of Fame football coach. There just isn't. Weeb Ewbank won exactly one more game than he lost, 130-129. Sid Gillman won a single playoff game. No minimum number of years or games, either. Heck, the reason ESPN is doing this countdown is because it would have been Vince Lombardi's 100th birthday next week. Know how many games he was a head coach in the NFL, including the playoffs? How about 146. And Jimmy? 157.
Yes, Jimmy coached 11 more games than Lombardi himself. So that throws out all that nonsense about not coaching long enough. And yes, I know the seasons were shorter in Lombardi's days, but the point remains. John Madden only coached 10 seasons as well, one more than Jimmy. So there's precedent.
Now, Jimmy's not the only two-time Super Bowl winner without a bust. Tom Flores won two with the Raiders and isn't in. What really is mindboggling, if not perplexing, is that neither has ever even been among the 25 finalists.
In terms of Flores against Jimmy, which this certainly isn't meant to be, it's not even close. Flores inherited a strong Raiders team from Madden, won two Lombardi Trophies, and was let go after a five-win season in 1987. In his second go-around, Flores went 14-34 with Seattle. Jimmy made the playoffs in three of four seasons with the Dolphins, which we'll come back to.
Not trying to beat up on Flores in the least, he was a pioneer in the coaching field and is among the more underappreciated legends of the game. He's just not in Jimmy's league in terms of accomplishments and since they both won two Super Bowls, that needs to be pointed out. Also, Jimmy was also the general manager for both of his NFL gigs, Flores was most definitely not with Al Davis and the Raiders.
My point is Jimmy is an isolated case. His election wouldn't open the doors for a plethora of head coaches with similar circumstances.
Not that any Cowboys fan needs a rundown of what Jimmy did here, but maybe if there's a youngster reading his first article, here's a quick synopsis: Inherited an aging 3-13 team from Tom Landry, dumped the overwhelming majority of said aging and rebuilt from almost scratch. Dealt Herschel Walker, was ripped for doing so, now regarded as best trade in NFL history. Was Coach of the Year his second year, in 1990, won a playoff game the following season before winning back-to-back Super Bowls.
Then he left. No reason to rehash any of that, except to say the success the team sustained for another two years, even longer depending on the definition of success, was with the talent Jimmy assembled. Were his players and coaching staff. Not saying he deserved a third Super Bowl ring, he was gone by then, but that was still his team. His guys. When it comes to the Hall of Fame, or the Ring of Honor, that should be factored into the equation.
Could even think of Jimmy as the Gale Sayers of head coaches. Sayers lasted just seven seasons, barely played his last two, just 68 games in the NFL. And he was a first ballot Hall of Famer. Doesn't matter he now ranks 155th in career all-purpose yards, no one would argue with his inclusion in Canton. There just isn't a Pro Football Hall of Fame worthy of its status without Sayers. Or Lombardi for that matter. Could make the same case for Jimmy.
The player personnel decisions have to be factored in, too. Jimmy was running the drafts and making the deals that led to one of five dynasties in modern NFL history. Lombardi's Packers, Chuck Noll's Steelers, Bill Walsh's 49ers, Jimmy's Cowboys and Bill Belichick's Pats. How can the other four, deservingly so, breeze into Canton and Jimmy be denied? Doesn't make sense.
Also, quarterbacks have historically been rewarded for guiding great teams to victory, look at the numbers of Bob Greise, Terry Bradshaw, Joe Namath. None belong in the Hall based on the statistics. Head coaches deserve that same leeway. Yeah, Jimmy was just 80-64 as an NFL head coach, and yes, Wade Phillips has more career wins and a higher winning percentage. But Jimmy coached on the grandest of stages and won the biggest games. George Allen won two playoff games, Jimmy won seven.
This point needs to be made clear. Jimmy could care less about this kind of stuff. Asked him myself a few years back and he literally laughed. He's not much of a legacy guy. Knows he would have been a lock for the Hall of Fame if he stuck around, just wasn't a big deal to him.
Having already inducted Charles Haley to the Ring of Honor, Jerry Jones should really go ahead and add Jimmy Johnson. Haley played 63 regular-season games with the Cowboys. Jimmy coached 80. Who made more of an impact on this franchise? Am certain even Haley and Jones would agree that was Jimmy. He belongs in the Ring of Honor. Should have already happened. No reason it shouldn't this year. And by himself, too. Just Jimmy. Deion Sanders and Darren Woodson can wait another year, although the latter would be honored to go in with his old coach.
Real quickly, my top-10 head coaches in NFL history: 10) Paul Brown, 9) Curly Lambeau, 8) Chuck Noll, 7) Don Shula, 6) Bill Walsh, 5) Joe Gibbs, 4) Tom Landry, 3) George Halas, 2) Bill Belichick, 1) Vince Lombardi
Was talking with Raiders draft pick QB Tyler Wilson at the NFLPA Rookie Premiere in Los Angeles. Really nice kid, came way immensely impressed. Anyhow, he mentioned being surprised when Oakland took him, so I asked him who he was expecting would. Without hesitation he said, "The Cowboys. No one showed more interest during the pre-draft process. Cowboys, with the Steelers second."
When the Cowboys dealt their first-round pick and added a second third, Wilson was thinking he was going in the third to Dallas. Didn't happen, obviously, but it shows the Cowboys aren't opposed to taking a quarterback and developing him. There were players on the board they liked better, but have to assume their interest in Wilson was legit, no reason to waste that time.
Know what I found stunning. Looked this up after talking with Wilson, who went to Arkansas. The Cowboys, in 52 NFL Drafts, have selected two Razorbacks: Felix Jones in the first round in 200, and guard Jerry Dossey, who never played for the team, in the eighth in 1970.
Everyone needs to chill worrying about injuries during OTAs and minicamps. Not an issue in the least unless a guy tears an ACL or something. No reason to take even a 0.001 percent risk with, say, a strained pinkie toe in May.
RIP Deacon Jones. One of my favorite stories is from Pro Football Hall of Famer and Ring of Honor member Rayfield Wright, who made his first career start at right tackle in 1969, opposite Jones, arguably the greatest pass-rusher in NFL history, the man credited with inventing the term "sack." So on the first snap, Jones, a notorious trash talker, says to Wright, "Boy, does your momma know you're out here?" After the play was run, Wright turned to Jones and said, "Mr. Jones, how do you know my momma?" Follow Jeff Sullivan on Twitter, @SullyBaldHead, or email him at jsullivan@dallascowboys.net.