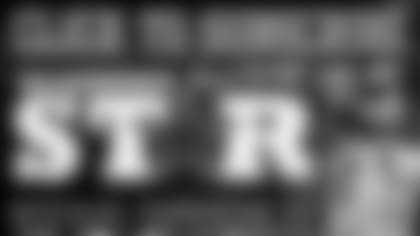 For mid-June, the sun-drenched practice field at Valley Ranch could've been worse, especially considering the heat wave that arrived less than a week thereafter. Still, this wasn't exactly the air-conditioned confines of Cowboys Stadium or the Alamodome, and there certainly wasn't the ocean breeze that would await the team at camp in Oxnard, Calif.
The second-to-last practice of Organized Team Activities had concluded five minutes previous, at least for the 100 or so players, coaches and team personnel who were now inside the locker room or scarfing down some grub via the buffet. There was a drifter here or there, an assistant coach talking with a reporter, a few ambitious rookies headed to the weight room with a strength and conditioning coach. As for the practice field, there was just the green of the FieldTurf. Well, almost.
There are always a few players who stick around practice for a few minutes working with a position coach. At the conclusion of double sessions at training camp, going back four, five years now, Cowboys perennial Pro Bowl nose tackle Jay Ratliff has always run himself through a few extra drills, working on technique, pushing himself to the limit. On this day, though, it's his counterpart on the other side of the line, second-year tackle Tyron Smith, who is staying late.
Five minutes quickly turn into 10, and yet he's still taking his stance, bouncing up, sprinting to his right, simulating that lead block. This has been commonplace at the conclusion of each of the Cowboys' practices this offseason: Smith, just 21 years young and coming off an impressive rookie campaign, working on his footwork in the early stages of making the transition from right to left tackle. And all the while, offensive coordinator and offensive line coach Bill Callahan is at his side.
"He's been a lot of help, we've been watching film every day, getting the technique down, working on switching your feet over to the left side, doing things on the field after practice every day," Smith says. "He's a pretty good coach, he knows what he's doing and I have a lot of trust in him."
Of all the offseason moves made by the Cowboys, and few teams in the NFL were busier, the most overlooked was the hire of Callahan to replace longtime line coach Hudson Houck. He was also given the title of coordinator and while he'll certainly have input into the game plan, Jason Garrett is expected to remain the primary play-caller. Which is fine. Garrett has proven himself to be one of the game's elite in that regard and the addition of Callahan allows for a second head coach of sorts on the sidelines.
"Certainly his experience as a coordinator and as a head coach will help us," Garrett says. "He and I have talked about that. He's somebody that I will lean on."
Callahan's primary area of expertise, though, will be the offensive line. Perhaps there is no greater compliment one can pay Callahan, who is more affable and friendlier than his reputation, than by simply stating the Cowboys coaching staff wasn't weakened with the retirement of Houck, one of the most-respected and revered line coaches in the history of the game.
The group of linemen Callahan inherited from Houck is young, although many gained experienced last season, trial by fire more than anything. Smith, the team's 2011 first-round pick, was superb, while others struggled, notably second-year center Phil Costa and rookie guard Bill Nagy. Also, with the offseason release of veteran guard Kyle Kosier and the decision to not re-sign veteran Montrae Holland, who allowed just two sacks in 641 snaps, the line is even younger still, although the team did sign a pair of veteran guards in free agency, Mackenzy Bernadeau and Nate Livings.
"I harken back to what Coach Houck did here. He did a tremendous job in setting up the foundation for young players," Callahan says. "Look at the first-year players Coach Houck had to coach. He has David Arkin, Kevin Kowalski, Bill Nagy, those are a lot of young guys and he brought those guys around and they played well considering there was a lockout, there was minimal time, no rookie camp, nothing. There was no time to get them ready for the rigors.
"I mean, that's a tough, tough job, so watching the film from last year, I bear that in mind. It takes two or three years for a lineman to develop in the National Football League, so with that being said, Coach Houck and now me, we're trying to accelerate that process."
After spending half a decade in the spotlight as a head coach, first leading the Oakland Raiders to Super Bowl XXXVII before a somewhat rocky four-year run at Nebraska – although it should be noted his offenses broke numerous school records – Callahan landed with the New York Jets in 2008 as the team's offensive line coach, a post he also held with the Philadelphia Eagles from 1995-97, and assistant head coach. There, he led one of the league's premier running attacks and helped the team advance to the AFC Championship Game in back-to-back seasons.
As for Callahan's immediate impact, that being what to expect this season, look for improved play on the offensive line, especially Smith, who could make a significant leap, and a commitment to the running game, anchored by another second-year player in DeMarco Murray. Also, he'll be instrumental in creating the week's game planning and should serve his boss well on the sidelines, where Garrett's focus is two-tiered with head coaching and play-calling responsibilities.
"First, coming here to the Dallas Cowboys is a dream come true for me, even these first five or six months have just been an incredible experience for me," Callahan says. "I've got enough experience in my background to assist where (Jason) needs help. A lot of what you see in the game plan is done during the week. That's where I see that I can really contribute and help this staff is during the course of the week."
Certainly, the success of the Cowboys in 2012 will be determined, at least partly, by those on the field, be it Tony Romo, Dez Bryant, Murray, Smith, Sean Lee or DeMarcus Ware. Make no mistake, though, the coaching staff, with the benefit of a full offseason, will be held equally accountable, none more so than Rob Ryan, Callahan and Garrett. And in the case of Callahan, he couldn't be happier about being in that position.
"This is going to be a fun season," he says. "There's no place I'd rather be right now."