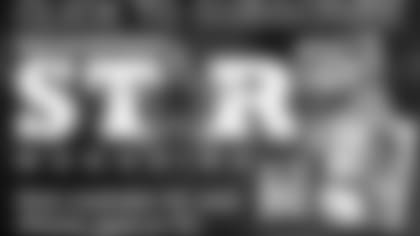 Matt Long teaches ceramics at Ole Miss and has a tradition each semester. Toward the end of the term, Long invites his ceramics majors and graduate students to his home in Oxford. There the class makes pottery and fires it in a wood-burning kiln. The process takes about 40 hours. The class obviously doesn't stay the entire time, but they do celebrate the end of the term with a large potluck supper as the kiln does its work.
A few years ago, Long broke tradition and invited an art major who didn't specialize in ceramics. That student wasn't the traditional art student. Jermey Parnell was a mountain of a man at 6-6 and nearly 300 pounds.
Long admits it was interesting watching Parnell try to make pottery in class. The size of Parnell's hands was an issue every time he hit the pottery wheel. Long said most students used a pound of clay to make an average cylinder. Parnell had to use two pounds. His enormous grip engulfed the pottery wheel.
Long invited Parnell that night because he connected with the Arkansas native during class, a feat that wasn't hard. Parnell was friendly. Long, who along with his wife was an athlete in college, watched Parnell play basketball for the Rebels and suit up for football his senior year. They had something in common besides art. They talked sports constantly.
Long's son, Chris, was 12. During a break in the potluck, Parnell took a tour of the home, which includes a basketball half-court. Parnell was admiring the artwork on the walls when Chris posed a curious question.
"Would you like to see my rock collection?" Chris asked.
Long assumed that Parnell was humoring his young son. After a few minutes, Long walked down the hall to his son's room and saw the two reviewing the rock collection and engaged in conversation.
"So are you playing sports?" Parnell asked Chris.
"I am," Chris said, "but people make fun of me a little. I'm not very coordinated and I'm not very strong."
"Well, let me tell you something," Parnell said. "When I was your age, people made fun of me. I wasn't coordinated and I wasn't strong, but I stuck with it. Now look. I play basketball and football at Ole Miss. No one makes fun of me and I'm pretty strong."
Long stood there at the door amazed.
"That was a wonderful moment," Long said. "The reality of Jermey is that's who he is, a great human being. To take the time to say that to him was just fantastic. That supersedes all of the art and the sports and all of that stuff. When someone like that makes an effort to reach out to young people like that, that's just awesome."
Today, Chris Long is 15 years old, stands 6-3 and wears a size-15 shoe. He's a freshman in high school and plays basketball. "People don't make fun of him and he's getting pretty strong," Long said. He doesn't know if Parnell's words made an impact on his son, but he appreciates those words all the same.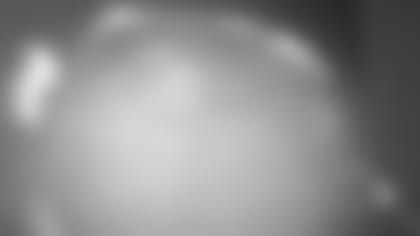 If you dig into Parnell's past you'll find that he was perhaps just paying it forward. Growing up in Gosnell, Ark., he was a star basketball player, but he didn't take art very seriously until one of his teachers did much the same thing that Parnell did for Chris Long – showed an interest.
Parnell described himself as a "knucklehead" in Patsy McHaffie's art class at Gosnell High School. He would cut up, tell jokes and socialize rather than listen. One day McHaffie kept Parnell after the bell to get his attention and assigned him a project using oil pastels.
Parnell actually knew what he wanted to do with them. He came up with the idea to paint two worms sitting in a cup floating on the ocean under a midnight sky. The stars and the moon would shine on the cup as it floated. Parnell called it "love in a cup." He wanted it to be a statement about cherishing love and not letting it float away.
There was only one problem.
"What I put on paper was terrible," says Parnell, now in his third year with the Cowboys. "What she did was teach me how to bring colors and passion to help me get my point across. That's what I fell in love with."
Parnell took that love of art to Ole Miss, though he had not intended to be an art major. He had hoped to major in architecture, believing he could translate his love for art into a future career in designing buildings. He felt the two things went together. But when he arrived on campus on a basketball scholarship and realized there was no architecture major, he changed to art.
"I understand that people wish they could play football and do the things they're passionate about," Parnell says. "But unfortunately with art, you can't make a lot of money off of it, you know what I'm saying? It's not like the old Renaissance times. Architecture is great. I love buildings. They're beautiful. That's why I'm going to go that route."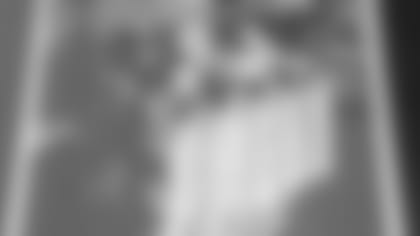 Architecture can wait, however. Parnell's circuitous route to the NFL includes a change in sports, several changes in positions and a handful of changes in locations. But Parnell has stuck with it and now he has a Super Bowl ring and a four-year contract with the Cowboys.
So how in the world did a basketball player from small-town Arkansas become an offensive lineman for America's Team?
"By God's grace," Parnell said.
But Houston Nutt gave him a nudge.
Parnell went to Ole Miss to play hoops. He led Gosnell High to the state semifinals one year and earned all-state honors twice, averaging a double-double during his junior and senior years. He spent his summers playing on AAU teams and traveled to China and Australia to play with a faith-based youth basketball team. At Ole Miss, his numbers weren't spectacular, but he was hard to miss on the floor and he earned four varsity letters.
Nutt, then the Rebels' head football coach, would play pick-up games with his staff in the gym. Occasionally he would see Parnell and would point him out to his coaches, saying, "He's a real physical player." Nutt wanted Parnell to play football once basketball ended.
"He always told me I had a million-dollar body," Parnell says with a laugh.
Parnell didn't put much stock in what Nutt said and hadn't played football since the eighth grade, but the coach convinced him to come out for spring ball. Spring ball led to a roster spot in the fall of 2008. A roster spot in the fall turned into playing time in five games on defense. Playing time turned into a trip to the 2009 Cotton Bowl in Arlington at Cowboys Stadium.
All this from a player who admits he couldn't even get into a three-point stance back then. Needless to say, Parnell never thought about the NFL.
On the other hand, league scouts had their eyes on teammate Mike Wallace, a wide receiver who now stars for the Pittsburgh Steelers. With every club expected to have a representative on hand at the Ole Miss Pro Day in March 2009, the coaching staff encouraged Parnell to give it a shot. So he traveled to Tyler, Texas, to work with a trainer named Kelly Hicks. Hicks prepared him well enough that he impressed a few of the teams on hand, among them the New Orleans Saints, who ended up signing the raw basketball player as an undrafted free agent.
The Saints brought him to training camp and kept him until the final round of cuts before releasing him. New Orleans then signed Parnell to the practice squad. From there he watched a magical season unfold. The Saints started the year 13-0, but saw the streak end against the Cowboys. They then beat Minnesota, led by Brett Favre, in the NFC Championship Game before defeating the Indianapolis Colts in Super Bowl XLIV.
Parnell never played, but he had a great seat for that Super Bowl. Practice squad players get to go with the team to the big game, and he was on the field as it all unfolded.
"It was a dream, like a fairy tale with the confetti falling and all that," Parnell says. "I never knew anything like that. In basketball at Ole Miss, we had success, but we never went all the way. To win that big was shocking to me. I never knew it could be like that. I want to feel it again."
Parnell bounced around in 2010. Released by New Orleans before the start of the regular season, he signed with Miami. He stayed with the Dolphins for 20 days before being released again. He went back to New Orleans and returned to the practice squad.
Parnell hadn't found his place yet, and not just in terms of a team. He moved around the field as coaches with both the Saints and Dolphins tried to find the right place for him. He practiced at defensive tackle, tight end and offensive line, but no one seemed to know what to do with him.
On Oct. 14, 2010, the Cowboys signed Parnell off the Saints' practice squad to their active roster. Dallas became the third team intrigued with Parnell's raw ability, but for the first time, he was finally designated for a single position – offensive line.
Parnell didn't play at all in 2010 as former line coach Hudson Houck, who helped former Cowboys like Erik Williams and Larry Allen become All-Pro talents, taught him the ropes at tackle. In 2011, Parnell played in six games, mostly on special teams, but finally saw some action with the offense in a regular season game. He played a few snaps in place of Tyron Smith against Tampa Bay.
Those few snaps turned into much more this season, however, when Smith suffered a high ankle sprain against Cleveland. In his absence, Parnell saw his playing time increase exponentially, earning his first career start in the Redskins game. Since then, he has also worked in a regular rotation at right tackle with Doug Free.
In taking on the additional responsibility, Parnell admits he is still learning the finer points of the position, especially pass protection.
"It's different with your hand in the dirt," Parnell says. "It's like being strong and powerful and you have to move them off the ball. (Pass protection is) what I'm working on. (Bill) Callahan is big on technique and he's pounding it into me. It's different, but that's the place I need to be."
Callahan took over as the offensive line coach in 2012, replacing Houck, who retired. Callahan has impressive credentials, including coaching the Oakland Raiders to a Super Bowl. He spent the past four seasons with the New York Jets developing All-Pro center Nick Mangold.
Callahan's focus with Parnell is keeping the lineman's hands and feet tight while blocking. He's bullish on Parnell's future, and considers him a player who could start for the Cowboys, or another NFL team, one day.
"He's done great," Callahan says. "Parnell's a guy that has worked really hard to get to where he's at right now. He's a solid backup for us and what makes him unique is that most backups at tackle in the NFL can only basically play one side. He gives us the flexibility to be able to play both left and right, so he's invaluable in a lot of ways. We feel confident that we have a security blanket that can fill in pretty quickly."
Callahan is not the only one dedicated to Parnell. Earlier this year, the Cowboys extended Parnell's contract for three more years. It's the first time an NFL team has given him that kind of assurance.
He wants to pay the Cowboys back for their faith.
"It's a blessing to still be in this game with my background," Parnell says. "It's a blessing for them to give me that deal. I'm committed to them like they're committed to me. I'm going to work to get as good as I can possibly be. I want to give them a bang for the buck."
Perhaps this is where Parnell is supposed to be. He says that his mother used to tell him that he would run around the house wearing a Dallas Cowboys jersey and telling her that, one day, he would play for the Cowboys. He doesn't remember it, but that's how the story goes.
Parnell certainly remembers McHaffie, though, and Chris Long certainly remembers Parnell, who says that art has taken a back seat for now. McHaffie, who is retired, probably wouldn't mind. After all, Parnell has what she had always hoped he would have – a direction.
"All I do now is football," Parnell says. "I feel like I owe this team. I'm going to get better. I'm ready for my chance."