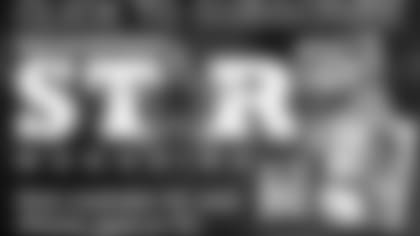 The author of "America's Team: The Official History of the Dallas Cowboys," Jeff also writes a new column each week in Dallas Cowboys Star Magazine and cohosts the "On Air with Dallas Cowboys Star Magazine" podcast. For subscription information, please click here.
Wanted to offer 10 thoughts from Sunday's annual Blue-White scrimmage in Oxnard. However, before doing so, want to be crystal clear on this point: This is what we have at the moment, so we'll analyze. This is what we do, the coaches, the players, the scouts, the media and the fans, but does anyone know outside of maybe Jason Garrett or Bryan Broaddus? Not saying it's not relevant, just saying not to take a guy having a nice scrimmage as the second coming of Bob Lilly or Larry Allen.
The intensity was there. Coaches were screaming, dropping some magical words on the players, the fans booed the officials on several calls, which was somewhat humorous considering it was the Cowboys playing, you know, the Cowboys. After hooking up with Jason Witten for a touchdown, Tony Romo showed midseason intensity, even yelling, fired-up jubilation, as he reached the sidelines.
Among the non-starters, the two standouts were second-year running back Lance Dunbar, without question the surprise of camp thus far, and rookie corner B.W. Webb, who was having an outstanding performance even before his pick-six interception – he jumped the backend of a double slant – of backup quarterback Kyle Orton. Dunbar busted a long run early, and then added a nifty catch-and-run on a screen. His blocking has also dramatically improved. Both are going to contribute to this football team and we're talking this year.
After a slow start to camp, and not being able to participate 100 percent at OTAs and minicamp, rookie Joseph Randle busted out in a big way late in the scrimmage, including a touchdown run on the final play of a long afternoon. Following Garrett dismissing the team, Randle handled multiple media requests and then jogged, literally jogged, to the back of the end zone to sign autographs. The entire time with a smile on his face. Kid is living the dream. Has a lot of confidence, but not cockiness. Could quickly become a fan favorite. Should note he has looked lost on punt returns. At this point, think we all just want Dwayne Harris handling those. All of them.
Second-year tight end James Hanna didn't play, but he has to be close to returning, as evidenced by his intense workout on the adjacent field. Rookie Gavin Escobar has been solid in his absence, both receiving and blocking. Still think both see almost equal work once the season starts, with Escobar seeing the bulk of the snaps in the red zone. Veteran Dante Rosario could also make this team. Yes, four tight ends.
Really focused on the 15 minutes or so when the lines went against each other. No skill position players, no 11-on-11 or even 7-7, just the lines. Some quick hits: Guard Nate Livings struggled, as did Phil Costa as the second-team center; Tyron Smith was a block of granite at left tackle and rookie Travis Frederick really looked like a seven-year veteran. Again, everyone stop with him playing some guard and competing for the center gig. He's not. He's the starting center and will be for the next decade.
The surprise for me – as in, who is this guy? – was defensive tackle Jerome Long, who was Kansas City's seventh-round pick in 2012, but was signed off its practice squad in December by Jacksonville. He was released by them in late-April. Anyhow, the kid showed some motor, was splitting the gaps, found himself in the backfield on many occasions. Team needs some depth at tackle; maybe he's the sleeper. Was impressed.
Dan Bailey has reached that point where it's more surprising than disappointing when he misses a field goal. Like, the snap must have been bad. Or he slipped. The guy is automatic. Did miss a 40-yarder, and everyone kind of looked at each other, like, oh yeah, he's human. Came back a few minutes later with an impressive 54-yard boot.
Didn't keep track, not sure anyone did, but Jared Green was easily the leading receiver in both catches and yards. That, of course, would be the son of Washington Redskins Hall of Famer Darrell Green. Would be a neat story if Green somehow stuck. Speaking of wideouts, both Danny Coale and Cole Beasley sat the scrimmage out.
DeMarcus Ware looked like his old self after injuries slowed him down the second half of last season. Really quick first step, just explosive. Was standing next to Willie McGinest, a fine pass rusher in his prime with New England, while he was doing a live feed for the NFL Network and heard him say (I'm paraphrasing), "The biggest thing for DeMarcus is he has no responsibility in pass coverage. That's exciting." Indeed. Drove me crazy the last few years seeing him dropping downfield. The numbers say it was about 15 percent of the time, but it felt like more. No more. Just rush the quarterback. If he's healthy, 20.0 sacks is realistic.
Finally, was randomly fortunate enough to watch the last 90 minutes of the scrimmage standing with former Cowboys linebacker Dat Nguyen, who now has a daily radio show on ESPN San Antonio. No exaggeration, learned as much about reading offenses in that hour and a half than in my entire life. Amazing. He predicted about 95 percent of the plays before the snap just based on the formation, especially run or pass by where the running back was lined up, if he was cheating up to block or seven full yards from the quarterback. Also offered up some neat sayings. My two favorite were, "Same deal, different dress," and "Count the hats," meaning how many players were on the line of scrimmage, or there about. Asked him about Sean Lee in this new Tampa 2 defense and he said, without hesitation, "Sean fits any defense. He's so good, so talented, so smart, doesn't matter what defense he's playing in."
Will have a new column Wednesday wrapping up my camp visit, and remember to listen to "On Air," right here on DallasCowboys.com on Friday.
Follow Jeff Sullivan on Twitter, @SullyBaldHead, or email him at jsullivan@dallascowboys.net.