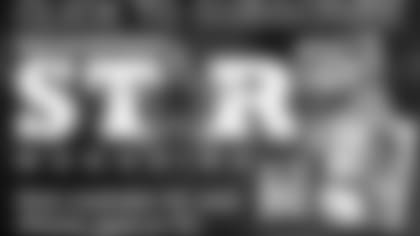 For the most part, Cowboys rookie wide receiver Terrance Williams is pretty shy. Always has been, although just in the last few years, heck, since being drafted in the third round this past April, he's become a lot of more comfortable speaking with people, media included.
Talking with children, though, has never been an issue. This much is obvious watching Williams interact with them, as he did for more than an hour at Atwell Middle School in Oak Cliff on Aug. 19. The kid from Dallas who attended W.T. White High School is now the adult whom young boys and girls are looking up to.
Williams was on hand to distribute new football helmets to the Oak Cliff Redskins of North Texas Pop Warner Football. The helmets were won through a national Pop Warner promotion in association with the Panini America 2012 NFL Sticker Collection. The former Baylor product signed every autograph request and posed for countless photos, and never stopped smiling.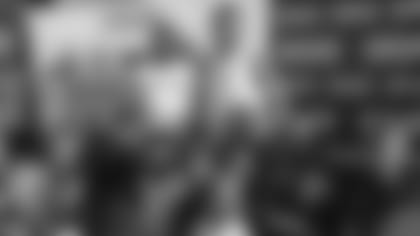 "Growing up around here, I never really had the chance to meet any Cowboys players," Williams said. "It was just a privilege to come back here and to do whatever I can. To share my story, how my brothers kept me in line of always doing my schoolwork, if I didn't get my schoolwork done, I couldn't play football. I followed that motto throughout high school and college, too."
This was not the first, nor will it be the last outreach event of which Williams will be a part. He has a passionate bond with the area, and remembers what it was like being raised in these same neighborhoods. Even his father is from Oak Cliff, so yes, he feels a sense of duty to do his part to give back.
"It's just the whole connection, having grown up here in Dallas, knowing it was hard to find that one person that can change that one kid's life," Williams said. "To keep them from going to jail or having a troublesome childhood. It's just me expressing myself, and if I can just help one kid out, then I'm fine with that. I just want to do what I can, whatever that may be."
Williams has always been a Cowboys fan, and while he was just 6 years old when the team last won a Super Bowl, he remembers watching the game against the Steelers and the ensuing celebration. His favorite players were Michael Irvin and Deion Sanders. [embedded_ad]
"Michael played the game with so much passion and so much enthusiasm. I'm just trying to follow what he did," Williams said. "Deion was my favorite, though, growing up. He played the game with so much speed and he always wanted to guard the best player. That's probably why I want the best corner to guard me."
These last six months have been a whirlwind for Williams, although he seems to be enjoying the ride. After setting a Baylor program record with 4,693 all-purpose yards and finishing second in school history in career receptions, yards and touchdowns, Williams went through the draft process, from the Scouting Combine to the interviews to the countless rumors of which team and what round he would be selected. The end result was the fulfillment of a lifelong dream – actually hearing his name called at the NFL Draft and receiving the call from Jerry Jones.
"I kind of figured it was somebody playing around," Williams said of the phone ringing. "When someone from a Dallas number calls my phone, I'm thinking it's someone just trying to congratulate me. I knew it was the real deal when I heard, 'Hey, it's Jerry Jones of the Cowboys.'
"Some teams had me going late-first [round]. You just have to be patient, and that's what I did. I was just patiently waiting, and things happen for a reason. The Cowboys took a chance on me. That was the ultimate dream."
From the start of training camp, head coach Jason Garret has used Williams as the primary No. 3 wide receiver, which is some hefty responsibility for a rookie. After missing the first two preseason games following a concussion, he made his professional debut against the Arizona Cardinals on Aug. 17, catching one pass for 5 yards on four targets.
He almost, should've, would've hauled in a long touchdown catch, but Tony Romo overthrew the wide-open speedster who also starred on Baylor's track and field team. Williams actually took responsibility for the play, saying he ran the wrong route, but Garrett said it was just a bad throw. Regardless, it was a sure score, which would've made for a memorable opening act. Still, Williams was just happy to be on the field.
"I was kind of nervous, but then again, once I got into the game I realized it was hard, but at the same time, I thought, 'I can do this, I can play on this level,' instead of 'this is too hard,'" Williams said. "As the game went on, I just felt more confident in myself and that I could play at this level. It felt good. There will be more chances, I know that.
"I'm somebody that can continue to stretch the field, help them in the vertical game and somebody who can continue to get better. I'm here just to help out and make an impact in any way I can."
And it's important, instrumental really, that Williams helps out and makes an impact both on and off the field. He remembers being that very kid who was standing in Oak Cliff, gazing up at Williams, and thinking, there it is, that's the dream. Playing in the NFL, for my hometown Dallas Cowboys no less.
"It hasn't sunk in that I play for the Cowboys and that I'm in the NFL, so I don't really see myself as someone kids are looking up to," Williams said. "When I come out to places and see a whole bunch of kids and even adults that want to come out to support me, it's overwhelming. It's something I would never, ever take for granted."