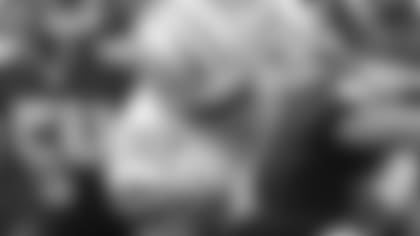 At 26 years old, Josh Brent should be entering the prime of his football career. And perhaps he soon will be. For now, though, he's in jail, the result of his 180-day sentence for intoxication manslaughter in association with the tragic death of Jerry Brown Jr., his Cowboys teammate and good friend.
Brent is set to be released next month, the day before the Cowboys' first training camp practice in Oxnard, Calif., on July 24. There are other issues – being reinstated by the league since he officially retired last summer, and the possibility of a league suspension – but for now, let's focus on the possibility of Brent playing this season for the Cowboys.
This debate, some would say dilemma, went from the back of minds to the forefront when Cowboys executive vice president Stephen Jones said last week that the team would be open to Brent returning.
"We'll certainly look at that," Jones said. "The league will have a big say in when he can come back. We'll certainly evaluate that situation when it comes. I certainly wouldn't rule it out. Obviously, Josh has paid a price. That's just a tragic, tragic accident. Right now, he's doing what he needs to be doing. And we'll evaluate things as they move forward."
At this point, it would be surprising if Brent wasn't with the team at some point of camp. The Cowboys have already made the decision on their end. If he wants back, and it's hard to imagine he doesn't, the invitation will be there. So let's assume Brent indeed rejoins the team in July, works himself back into shape, possibly has to sit out a few games per the NFL (don't think that's likely) and ends up being a valuable rotation contributor on the defensive line.
Will the fans be OK with this? And should they be?
First off, and this is important, the team cannot worry about the fans when making personnel decisions. They have to do what they think is best for the franchise. And let's be honest, if the team wins, the fans will be just fine.
However, this is about so much more than Josh Brent the football player. At least for some it is. Some fans have made his potential return into a moral issue, going as far as to say they would rather lose more games than have Brent on the team. And everyone is entitled to their own opinion. This is, after all, the Unites States of America. Freedom of speech and expression. Freedom of the press.
Also, though, we are a country of second chances. Pay one's debt to society and move on. There was a crime, there was punishment. And the thing is, Brent is going to deal with this tragedy every single day for the rest of his life. Make no mistake, the decisions made that night will haunt him forever. That punishment will never end.
Among the first steps in moving on with his life is going back to work, earning a living, and Brent plays football. For the time being, say the next five to 10 years, that's his best opportunity in the workforce. Just so happens he possesses the talent to play in the NFL. Eliminate this from the equation for a second. Say he was a fire fighter, a lawyer, an accountant, a construction worker. Would anyone begrudge him the chance of returning to his job, putting his life back together, earning money? I'm guessing few, if any.
Look, I'm not defending Brent's actions. Some of the facts are especially disturbing. That he already had pled guilty to driving under the influence back in 2009 is infuriating. In some ways, this was his second chance, and not only was he still driving under the influence but at sickening [embedded_ad] speeds, 110-plus miles per hour according to police.
I just paused for a few seconds after writing that last sentence. Deep breath, cringed a few times, this isn't easy. The NFLPA and the Cowboys each offer free transportation for such instances, too. This was senselessness of the highest order with the most tragic of consequences.
Still, who are we to play judge and/or jury? That process has already taken place. And this is hardly without precedent in professional sports. Most recently Donte' Stallworth and Leonard Little in the NFL, with maybe the better example of a second chance being Craig MacTavish, an NHL player who was convicted of vehicular homicide in 1984 and served a year in prison. He would play 12 more seasons before going on to a successful run as a head coach.
There is no way of predicting how this turns out. Brent hasn't played since 2012. No one has a clue what kind of shape he's going to be in. And while he was starting to show some promise in his third NFL campaign, Brent's career statistics in 39 games are 44 tackles and 1.5 sacks. Absence tends to fade the memory of exactly the football player Brent was. In reality, he was a rotation guy who had just cracked the starting unit because of some injuries.
So maybe he doesn't even make the team. We have no idea. But the man deserves the opportunity. Jerry Brown's mother, Stacey Jackson, has forgiven him and has told Jerry Jones on multiple occasions that she wants the team to help Brent in any and all ways they can.
Who are we to say otherwise?
And right now Brent needs a job and the opportunity to rehabilitate his life. That's all the Cowboys can really offer. And that's all he deserves. No more, no less. Just a chance.
Follow Jeff Sullivan on Twitter, @SullyBaldHead, or email him at jsullivan@dallascowboys.net