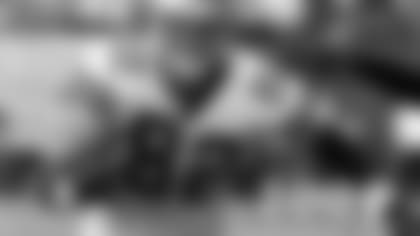 The most important part of each season may be the daily practice grind in July and August, when a team is truly built. As a countdown to this year's training camp, we celebrate the 53rd year of Cowboys football by constructing the team's all-time 53-man roster, picking one player from each season.
Not so much the 53 best players in club history, DallasCowboys.com has constructed the ultimate team, filling out the depth chart and making room for contributors at every position, including special teams, while at the same time looking ahead to how this year's 53-man roster might shake out.
The series continues today with 2005 and tight end Jason Witten.
Name: Jason Witten 
Position:Tight End 
College:Tennessee 
Height/Weight: 6-6/265 
Cowboys Tenure: 2003-present
Why Him? The first of the current players to make the Ultimate 53, this one is absolutely no surprise. While Witten is not only the best tight end in Cowboys history, there are some pundits who would argue he is one of the more complete players at his position both currently and even all-time. When it comes to the combination of a pass-catcher and blocker, it's hard to compete with Witten. Obviously he is more of a threat in the passing game, evident by his 696 career catches, which ranks second all-time in Cowboys history behind only Michael Irvin (750). With Witten averaging 77.3 receptions per season, just turning the age of 30 and only missing one game in his career, it's likely he will become the Cowboys' all-time leader in catches during this 2012 season. But he's more than just an offensive threat and security blanket for his quarterback. Witten has portrayed an admirable sense of toughness and leadership that is hard to match. A seven-time Pro Bowler, he has also made four All-Pro teams.
The Role: The Cowboys are a franchise that has enjoyed the services of quality tight ends, dating back to the early years with guys like Mike Ditka, Jackie Smith, Billy Joe DuPree and Doug Cosbie. While DuPree made the team as a third tight end behind Jay Novacek, it's hard to argue with Witten being the starting tight end. The combination of a go-to receiver in the clutch, with the ability to stay at the line of scrimmage to block is rare for any era. The aforementioned players were all complete tight ends in their own right, but not comparable to Witten.
Back To The Future: With Witten being the first current player to make this list, it's hard to compare him to anyone, considering he's still got a few more years left in him. The Cowboys have tried to incorporate backup tight ends into the offense with a pair of second round picks – Anthony Fasano and Martellus Bennett – but to this point, both were considered disappointments and have since moved on. But at some point, the Cowboys do need to get younger at tight end and possibly start to think about a more viable backup plan. This year, John Phillips will get his opportunity to back up Witten. Phillips is similar to Witten – not just in his physical appearance (6-5, 262) but also in their versatility. Phillips has been used as a lead blocker at fullback during his career. He's definitely not Witten but the Cowboys are hoping Phillips can develop into a steady version of the best tight end in franchise history.