On Sept. 22, Jennifer and I had the privilege of spending the afternoon with some very special young ladies at the Gene and Jerry Jones Family North Texas Youth Education Town (YET) in Arlington. Upon arrival, we were greeted by 14 of the brightest, most bubbly mini-cheerleaders, aged 5-12, who were all extremely excited to participate in our DCC Dance Academy program.
We began with a Zumba-style warm up, which I find to be the perfect icebreaker to begin any class with. No doubt, the girls were thrilled to be there, but at first I could definitely sense a subtle shyness from some. Needless to say, once the catchy tunes and somewhat comical dance moves began, smiles started to creep on their faces, and any insecurities quickly vanished. We wanted to create a light-hearted, positive environment for these girls, where everyone could feel comfortable, relaxed and just have some fun with us.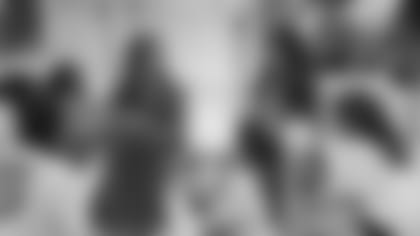 After warming up, the energy in the room was electric and the group was ready to power through the choreography. They excelled at learning the routine and performed it confidently in front of all who attended.
Then, Jennifer and I decided we wanted to have a little heart-to-heart talk with them to impart some DCC wisdom before departing. This is something we do at each youth program we put on, to dig a little deeper or go "Beyond the Boots," as we fondly call it. We circled up and first gave them the opportunity to ask any questions they may have had about the DCC, Cowboys or whatever they desired.
We then discussed what they had learned in the day's session that they could apply to other areas of their lives, and why it is important to do so. For example, it was moving to hear them acknowledge that simply smiling at someone else, or offering encouragement to a teammate can make you feel good and boost moral. We chatted about character and what it means to be kind, caring and honest. We also discussed community values and personal attributes, such as positivity, dedication, confidence and self esteem.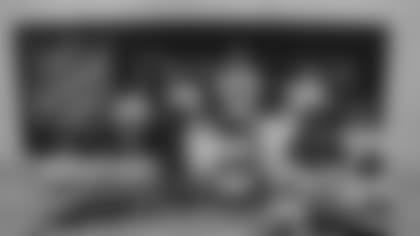 I am beyond grateful for any opportunity to work with children; it is for sure one of my absolute favorite aspects of being a DCC. There is no greater position to be in than one where a child looks up to you. The influential platform that comes with the privilege of representing America's Team is truly a special one.
It doesn't matter if it's spending just a couple of hours lifting spirits or making someone smile, it is truly something that impacts the heart. Without even realizing it, these kids leave having absorbed something beneath the surface, more meaningful, that could make a difference in other areas of their lives.
We ended the session by giving them each a little gift to thank them for joining us, and as we said our goodbyes, there were big hugs all around. My heart felt very full. They were so happy and smiling ear to ear. This is why I love these opportunities more than anything and cherish every minute.
I am so appreciative and grateful for these experiences, and I definitely hope we were able to brighten the day for them as much as they brightened ours.