IRVING, Texas – Pretenders need not apply for Part 6. This is Thunderdome.
We've reached the conclusion of my Omnipotent and Unquestionably Superior Ranking of Every Touchdown Scored by Desmond Demond "Dez" Bryant. Thank you for reading.
If you're late to the party, let me provide you the links to the first five entries:
Alright, now back to the festivities. Every single one of these 10 touchdowns made me do this – or something like it – when they happened.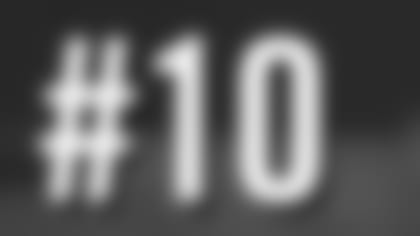 What I'm Calling It: Dave is Stupid
When It Happened:Nov. 13, 2011
Against the:Buffalo Bills
Significance:Opened the scoring in an absolute whitewashing of a bad Buffalo team. Bryant scored this touchdown just three minutes into the game, the Cowboys led 28-7 at halftime and wound up winning by a score of 44-7. If this had happened in a closer game, it'd be higher up the list.
My Thoughts: I love this touchdown. I absolutely love it. It's got all the hallmarks of a classic Dez touchdown – abusing his man, outjumping the competition, fantastic hand strength – except it happens from *much *farther away than usual. It'd be one thing if Tony Romo lofted this thing up from the 6-yard line, but Dez manages all of this from 34 yards out. Leodis McKelvin even plays it perfectly! I mean, the guy gets his hands on the ball, and Dez is basically just like "Ha. No, peasant." Watch McKelvin when the play is over, as he angrily claps his hands together. What else is the poor dude supposed to do? It's an absolutely gorgeous play, and I feel like an idiot for having it as low as No. 10. This might be the one that haunts me the most on the entire countdown.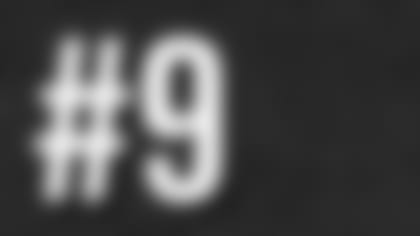 What I'm Calling It: In Which DRC Strikes Out
When It Happened:Nov. 11, 2012
Against the:Philadelphia Eagles
Significance:With the Cowboys sitting at 4-5, this touchdown tied a crucial division game at 17-17 entering the fourth quarter. Dallas outscored Philadelphia, 21-6, in the fourth quarter and stayed alive in the playoff hunt.
My Thoughts:Third time's a charm, right, Dominique Rodgers-Cromartie? Oof, maybe not. DRC actually draws a defensive pass interference flag on the play, which makes Dez's effort here even more amazing. He battles through the holding to get in position – and then he goes nearly parallel to the ground while hauling in the catch. The Eagles challenged the ruling on the field, which allows for closer inspection. I absolutely can't wrap my head around the way that Dez manages to maneuver the ball under his forearm – mid-fall – to limit the amount it moves when he hits the ground. The body control required to tuck this football, while falling, while also being mugged by DRC, is mind-boggling. Dez Bryant is a bad dude, y'all.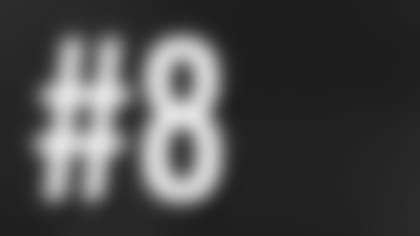 What I'm Calling It: Ain't Nothin' Gonna Break My Stride
When It Happened:Dec. 21, 2014
Against the:Indianapolis Colts
Significance:Put the Cowboys on top, 14-0, in a game that would win them the NFC East title.
My Thoughts:There was something so different about the 2014 Dallas Cowboys. The day before this game, the Eagles lost to Washington, giving the Cowboys a chance to clinch the division a week early. Given their recent history, it'd be understandable if you expected them to goof up and lose to Indianapolis – leaving the door open for Philly. What'd they do instead? They absolutely crushed the Colts, jumping out to a 28-0 halftime lead. This play perfectly encapsulates that beatdown, as Dez absolutely skies over Greg Toler and snatches it over his unsuspecting head. Toler's response to this is to drop to the ground like a fainting goat: https://www.youtube.com/watch?v=f_3Utmj4RPU It's an absolutely vulgar display of power, and Dez caps it off by flinging the football in total mic drop fashion. It's domination totally deserving of a division title.
What I'm Calling It: All Y'all Get All The Way Off Me
When It Happened:Nov. 9, 2014
Against the:Jacksonville Jaguars
Significance:Dez's second jaw-dropping touchdown in the same game. It put Dallas up, 24-7, in an easy win. More importantly, it showcased just how capable Dez Bryant is of completely humiliating a defense.
My Thoughts:Dwayne Gratz probably should have just let Dez win. He was already beaten by a couple of steps on a long-gainer, and the damage was done. Being a proud professional, though, Gatz dove for the tackle, and that's how he wound up getting dragged along the ground like a small child trying to walk a Great Dane. Safety Jonathan Cyprien is the next guy to take a shot, and his attempted tackle looks more like a really awkward hug. Cowboys points: 6, Embarrassed Jaguars: 2.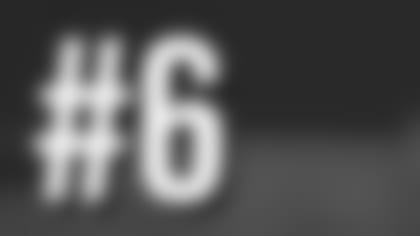 What I'm Calling It: Thar She Blows
When It Happened:Dec. 15, 2013
Against the:Green Bay Packers
Significance:Gave the Cowboys a 36-24 lead against the Matt Flyn-led Packers – a game they managed to lose after leading, 26-3. I honestly thought at the time that this loss would cost Jason Garrett his job.
My Thoughts:Calvin Johnson will always be Megatron, but this is some straight-up rocket-footed robot stuff right here. It's also classic improvisation. Dez is doubled by Tramon Williams and M.D. Jennings on a simple curl, but he breaks toward the back of the end zone when Tony Romo escapes the pocket. Honestly, the ball looks like it might be intended for Miles Austin – but that's before Dez the Leviathan surfaces from the depths like a damn humpback whale, breaching over the top of Jennings and A.J. Hawk, and then he touches both feet down before not one but two defenders push him out of bounds. Three different Green Bay defenders angrily signal for an incompletion. Nah uh, fellas.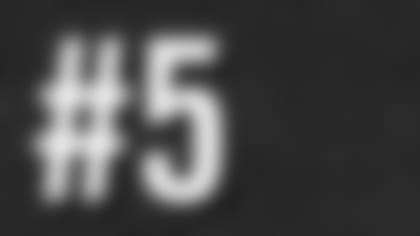 What I'm Calling It: And One
When It Happened:Oct. 27, 2014
Against the:Washington Redskins
Significance:Gave Dallas a 7-3 lead on Monday night football – in an eventual loss. Also the night Tony Romo broke the transverse process in his back and was sidelined for two weeks.
My Thoughts:It's an awfully lofty ranking for a five-yard touchdown, but I don't care. Look at this dude *palm the ball – one handed --­ *on a short-thrown screen from Romo. It's like he's playing with a couple of catcher's mitts on. After he jukes David Amerson (for what feels like the 10th time on this countdown), he takes on a full-shouldered tackle from Ryan Clark – and just literally carries a grown man for the remaining three yards. Clark re-doubles his efforts and eventually brings him down – but not before Dez breaks the plane of the goal line. If this was basketball, Dez is getting a foul shot in addition to the basket. There's no doubt.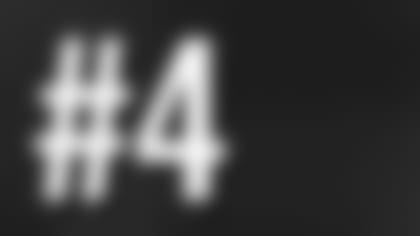 What I'm Calling It: Turbo Button
When It Happened:Nov. 9, 2014
Against the:Jacksonville Jaguars
Significance:This was Dez's first touchdown of the Jacksonville game. Combined with Touchdown No. 7 on the countdown, this is probably the best combo of single-game touchdowns in his career.
My Thoughts:I'll never forget sitting next to Bryan Broaddus at Wembley Stadium when Tony Romo threw this short drag route to Dez. I've watched Dez Bryant catch a lot of passes over the years, and this one looked like a straight-forward 8-to-10-yard gain. In this particular instance, though, he kicked things into a gear we just don't normally see. He was off like a cannon, and all of a sudden he was 20 yards down the field. With Dez careening down the sideline like a runaway freight train, there's just no way I'm betting on anyone to tackle him. Credit to the Jags, several of them tried – and they wound up littered around the goal line like bowling pins. I honestly didn't know Dez was capable of a play like this until I saw it live, and it certainly left a lasting impression on me.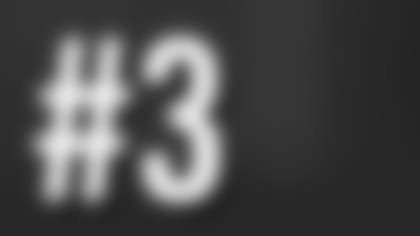 What I'm Calling It: The Hurt Vertical
When It Happened:Nov. 8, 2015
Against the:Philadelphia Eagles
Significance:This happened back when Dallas was still (technically) in the playoff hunt, back at 2-5. It tied the game at 21-21 in the fourth quarter, giving brief hope that the Cowboys could snatch a win and put together some positive results before Tony Romo returned to the roster. As you know, none of that happened.
My Thoughts:It's amazing that this is only officially considered an 18-yard completion. Matt Cassel scrambles halfway across the state of Texas before uncorking a prayer from the 35-yard line, and Dez is standing a yard from the back of the end zone. So it's honestly a 44-yard play. Remember that Dez is seven weeks removed from breaking his foot, and he actually suffers a debilitating knee injury while making this catch. Despite those facts, Dez outleaps three different defenders while bringing in one of the toughest catches of his career. The 2015 season didn't have many highlights, but this one stacks up against any of Dez's best moments.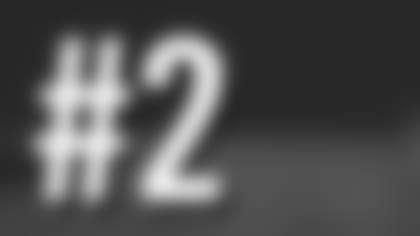 What I'm Calling It: Record-Setter
When It Happened:Dec. 28. 2014
Against the:Washington Redskins
Significance:Set a Cowboys single-season record for receiving touchdowns, with 16. The record had belonged to Terrell Owens. Also capped off a hot streak for Bryant – six touchdowns in the final three games of 2014. December of 2014 was one of the hottest stretches in recent Cowboys history.
My Thoughts:Nobody in the building thought this was a catch in real time – especially not poor David Amerson, who gets beaten by Dez for the 956th time in his career. Maybe y'all think there are better catches on this list, but I'm very partial to this bit of absurdity. This ball travels 30 yards in the air, and Dez has the body control to go up for it, secure it and tap his toe down – literally with mere inches to spare. A play like that requires composure, awareness, agility and a bunch of other ridiculous qualities that I do not possess. I couldn't think of a better way to set a record.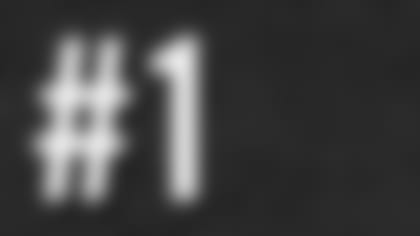 What I'm Calling It: The Boom Box Catch
When It Happened:Oct. 27, 2013
Against the:Detroit Lions
Significance:The Cowboys lost the game, but not before Dez made his best touchdown catch to date.
My Thoughts:This is vintage Dez Bryant in every conceivable way. It's a backshoulder throw from the 5-yard line, and he's facing tight coverage – we've heard it all before. The safety even shades over to help blanket Dez, and it doesn't matter. Maybe you're tired of seeing this catch, because it's arguably his most famous, but it really is that sick. The dude can't even get a full grip on the ball, as it bounces off his left hand. He literally just pins it to his shoulder pads while two NFL defensive backs knock him to the ground. Every time I see the picture of Dez going up for this catch, I think about the boom boxes that were such a big part of the music scene back in the 1980s and 1990s. Dez is hip and Dez has hops – Dez is the youth. He's the most fun thing about watching the Dallas Cowboys play football, and that fact is perfectly illustrated by this, his best touchdown catch.
I hope y'all had as much fun reading this series as I had writing it. If you disagree, come find me on Twitter and tell me what an idiot I am. Hopefully by this time next year, we'll have a couple of new contenders for the top of the list.
Friendly reminder: training camp is two weeks away.