Editor's Note: To celebrate Darren Woodson's induction to the Ring of Honor on Sunday at AT&T Stadium, DallasCowboys.com will highlight his career with Woody's Week – a collection of stories, videos and other pieces to commemorate his illustrious career. Today, we'll start off the series with a feature article that initially ran in the in Dallas Cowboys Star Magazine. For subscription information, please click here.)
(This story originally appeared in *Dallas Cowboys Star Magazine. *For subscription information, *please click here.)*
When he got tapped on the shoulder and heard the words, "Mr. Jones wants to see you," Darren Woodson, 11 years removed as an NFL player, still got an uneasy feeling about why his former employer might want a minute with him in the middle of a Cowboys' training camp practice this past July.
Working as an ESPN analyst now, Woodson was in town at the Oxnard, Calif., site for just a couple of days, and he was a bit unsure why the boss man would invite him up to the tower overlooking the field.
"I was like, 'Is he going to cut me?'" Woodson joked. "I never got cut before."
As it turned out, it was the exact opposite, as Jones informed the former NFL safety that he was coming home, that he would be inducted into the team's exclusive Ring of Honor. As surprised and then humbled as Woodson was by the news, something even more striking stood out in the words Jones expressed.
"At first it didn't hit me when he told me I was getting in," Woodson said. "But Jerry said, 'Darren, nobody else is going in with you. It's just you by yourself. It's going to be your day.' I thought that was huge."
Not only huge, but a rarity for a guy that has seemingly been overshadowed, even overlooked at times.
Now, let's first clarify that no one cared more about winning than Woodson, who won three Super Bowls in his first four NFL seasons. And no one seemed to care less about the spotlight than Woodson as well. Playing in Dallas in the 1990s, there wasn't a lot of extra limelight to go around with the likes of Emmitt Smith, Troy Aikman and Michael Irvin on hand, and that was before Deion Sanders joined the party in 1995.
But that was always just fine with Woodson, who was certainly used to being overshadowed, even in college.
For example, back in the spring of 1992, after his senior season as a hybrid linebacker at Arizona State, Woodson wasn't even the main attraction at his college's Pro Day. About 25 coaches and dozens of more scouts from every NFL team were on hand, but mainly to scout Woodson's teammate, cornerback Phillippi Sparks.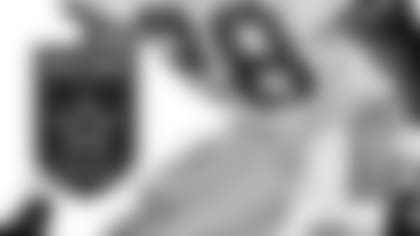 Former Cowboys head coach Dave Campo, who was the team's defensive backs coach in 1992, admitted he had his eyes on Sparks at first, but Woodson, who was considered a "tweener" between linebacker and safety, needed a little more than four seconds to catch his eye.
"Here comes this linebacker-looking guy who runs a 4.37 in the 40," Campo recalled. "He was like a runaway bullet-train. I was like, 'Oh wow.' So I went up to him and asked him to run some defensive backs drills with me. I worked his tail off, but he kept coming back for more. I remember thinking, 'This guy might be a gem in the rough.' So after the workout I told him I was going to go back and fight for him and try to get him drafted. I just thought he had a shot to be a special player."
Woodson eventually was selected by the Cowboys at No. 37 in the 1992 draft – four spots ahead of Sparks, who played with the Giants for several years before eventually joining Woodson and the Cowboys for the 2000 season.
Woodson's ultimate "taking a backseat" moment, though, occurred in 2002, his 11th season, when he had already made five Pro Bowls, earned three All-Pro honors and was closing in on becoming the Cowboys' all-time leading tackler. But when he finally did set the new mark, on Oct. 27 against the Seattle Seahawks, Woodson still wouldn't be able to shine all alone, as Smith also broke Walter Payton's NFL rushing record in the same contest.
Then again, surpassing Lee Roy Jordan's top spot of 1,236 tackles wasn't even Woodson's most memorable play from that day. He was flagged, and later fined $75,000, for a punishing hit on Seattle receiver Darrell Jackson, who had a seizure in the locker room after the game.
But despite those seemingly unforgettable highlights, Woodson now recalls one simple thing more than any other.
"We lost!" the safety said. "That's what I remember about that. I'm still mad to this day that we lost that game. I could care less about the records being broke. We had a game in front of us. We worked our butts off to prepare, and we end up losing the game. To me, I had no idea the record was broken. Going into the game they were talking about it, but during the game, I didn't think anything about it."
Woodson, who remains the Cowboys' all-time leading tackler with 1,350 career stops, did want to clarify one thing about being "overshadowed" that day by his running back teammate, something he has heard for years, but always somewhat brushed off.
"Let me say this, there wasn't a comparison to what Emmitt accomplished and what I accomplished," Woodson said. "Emmitt became the all-time leading rusher in NFL history, that's a different deal. That is a totally different monster in itself. To be overlooked, I totally get that."
But as great as Smith was for the Cowboys, arguably the greatest player in franchise history, even he didn't get his own day for the Ring of Honor. In 2005, the Cowboys inducted "The Triplets" all together, Smith, Aikman and Irvin, in a halftime ceremony against the Redskins.
The year before, Cliff Harris became the first true safety in Cowboys history to be so honored, and he shared the moment with offensive tackle Rayfield Wright. Just four years ago, the Cowboys recognized Drew Pearson, Charles Haley and Larry Allen in a joint induction during the 2011 season.
So today, when the spotlight is solely on him during halftime of this Seattle game, it's not just rare for Woodson, but also unique for many of the Ring of Honor ceremonies. He is just the 21st inductee overall, and only the 19th player, the exclusivity being something he noticed early in his playing career.
"That's why I feel like it's so special. It's an elite group," Woodson said. "Looking up at the old Texas Stadium, there weren't that many names in there at all. When I first came in, you always knew the Cowboys were America's Team. But there just weren't a lot of players up there, so it wasn't something I ever really thought about for me."
And that's just another example of Woodson's humble nature, something he said began during his days at Arizona State, where his linebackers coach made sure he stayed focused. Long before Lovie Smith became a head coach for the Chicago Bears and now the Tampa Bay Buccaneers, he was keeping Woodson in check at ASU.
"Man, Lovie, he was 'Mr. Humility,'" Woodson recalled. "He would humble you in a second. Early on in college, I'd have 12 tackles, make some big plays, get a sack or a pick, and then I wouldn't get the game ball. Lovie would say, 'Well, we expect that from you.'"
Before too long, Woodson expected it from himself. So just a few years later, as an established member of the Cowboys defense, he found himself chuckling one day during a conversation with Cowboys defensive backs coach Mike Zimmer, who is now the head coach of the Minnesota Vikings.
"'Zimm' was the exact same way with me," Woodson said. "Because when I first got to the Dallas, I would get all kinds of game balls for Top Special Teams Player or Defensive Player of the Week when I first became a starter. I got tons of those. When Zimmer came around, I never got them. And he said the same thing as Lovie, 'We expect this from you. We expect you to cover the slot, make plays, match up with the tight end and play multiple positions, so you better do something extreme to get a game ball.' But I accepted that and it made me a better player."
Woodson's versatility was always on display because he had the ability to hit and tackle like a strong safety, with the range and cover skills of a free safety, combined with the one-on-one matchup ability of a slot cornerback.
"He could do it all," Campo said. "He was big, smart, but he could really run. And that's one of the things [former Cowboys head coach] Jimmy Johnson was always looking for. He wanted guys who could move.
"So when I went back to Dallas and we met as a staff and with the scouts and with Jimmy and Jerry, it wasn't really a tough sell. The fact that he could play so many positions and could run like he did, we ended up taking him in the second round. And it turned out to be a great pick for us."
Speaking of picks, Woodson had 23 in his career, including one in each of his final nine seasons. But the quarterback he likely intercepted more than anyone else was someone he never faced in a regular-season game. To this day, current Cowboys head coach Jason Garrett says facing Woodson during practices was one of his toughest battles.
"I was always a backup player. He was always a starting player," said Garrett, who was with the Cowboys from 1992-99. "So for years, I'd go to the line of scrimmage and find out where 28 was. It was one of the great challenges of my life to try and go against that unit, and he was a big part of that unit. I can't tell you the number of times he intercepted my passes. Again and again and again, and he would always just flip the ball back to me. Great competitor, great teammate, fantastic player."
Long before Garrett became the first Cowboys player to become the head coach of the team, he found himself admiring Woodson as a coach-on-the-field type of veteran.
"He is as highly respected of a guy as I've ever been around – by his teammates and I'm sure by his opponents," Garrett said of Woodson. "He had an understanding about 'team.' He was a natural leader. When he spoke, people listened. He wasn't afraid to confront situations on the team, when guys weren't playing to the level we needed them to play. He was respected by everyone on the team – both sides of the ball, young guys, old guys. He's one of the guys that you could say, 'Yeah, I was fortunate enough to play with Darren Woodson.'"[embeddedad0]
While Woodson was only teammates with Garrett, he remains the only player in Cowboys history to have suited up for five different head coaches: Johnson, Barry Switzer, Chan Gailey, Dave Campo and Bill Parcells. But whether it's that distinction, or being the Cowboys' all-time leading tackler, Woodson never was one to get too excited about individual honors.
"I came in spoiled. We won it in '92 and '93 and got close in '94. We got back in '95 and won it," Woodson said. "I just wanted to win. That's all I ever wanted. Records come and go and records get broken, but they can't take those rings away from you – ever. That's why we play the game."
That being said, there are exceptions to every rule. And for Woodson, being in the Ring of Honor is an individual achievement that even he can't deny holds a special place in his heart.
"To me, the Ring of Honor is the elite of the elite. That's how I've always looked at it," Woodson said. "That's why I feel like it's such a big deal for me. My kids will see my name in that stadium for the rest of their lives. And their kids' kids. They'll always know that it's a select group that I'm in."