(Editor's Note: With the draft still about three months away, Bryan Broaddus has already begun his draft research although we're still early in the game. Each day, we'll focus on a position, with Broaddus profiling a handful of top players, going off mainly their college film. Today, we'll focus on the tight ends.)
Here are a few tight ends to keep an eye on as we get ready for the 2013 NFL Draft:
Tyler Eifert                         6-5, 252                              Notre Dame
Would call him a hybrid player….lines up at several different spots in the formation….mainly plays flexed or off the wing…will see him inline or as a "Y" but not as much….you see him move across the formation when he lines up as the wing….is a much better receiver than he is a blocker….had a nice adjust catch with the ball behind him in the Stanford game….is often used as a backside blocker….doesn't play with much strength at the point of attack…it's hard for him to get movement when he tries to block…really lacks sustain….would not say that he is strong enough to really set the edge as a blocker…has a hard time as a blocker one-on-one…really didn't see the toughness to handle a defensive end…gave effort to try and finish but just not always successful….will lunge and over extend as a pass blocker….was used as a "Wham" blocker inside and got rejected against USC….as mentioned does most of his damage in the passing game…fights to get up the field but doesn't have much initial quickness or speed but when given free access in the route he is much better….knows how to use his body to get separation….see him push off to get in route…good hands and adjust to the ball in traffic…runs routes down the field but will also hook up inside and catch the ball…showed some sideline awareness against Alabama trying to get his foot down to make a high ball catch…looks like he has more zip in his routes when he was in the red zone….was doubled in the red zone against Stanford and Alabama…would not say that he is dynamic with his run after catch like Reed of Florida….gets what he can and only saw one time where it didn't look like he protected the ball against Alabama when they ripped it from him but he was ruled down…respect the way he catches the ball but will have to develop better as a blocker.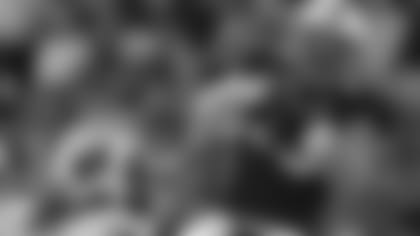 Zach Ertz                             6-6, 252                              Stanford
Plays in an offense that is very tight end friendly…like Eifert of Notre Dame you see him on the backside of plenty of blocks….matter of fact he is a much worse blocker than Eifert….will go to the ground when he is lined up as the "Y"….plays like a big receiver…you see him mainly in the slot and at times on the wing….thought he was a much smoother athlete getting up the field than Eifert but not the athlete of Reed of Florida…plays with nice initial quickness and pace getting off the line…like Eifert knows how to push off to buy himself some room…hands are outstanding…catches very easily in them…see him run deep crossing routes across the field and coming up with the ball like he did against UCLA….aware to work in zone whether it man or zone…will keep running or sit down to make himself a target…had a sweet "Escape" (in and out route) for a nice catch and first down….also showed the ability to run the "Nod and Up" against Wisconsin that put the team in position to get the first points of the Rose Bowl….can make those high point catches…can hurt the defense with his ability to catch the ball in the middle of the field….if he has a weakness again, he is a terrible blocker….is more get in the way than trying to stick his nose in there and work his man off the line…will bounce off man and try to get to second level but isn't always successful….would call his ability to get down the field rare and with his hands is his best trait. Like Eifert of Notre Dame and Reed of Florida is that hybrid player.
Travis Kelce                        6-6, 260                              Cincinnati 
Of the five tight ends I studied today, this guy is the most complete….there is no questions about his blocker nor his ability to make plays with the ball in his hands…he will line up mainly as the "Y" but you will also see him as a wing….when he is flex outside, he is usually blocking for a wide receiver screen and doing it quite well…gets some movement in the running game…nice with the down block or working to the outside…can really adjust in space…you don't see separation in his game….once he is on you, you are done….plays with some initial quickness and pop…does a nice job when he has to sit in there in pass protection…really stays after his block…can make clearing blocks on the edge like he did against Syracuse…really nice balance….don't see him on the ground at all…has a nice release up the field for a big man…when the ball is thrown his direction he snatches it with his hands and has the ability to make the first man miss…very good stop-start quickness…you want to throw the ball to him on the move because he can be a problem to bring down in the open….ran a tight end delay for a touchdown where he drove his man down inside then released up the field uncovered....really nice athletic ability against Rutgers laying out for a catch along the sideline but just couldn't get his one foot down…don't know the story about why he was suspended the entire 2010 season for a team violation but I am sure the scouts do….in a game that is played by tough guys, I would take him on my team for the things he can do on the field….if you paired him with Witten and Hanna it would be interesting to see those three work.
Jordan Reed                       6-3, 225                              Florida
It's amazing how Florida recruits these players for one position, then works them into another….he is that hybrid player that Bill Parcells liked…used from a variety of spot along the formation: inline or "Y" tight end, flexed tight end, receiver, H-back, and even some running back….Adequate blocker when able to ride the shoulder and drive…does a nice job of staying after his block…push-shove type of blocker…more position than domination…very smooth in breaks on outside breaking routes….has a real feel for how to run routes and get open…like when he has the ball on the move…runs the best of these tight ends…shines with the ball in hand, makes moves in space that are impressive….doesn't run out of bounds or take the easy way out… consistently makes oncoming defenders miss with moves or speed. Gets physical to earn the first down or extra yard at the end of runs was able to do that against LSU…knows how to work zones….will sit down and make catches…showed this against Georgia…shows body control and balance….teams will fall in love with his athletic ability and also his ability to be a mismatch player down the field…hard guy to cover with a linebacker and too much for a safety…his ability to catch and run after catch is outstanding…is a legitimate threat to hurt defenses with his play.
Gavin Escobar                   6-6, 255                              San Diego State
Has impressive size and ability….strength of his game is his ability to catch the ball…has the athletic ability to get off the line and into his routes…would call him a legitimate threat in the passing game because of his ability to run…will catch the ball in traffic and then run through the tackle…has the strength to run through tacklers but you don't always seen strength in his blocking…will turn out and shield the defender from the field…has trouble getting the edge sealed as a reach blocker….there were plays where he didn't quite get his head across his man….not really strong enough on the backside cut off either…didn't get the feeling that he really liked to stick his nose in there and block…much better receiver than blocker….lead the Aztecs in receptions in 2012 but also had six touchdowns…plays with some [embedded_ad]
quickness to his game…will see him line up at several different positions in the formation but mainly as the "H"….is a much better player on the move…will see him stay in as a pass blocker but to me that is a waste of his ability because he can get down the field….did a nice job of this against Fresno State….like Eifert, Ertz and Reed the best trait he has is his ability to cause a defense problems in coverage because of size and athletic ability…will really have to develop some strength to become that more complete tight end when it comes to blocking but smart coaches offensive coaches will find ways to get him up the field.