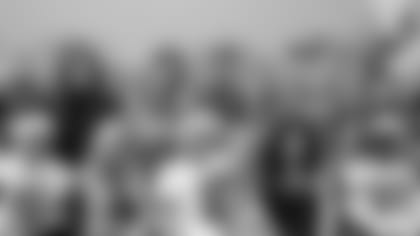 DALLAS – For the last few weeks, the Cowboys have several people smiling over their recent success. And there were grins to go around after Sunday's huge win over the Steelers.
But those smiles don't even compare to the ones the Cowboys generated Monday morning with their annual hospital visits to children in the Dallas-Fort Worth area.
Head coach Jason Garrett gave his players most of the day off following the 27-24 win, but only after their visits to local hospitals, which provided tons of much-needed cheer to some ill children and their families.
The players, along with the Dallas Cowboys Cheerleaders, split up into groups of four, visiting three hospitals in Dallas and one in Fort Worth.
Under the guidance of Mrs. Gene Jones, this is the 24th year of the annual visits.
"It's great to be able to come out here, be away from football, be away from life itself and come out here and bless kids," running back DeMarco Murray said. "It's a special gift that God blessed us with, so to be able to come back and share these moments with kids is awesome."
Obviously, the Cowboys have been dealing with heavy hearts here lately, with the tragic passing of teammate Jerry Brown. And the entire country has mourned the devastating deaths of innocent children, teachers and administrators in Connecticut.
With all of the saddening events taking place, quarterback Tony Romo said moments like Monday can put things in the right perspective.
"My heart goes out to all the people in Connecticut and the families. It's a tragedy," Romo said. "It just shows there is some evil in the world. There's nothing you can say that's going to make anything better. It just makes you appreciate what you have and the blessings that do come to us in life. We're not guaranteed anything. We have to take every moment and we know how precious it is with the people we love."
Romo and his wife Candice had their first child this past April, a boy named Hawkins. The quarterback has now been a part of 10 of these hospital visits, but said this one was different.
"Yeah, as a father it changes you a little bit, with your sense of how much you really care," Romo said. "You don't realize how much you'll care about your son or daughter until you have them. But coming here is always fun. We're just lucky to be able to make some families and children smile. That's what it's all about."
While there were many kids and families that melted these players' hearts, one in particular received lots of love at Children's Medical Center in Dallas.
Young Tia Hackett, a seven-year-old whose entire extended family was on hand for support before open-heart surgery, lit up the room with her smile and infectious personality.
Since she was three weeks old, Tia has been battling issues with her heart. The procedure Monday to repair her pulmonary valve, was actually scheduled for early in the morning with Dr. Joseph Forbess. But it got pushed back to noon, giving her and her family more time to visit.
As it turned out, that was the exact time in which the Cowboys showed up to visit, giving her and her family the opportunity to meet and greet about 20 players, including the likes of Tyron Smith, Dan Bailey, Miles Austin, Murray and, of course, Romo.
"She's adorable. She had personality," Romo said of Tia. "We'll be praying for her as she goes through surgery today."
The family, which lives in Argyle, Texas, were all in matching pink shirts that said "Team Tia" on the front and then had a Disney-themed message on the back of Tia's favorite princess, Rapunzel, from the movie Tangled.
"This has been a tough time for all our entire family," said Tia's mother Nicole Hackett. "There's been a lot of stress. But to come here today and meet the Cowboys … it's just been phenomenal."
The family has created a website, teamtia.org, for her full story and updates through her journey.