MIDLAND, Texas– And 14 and a half hours after we pulled out of The Ranch at 9 a.m., we rested. Right here late, late Thursday night in West Texas. Way West Texas.
These Dallas Cowboys fans slam wore us out.
Not sure why this would come as a surprise to me on our Road Trippin' 2016 excursion, riding the Cowboys Bus out to Oxnard, Calif., for Cowboys training camp. I should have known, right? We did this last year, and these Cowboys fans came out of the woodwork to greet us everywhere we went.
But I'm telling you, they just never cease to amaze me, coming out in all shapes and sizes, all ages, from those just being born into this almost cult-like following to the aging wonders from the Willow Springs Care Center in Abilene, Texas. They come in all races and nationalities, cross all socio-economic lines.
Most of all, though, as 61-year-old Charles Johnson told me in Abilene, "Win or lose, I love my Cowboys."
That thought occurred to me just before leaving on our five-day, roughly 1,900-mile journey that Friday will take us to the Cowboys Pro Shop here at the Midland Park Mall, all the way to the Cowboys Pro Shop at the Outlet Shoppes of El Paso:
Hey, when we made this trip last year, the Cowboys were coming off a robust 12-4 season. This time, they are coming off the exact opposite, a highly disappointing 4-12 effort. Would anyone even care?
We sorta got a hint of things to come as we were taking our departing pictures out front of the championship wall at the entrance to The Ranch, where two moms were taking photos of their young daughters dressed in junior Dallas Cowboys Cheerleader outfits. As it turned out, they had driven all the way to The Ranch with Emerson and Haley to attend the Dallas Cowboys Cheerleaders camp. Can't tell you how excited they all were.
Same out in these parts, and at least from what we could tell on Thursday, ain't no such thing as a bandwagon.
Several hundred people met our arrival at the KRBC-TV studios just after noon in Abilene, not exactly prime time for folks to come out in the oven-baking Texas heat. But there they were, waiting to take pictures and get autographs. And remember, it was just us – myself, Rowdy and Emory Tyler, the Cowboys bus driver.
Real fans, most adorned in their best game-day blues, reaching out to touch the Cowboys anyway possible. Catching my attention right from the start were the four elderly ladies sitting in wheelchairs under the shade trees adjacent to where Emory parked the bus. The folks from the Willow Springs Care Center brought them out on a little field trip of sorts. And there they were, either proudly wearing their Cowboys or Willow Springs T-shirts.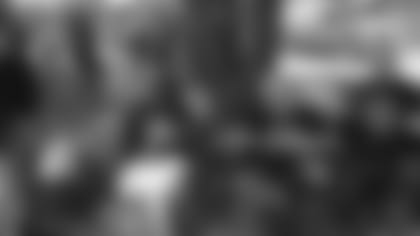 They wanted autographs. Sweetest things. And when I asked who was the oldest, or actually trying to be polite, who has lived the longest, Dora told me probably it was her. She was 91, God bless her. When we all took a picture, she grabbed my hand and pulled it to her cheek, as if she was holding the Cowboys.
Or how about the guy who fancied himself a sketch artist, mocking up a picture of Rowdy and me. John Howard is his name. Sure has some talent.
And, of course, Mr. Johnson, who proudly parked his Cowboys blue customized 2005 PT Cruiser right out front, claiming he was "the No. 1 Cowboys fan." Wasn't going to argue with a guy who had Cowboys inscribed into the side of his car, with everything Cowboys on the interior. He also has a Cowboys room with even a piece of turf from the Cotton Bowl in his collection. Yes, he went back that far.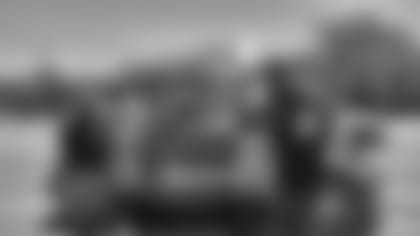 "Even if they lose a game, I represent the Cowboys every Sunday," he said.
Now that was only part of it.
As we motored toward Lubbock for our next stop, hunger set in, and lo' and behold, there was a Sonic about 14 miles outside of Abilene in the town or Merkel, right off I-20. Of course, the bus caused a mini-commotion. Here they came, out of the kitchen to take a look, to take a picture or three. Orders? What orders?
Well, we had put in our orders, and out comes Amanda, apron and all, the owner's daughter as it turns out, born in Abilene, but raised in Odessa and Sweetwater. Same thing here, claiming to be the "biggest Cowboys fan," and you know what? Lunch was on her. She wouldn't have it any other way. Before we left, someone arrived with her young son Daniel.
Yes, the Cowboys are a big deal out here.
And a really big deal in Lubbock. We didn't stop here last year, but at the request of the Pro Shop, we made a slight detour to include a town I had never been to, not even to cover a college game. Big oversight.
Why, there were hundreds of people lined up at the Cowboys Pro Shop in the South Plains Mall by time we got there around 5:30. Emory had dropped us off to go park the bus. When I saw the line, I could just image Emory groaning, "Mickey, look what you got us into."
Yep, got us into a most rewarding night. Who knows how many folks showed up? Maybe 300. Maybe 500. All I know is we sat down signing autographs for nearly three hours. Rowdy needed a break. Emory and I got to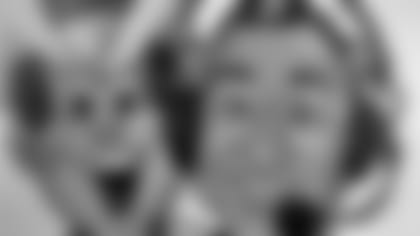 a point where we were signing the same picture at the same time to expedite matters. We took so many pictures, I think our smiles were plastered to our faces.
Humbly, these folks appreciated our appearance. Most of all, noticed the number of families. Moms, dad, kids, babies. The young ones either afraid of Rowdy or couldn't pay enough attention to him as we took pictures.
Now, we have signed many items, but this one took the cake. A guy handed us a portion of his old leg prosthesis that he had painted, all Cowboys-upped. I kid you not.
And speaking of pictures, this one really tugged at the heart. A mom, Andrea, and her school-aged kids came around for pictures. She was holding up an 8" x 10" portrait of a young girl as we posed for the picture. A little different, so I asked.[embeddedad0]
She proudly told us that was her 12-year-old daughter Destiny. She had passed away in April. Their way of keeping her in the family. Heck, you know me, had to wipe my eyes as she walked away.
We signed until nearly 8:45 p.m., down to the last one, a serviceman in fatigues who walked in late, after we had exhausted the line and the other guys had gone off to the bus.
Don't ever doubt 'em. They are out there.
2016 ROAD TRIPPIN' ITINERARY
11:30 a.m.: Cowboys Pro Shop, Midland Park Mall, 4511  N. Midkiff Rd., Midland Texas
6 p.m. (MDT): Cowboys Pro Shop, The Outlet Shoppes of El Paso, 7051 S. Desert Blvd., Canutillo, Texas
Noon (MST): Famous Sam's (7129 E. Golf Links Rd.), Tucson, Ariz.
6 p.m. (MST): Salty Senorita, 811 W. Paradise Lane, Peoria, Ariz.
3 p.m. (PDT): GameWorks, Town Square, 6587 Las Vegas Blvd., Las Vegas Nev.
5 p.m. (PDT): Saddle Ranch Chop House, 8371 Sunset Blvd., West Hollywood, Calif.
At Some Point: River Ridge Sports Complex, Oxnard, Calif.