IRVING, Texas – Considering he was signed off waivers after being released by the Saints, Corey White joined the Cowboys' roster without much fanfare two weeks ago.
It's not exactly a signing that moved the needle, but it could prove to be an important one, given the cornerback situation at Valley Ranch. Brandon Carr's future in Dallas is a constant topic of conversation, given his gaudy contract, while Morris Claiborne continues to work back from a torn patellar tendon.
The addition of White was magnified last week when Sterling Moore signed a free agent contract with Tampa Bay.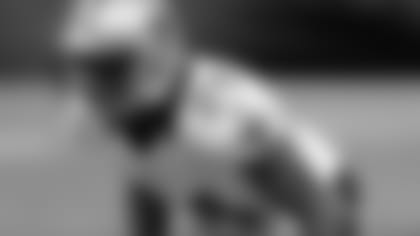 Asked about him at the NFL's annual meetings last week, Cowboys coach Jason Garrett said he was intrigued by White's versatility in the secondary.
"He has a lot of physical traits. He has played as a corner. He has played inside in the nickel. He potentially could be a safety for us," Garrett said. "We just want to get him in here and see where he is -- a lot of things to like about him. A lot of physical ability in a 24-year-old kid."
White was a fifth-round draft pick out of Samford by the Saints back in the 2012 NFL Draft and played games at corner, nickel and safety during his three seasons. It's one thing to hear his new coach praise White's versatility, but it was the first thing mentioned by his old one, as well.
"He's played inside, he's played outside," said Saints coach Sean Payton. "We drafted Corey in that 2012 draft. I wasn't there, it was during that suspension, but he's a guy that's – I think – a real good athlete. He's got size, and I think he's got solid ball skills."
It's hard to predict what the cornerback spot will look like for the Cowboys by the time training camp rolls around. Carr's future isn't 100 percent certain, and there is wide speculation the Cowboys could spend a high draft pick on a corner.
For the time being, though, White could fit the bill as a capable nickelback if the Cowboys opt to move Orlando Scandrick into a larger role on the outside.
"I think some of his better snaps for us came inside, so if I were looking at the player and saying 'Where do you start him first,' it'd be inside in the nickel, because I think he's an exceptional tackler and I think he's a really good blitzer," Payton said.
White notched 53 tackles and a sack for the Saints last season, as injuries in the New Orleans secondary pushed him into a starting role for nine games. It is a logical question, then, to ask: if White was so capable, what made him a cap casualty in New Orleans?
Payton was quick to point out his own roster upgrades, as the Saints signed veteran corner Brandon Browner in free agency. He also added, though, that White has several facets of his game he can work on while he tries to make the Cowboys' final roster.
"We added some depth at that position, and I struggled with the vision, honestly," Payton said. "I felt like there were a number of snaps where he had opportunities, on a consistent basis, and it just didn't work out."