*(Editor's Note: As former Cowboys' Pro Bowl lineman Larry Allen approaches this weekend's Pro Football Hall of Fame announcement, where it's expected "LA" will get the prestigious honor in his first year of eligibility, the staff at DallasCowboys.com will reflect on his career all week. Today, we recall one of the first plays that put Larry Allen on the map, and one that is still a fan favorite.) *
In 1994, the Cowboys were trying to do what no team has ever done in NFL history – something that still hasn't been accomplished today: win three straight Super Bowls.
That was the goal and the mindset for the Cowboys, who had the biggest and brightest of targets on their chest each week.
It was a team of stars in Troy Aikman, Michael Irvin and Emmitt Smith, who was coming off a glorious season in 1993, when he was NFL and Super Bowl MVP.
The defense was considered an underrated group that had playmakers such as Charles Haley and Darren Woodson and the offensive line was one of the best in football, even without Erik Williams, who had a scary car accident that put him out for the season.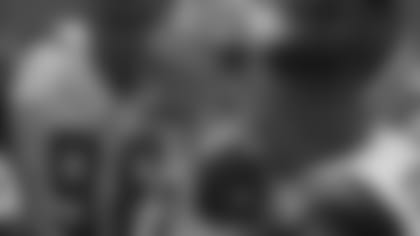 Enter Larry Allen, a second-round pick from tiny Sonoma State in Calif. He was big, he was strong and … we found out in New Orleans one night that he was pretty fast.
Playing right tackle against the Saints on *Monday Night Football, *Allen fetched linebacker Darion Conner on an interception return that saved a touchdown. The 325-pound rookie tackle, who would later switch to guard where was a perennial All-Pro, was standing flat-footed when Connor made the interception in the middle of the field and darted towards the sideline.
That's when Allen went to work and walked the linebacker inside the 20-yard line. The Saints had to settle for a field goal in a game the Cowboys hung on to win. 
But it was a play that not only sent excited the ABC announcers of Frank Gifford, Al Michaels and Dan Dierdorf, but immediately put Allen on the map as an athletic freak, despite his enormous size.
And over the years we saw that Allen was more than just incredibly strong, but he played with skill and technique. The combination is what made him an 11-time Pro Bowler, including 10 with the Cowboys in a 12-year span.