Dallas Cowboys head coach Jason Garrett isn't one for offering his opinion on where his players rank among their peers around the league. He just doesn't see the point, and honestly, he has a point. It's a no-win situation. Either the praise comes across as bias, or the lack thereof will upset one of his players.
Among the rare exceptions has been all-world kicker Dan Bailey, about whom Garrett has on multiple occasions offered such praise as, "You could make a compelling case he does his job as well as anyone on the team. He's as reliable a guy as I've been around kicking the football."
Actually, through six seasons, no kicker in the history of the NFL has been more reliable than Bailey. He's converted 89.8 percent of his field goal attempts, the highest percentage in history, and has never missed an extra point, even after the league pushed the distance back to 32 yards last season.
He's already off to a great start in 2017. Not only did he make all four field goal attempts in a 19-3 win against the Giants, but he was the only bright spot in a loss to the Broncos, connecting on a career-high tying 56-yard kick before halftime.
As for Bailey's secret to his success, it all starts with mechanics and repetition, and perhaps the oldest pair of cleats in the league, held together the last few years with superglue and duct tape. More on those later.
"It takes discipline to use the same mechanics, go through that routine the same way each time," Bailey says. "That's important at my position because there are times when a kick comes with a lot of pressure, a lot of expectations, whatever you want to call it.
"You don't have 60 plays on offense like some of the guys. You might have one or two kicks the entire game and they might be the difference in the game. The more you can simplify that, the situation is what it is. I know what my mechanics are, so I'm just going to go out there and go through my routine. That takes some of the pressure off yourself. It's the same as the other 1,000 times you've done this."
Obviously, though, Bailey admits with a laugh that he's human. There's a difference between what he's feeling on an extra point in the first quarter, or even a kick on the practice field, and a 52-yarder with a second remaining and the game on the line.
"There's an awareness of the situation, that's the best way to say it," Bailey says. "I guess there is a sense of anxiety there. Not in a bad way. More like an anticipation to get to that moment, at least for me. I enjoy that. It's a rush; it's an adrenalin rush for sure. And everyone is watching you at that moment. That's part of the rush, too."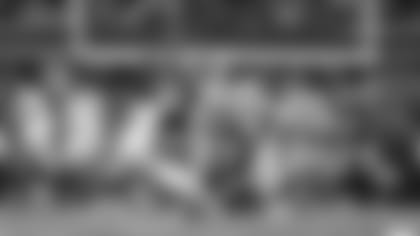 Like most football kickers, Bailey was a soccer player growing up in Yukon, Okla. By eighth grade, the majority of his friends were playing football, and he decided to give it a shot. In his words, "It was kind of a peer pressure thing."
As the first game approached, the coach asked if anyone knew how to kick off. No one did. Bailey said he could kick a soccer ball pretty well and could give it a shot. The first kick was a beauty and a football career was born.
"It's very similar mechanics, just a matter of fine tuning to the football, but it was a natural thing for me right from the start," Bailey says.
At Southwest Covenant High School, he kicked for four years, started at running back as a senior and played some linebacker. He then bypassed a football scholarship to Ohio University to try to walk-on at Arkansas, where he was given an academic scholarship. Bailey was valedictorian of his high school class and a member of the National Honor Society.
However, when he didn't win the kicking job at Arkansas, he was informed he would have to pay his own way, so Bailey went back home and took the fall semester off, only taking a few online courses. As for whether he felt like the football dream was over, yeah, he was 18 years young and those thoughts are only natural.
"There was a feeling of discouragement, disappointment, without question," Bailey says. "I didn't really know. I was so young, first time out of the box, and I'm at a dead-end street. Luckily, I had a good group supporting me, my family, and I knew I was good enough to kick in college football.
"Looking back, that fall was tough. Everyone was at school, and here I am trying to figure out what the next step was. The most important thing was that I needed to keep my head in the right place. Were there moments in there when I was thinking, 'How did this happen?' For sure. It was a confusing time. I wasn't really sure what to make of it."
That spring, Bailey walked on at Oklahoma State and earned the starting job. Four years later, he was the program's all-time leading scorer and the Lou Groza Award winner as the nation's top kicker. Dallas signed him as an undrafted free agent, and he earned starting duties for the Cowboys after a sensational training camp in 2011.
When it comes to camp, it's interesting to watch the specialists  – punter Chris Jones, long snapper L.P. Ladouceur and Bailey – because for the majority of practice, they are off by themselves. On a typical day, Bailey attempts 40 or 50 field goals, many with a mechanical holder. They do have meetings like the other positions, they watch film, and really, their days are pretty similar to any other player on the roster with 14, 15 hours of football.
"There are dead periods here and there, but I like to stay busy, and reps can be simulated. No matter what's happening, where I am, I can simulate a few kicks and go through my mechanics. The more reps, the more it all becomes muscle memory," Bailey says. "At our position, we don't always even have a field. The offense and defense can be taking up the two fields, so you go find a spot and do what you can, get your work in. We come out early some days when we have the field to ourselves.
"It's important to us. We don't want to be just the specialists over there doing their thing. We want to be a part of the team and put our work in just like the rest of the guys."
Incredibly, the nucleus of the kicking trio has been together for seven years now, that being Bailey, Jones (the holder) and Ladouceur (the long snapper). That's almost unheard of in the NFL.
"That's the beauty of being here, the comfort level is through the roof," Bailey says. "We've really been fortunate."
And that continuity should continue into the foreseeable future as Jones recently joined his counterparts in signing long-term deals.
Speaking of long-term deals, Bailey ended one this past offseason. After 10 years, his kicking shoes, his Nike Vapors, were finally retired. These last few seasons, the equipment managers have worked wonders with them as they had not so much fallen apart – that happened four or five years ago – no, the cleats more or less crumbled. They were being held together with everything imaginable.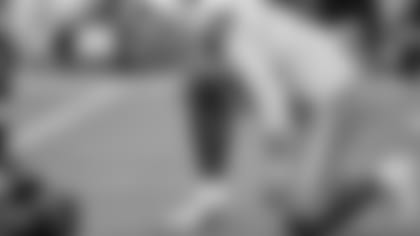 The new shoes will likely be size-11, a half-size less than he normally wears although most kickers usually go down a size or two, Bailey doesn't see the need. As for exactly the make and model, well, that's still in the experimental stage and likely will be until the week of the regular-season opener. He wears a different pair almost every practice, just trying to get a feel for what's comfortable and, more importantly, how the football comes off his right foot.
"It's just a matter of picking some out. I'm using whatever right now," Bailey says. "At the end of the day, it's leather and has got laces on it and cleats on the bottom. That's self-talk, too. It's just personal preference, but that's why I've been wearing a bunch of different ones.
"I'm keeping an open mind on which ones I go with because I've been wearing the same ones for so long. The technology has changed, so I've just got to try it out."
For the record, the old ones, just in case, haven't been discarded. They didn't make the trek to training camp, but they do remain at Bailey's house. When asked if they were available, he laughed and said, "They are. Now, they might not stay together. I'm not even sure they could survive going on my feet. I'm not sure what we would have to do to use them again. I think they are done. It's time. They gave me a great 10 years, though."
At 29 years old, there's absolutely no reason to think Bailey can't give the Cowboys another great decade, either.